Substitute Parts for 1985 VT700c Shadow
---
Hi Guys and Gals,

Being a new owner of a 1985 VT700c Shadow, I've been doing a lot of reading about which parts from other bikes will fit this bike.

I've gleaned a few things, but am hoping that those of you who have already done some parts swapping, will tell which parts, from what bike & year, did actually fit this particular type of bike.

Since there aren't many aftermarket parts available, like engine guards, forward controls, etc., maybe other bikes' parts will fit ?!?!

Thanks to any and all who have info.

Al
---
Old but not dead
1985 Honda VT700c Shadow
15 years old w/1959 165 Harley - 3 wrecks - NSI
10 years Navy - NSI
34 years RR - NSI
Retired w/NSI yet
The simple answer: Except for a few internal engine components, parts from the 1983-1985 Shadow 700/750 will fit your bike.

The complicated answer: other parts from other same-era Hondas will also fits your bike, but not in a general blanket-statement way. The turn signals from a 1983 Nighthawk 650 are the same as the ones on your bike. The handlebar switches from a 1986 Rebel 450 will fit your bike. It's all hit and miss.

Someone please correct/verify this for me, but at some online parts shops, you can pick a part from your bike and have it tell you what other models/years that same part number is specified. That makes it easy if you're looking for a certain replacement part. Anyone know which sites do that?

--Justin
---
Currently Running Stable:
2010 Honda NT700V
1986 Shadow 700
1986 Honda Trail 110 (Postie Bike)
1987 Honda Rebel 450
1973 Honda Mini Trail 50
I'm in the same situation and would like to learn what fits or could be modified to fit. I'm thinking both the first gen and the current Shadow have a 52 degree cylindeer splay. Seems the current exhaust options would work.

We need someone from the way back machine who's been there.
---
More Wrenching than Riding
- '83 Shadow VT750C
- '83 Yamaha XS650R
Nope. The early Shadows had a 45 degree cylinder angle, just like a Harley.

I don't know when Honda switched to 52 degrees. I'm thinking it was in the early 1990s.

--Justin
---
Currently Running Stable:
2010 Honda NT700V
1986 Shadow 700
1986 Honda Trail 110 (Postie Bike)
1987 Honda Rebel 450
1973 Honda Mini Trail 50
The 500 shadow was 52 degree
---
A JOB IS A PLACE TO GET MONEY TO ENJOY LIFE. WHEN IT INTERFEARS WITH YOUR LIFE, GET ANOTHER JOB!
Member
Join Date: Feb 2010
Location: San Antonio, TX
Posts: 153
Quote:
Originally Posted by duke51
The 500 shadow was 52 degree
Correct. With a dual-pin crank. Smooth-running, high-revving motor. Incredibly smooth at 7K rpm for a v-twin!
---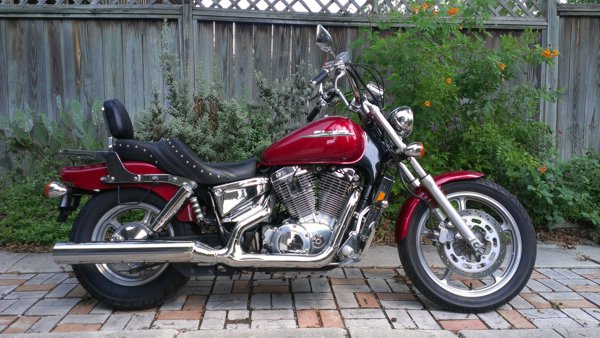 '02 Shadow Spirit 1100
'09 Aprilia Shiver 750
'10 Kawasaki KLX250SF
Thanks guys,

Keep the info coming. You are probably savings weeks or months of developing gray hair - or going bald, in my case.

It all helps. Some of you have lived it. Now us next (new old) guys want / need / desire / ask, etc. for the info. It's out there amongst you. What highway bars will fit? What forward controls will fit? What ??? will fit that comes from another bike?

Al
---
Old but not dead
1985 Honda VT700c Shadow
15 years old w/1959 165 Harley - 3 wrecks - NSI
10 years Navy - NSI
34 years RR - NSI
Retired w/NSI yet
Quote:
Originally Posted by duke51
The 500 shadow was 52 degree
ARGH! You're right. Sorry VT500-ers! I totally slipped on the 500.
--Justin
---
Currently Running Stable:
2010 Honda NT700V
1986 Shadow 700
1986 Honda Trail 110 (Postie Bike)
1987 Honda Rebel 450
1973 Honda Mini Trail 50
Member
Join Date: Jan 2009
Posts: 32
---
1984 Honda Shadow vt700
Posting Rules

You may not post new threads

You may not post replies

You may not post attachments

You may not edit your posts

---

HTML code is Off

---