Junior Member
Join Date: Sep 2010
Location: Austin, Texas
Posts: 11
I just purchased a 1985 Honda Shadow vt500
---
This is my first post in your forum. Hopefully reading FAQ's and lurking aren't requirements...I'll do my best to be respectful. On to the bike...

It has a hard time starting, but with some carb cleaner in the air intake it will start and run. Timing sounds good (to my untrained ears), but the engine lacks power.

The previous owner said he had the carb cleaned after the bike started bogging down. After that performance improved, but the problem soon returned. He then decided the tank needed cleaning, lost patience and sold the bike to me.

Does anyone have any advice as far as cleaning the tank and carb again? Could the problem lie elsewhere?

The only other bike I've had was an '86 BMW rs100, and it never really needed any repair. I am willing and able to try fixing this Honda myself with a little expert advice from you kind folks. I plan on getting the manual a.s.a.p.

Sidenote--As of this post, the bike is still at the previous owner's house. I'm going to bring it home in a truck in a few hours.
Member
Join Date: Mar 2010
Location: Tampa, Florida, USA
Posts: 478
Welcome Cheese!

Congrats on the new bikes. The old Shadows are great bikes, but the red ones are faster, sorry.

The usual remedy for the type of thing you are describing is to start with some Seafoam in the tank, and see if that helps. That can often help dirty tank/carb issues.

Other more experienced mechanics will be along soon to give more input, I'm sure.
---
1999 Yamaha V Star 1100
-
Honorary Honda Shadow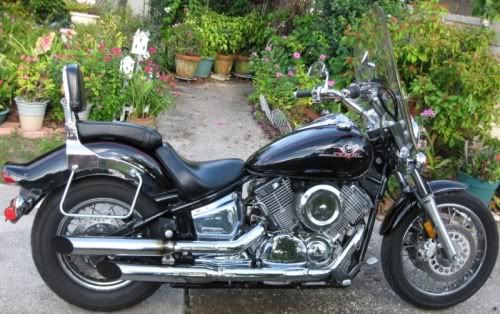 Junior Member
Join Date: Sep 2010
Location: Austin, Texas
Posts: 11
It sure would be nice if it were that easy. *crosses fingers*
EDIT--Here's the only picture I've got if her so far..
..figured I'd share.
Member
Join Date: Aug 2010
Posts: 34
VERY FUN BIKE; You need to get it up on the rpms to feel it's kick, I cruise around 4 to 5k in each gear and the power is there when you need it....it will hit 8 to 9k with no problem when you open it up...this bike likes to be reved...
---
1985 HONDA VT 500 SHADOW
Your gona have to pull the carbs and clean them again. Check to see if your tanks rusty. If it is than do this.
http://www.hondashadow.net/forum/viewtopic.php?t=91528
Pull the bowl off your petcock and clean out there as well, than add an inline filter between your carbs and the petcock.
As long as you completely cleaned your carbs you shouldn't have to pull them for a very long time after that.
Seafoam is mostly a waste of money and time for a bike that has been sitting for a while.
If its just a little rough running or has some hesitation than go ahead.
---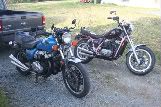 1981 cb750c with 900f forks, cams, oil cooler.
1983 vt500c
1979 cbx
Welcome Cheese! \0

+1 on the Seafoam
---
2008 Shadow Spirit VT750C2F
Hilman
CMA# 139428
Green Knights MMC Chapter 63
U.S. Army Aviation: 1977-1983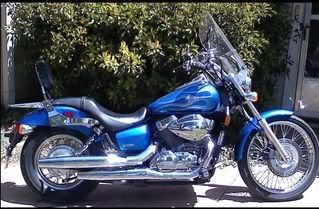 Senior Member
Join Date: Nov 2009
Location: Seward, NE
Posts: 2,158
If he cleaned the carbs and it was fine for a time and then went back to no power I would look at the carbs. Could have a bad needle or a piece of crud in it, a ripped boot etc. If you are afraid to open up your carb and get it back together correctly (as I am. I will do it to someone else's but not mine. Now if I had a second bike that's a different matter), then find yourself a good mechanic and have him check them out.

T.C.
---
1997 Honda Shadow VT1100C1 Spirit -- Too much work to list

Junior Member
Join Date: Sep 2010
Location: Austin, Texas
Posts: 11
Well, I just rode it about 45 miles through city and highway traffic.

After jumping starting it off my truck and a couple squirts of carb cleaner in the intake-- it fired right up..much easier than earlier this morning when the previous owner was showing it to me. As mentioned above, I noticed all of the power is between 4 and 5 thousand rpm. I got it as high as 7.

Gears change nicely, and it purred like a 'rabid kitten' all the way home. I have the battery on a slow charge now, and hope to fire the bike up later without having to get out the cables. I read somewhere that a not-fully-charged battery can cause low horsepower issues.

The tank does look a bit cruddy inside. I tried to scrape the inside of the tank with my fingernail to get some off for inspection purposes, but none broke loose.

I'd like to ride it for a while as-is and see what kind of difference a good charge makes. I will be inspecting the petcock and installing an in-line filter. If things get worse I'll take more drastic measures such as opening up the carb or taking it to a mechanic. I feel like I got a good deal, but I ain't rich and this purchase pretty much broke me for the next 2 weeks.
Member
Join Date: Feb 2010
Location: San Antonio, TX
Posts: 153
I have the sister model to your bike (see my sig foto). And I agree with Great Escape -- ya gotta rev these bikes to make the power. I am not afraid to take my bike to the 9500 rpm redline -- and it does it happily! It doesn't even come to life until above 5K rpm, and at 7K she purrs like a kitten. Just because it looks like a Harley engine doesn't mean it was designed and engineered the same way. It IS a Honda, after all.
---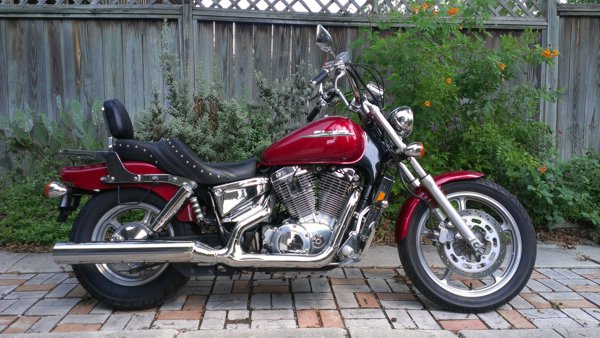 '02 Shadow Spirit 1100
'09 Aprilia Shiver 750
'10 Kawasaki KLX250SF
Junior Member
Join Date: Sep 2010
Location: Austin, Texas
Posts: 11
I'm so elated! After giving the battery a good trickle charge, the bike now starts with just a touch of the button, and purrs along without any issues. I can't find any faults.

There seems to be a problem with the taillight though.. It stays on bright whether I'm touching the brakes or not. Any ideas?

...and the speedometer doesn't work.
Posting Rules

You may not post new threads

You may not post replies

You may not post attachments

You may not edit your posts

---

HTML code is Off

---