Member
Join Date: Sep 2012
Location: Centennial, Colorado
Posts: 146
1LT...Infantry...RVN...'68-69...3/22 25th ID
Thanks
Member
Join Date: May 2012
Location: Arizona
Posts: 57
---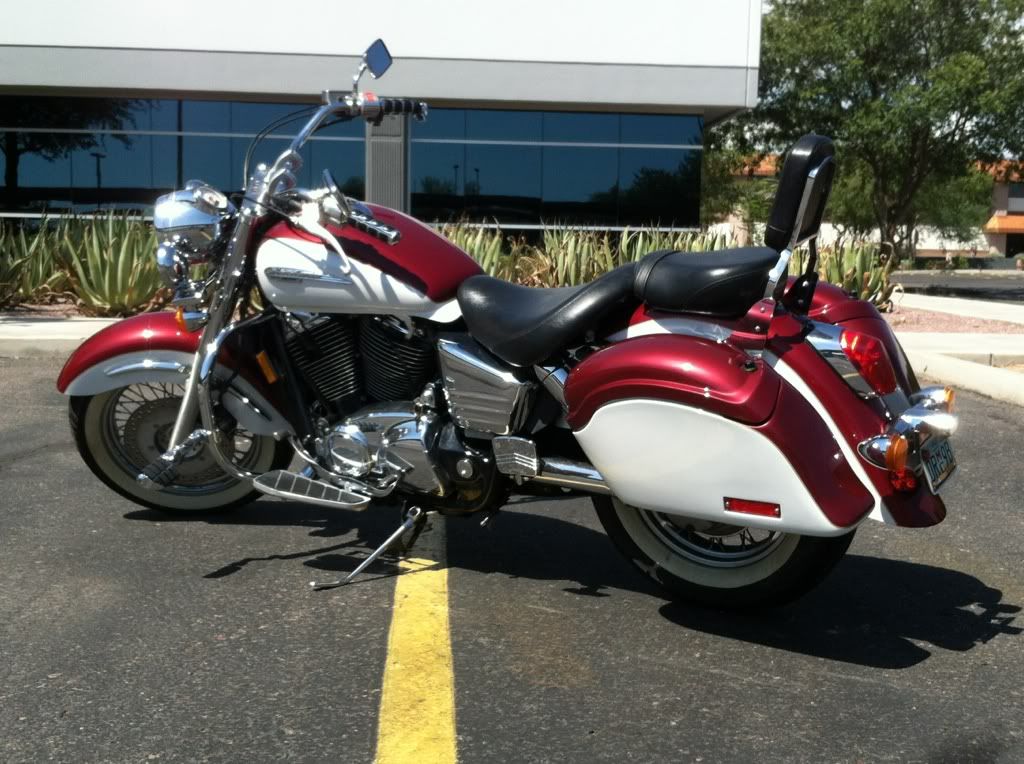 '98 VT1100C3, 17,000+ miles, Nat'l Cycle bags, Cobra highway bar, Küry offset highway pegs, Cobra driving lights, unknown exhaust, Küry ISO grips.
Senior Member
Join Date: Jan 2011
Location: Taylors,SC
Posts: 2,404
Us Army 86-89
---
03 VT750DC Spirit
00 XR650R (Sold 5/3/13)
Member
Join Date: Apr 2012
Location: Phoenix, AZ
Posts: 483
Usmc 74-78
usmcr 78-80
---
Kokopelli
2007 Shadow Aero
Kuryakyn ISO-Grips, stock end caps, Dually ISO-Pegs, Master Cylinder Cover
Show Chrome Accessories Air Filter Cover
Jafrum Saddlebags / Street & Steel Saddlebag Support
Custom World International Turn Signal Relocator
TMS Windshield / Cobra Freeway Bars / Stebel Horn
Ride Bells thanks to my Better Half
Member
Join Date: Aug 2011
Location: atlanta
Posts: 65
Senior Member
Join Date: Jun 2007
Location: Richmond, VA
Posts: 2,906
US Coast Guard 1979 - 1996*
Yeoman First Class (E-6)
Retired

* I chose that "early out" package called TERA (Temporary Early Retirement Authorization) that then-President Clinton and Congress signed back in 1996. It took the normal 20 year military retirement and dropped it to 15. I had 17 years in and, to be honest, I got tired and burned out of trying and trying and trying ...and trying yet again... to make Chief (E-7). I saw the writing on the wall and put in for it, got approved, and the rest is history.


Oh and before I forget... I heard from some of the guys who stayed in, that they (Clinton & Congress) had to shut down TERA in 1998, due to so many people jumping ship. Rumor had it that the Army lost something like 35,000 soldiers alone in 1996 because they too got out!
---
2007 Honda Shadow Aero 750
Visited states map via motorcycle: VA (home), MD, and NC.
Next states to visit: WV, PA, & NY
Ride bell by Old Dad
(thank you!
)
Member
Join Date: Mar 2011
Location: West Suffield, CT.
Posts: 109
US Navy, Silent Service 77-83.
---
2003 VLX, Mustang seat, Brakeaway cruise control, Fox Creek Leather Fatboy saddlebags, Memphis Shades Malibu windshield, Fiamm Blaster horns.
Junior Member
Join Date: Oct 2012
Location: Stafford, VA
Posts: 8
Vet
---
United States Army
1988 to Present
---
Dennis J. Ratliff, Sr.
2002 Shadow Sabre
Cobra exhaust
Kuryakyn ISO grips
Memphis Slim windshield
Posting Rules

You may not post new threads

You may not post replies

You may not post attachments

You may not edit your posts

---

HTML code is Off

---