2011 Rally
---
October 7, 8 & 9 are the dates. Location still TBD.
Following edited to add more information:
If cabins are preferred, here are some that I recently found (kinda) around Mt Airy, NC:
http://fiddlersroostcabins.com/
• Galax, VA
• 6 cabins each with sleeper sofas
• max capacity is 12 to 24, depending on how many will share beds
• B&B = breakfast delivered to each cabin each morning
http://creekcidecabins.com/
• Claudeville, VA
• 2 cabins
• max capacity = 14
http://www.blueridgeresort.com/
•
better link
• north of Floyd, VA
• 7 cabins built by CCC
• only 1 cabin has private bathroom / outdoor walk to bathhouse for others
• rollaway beds available
http://www.blueridgehideaway.com/
• West Jefferson, NC
• 1 cabin
• max capacity = 4
http://www.chestnutcreekcabins.com/
• Galax, VA
• 4 cabins / 1 & 2 bedroom
Personally, I don't see how any of these would fit our group. Much as I understand the appeal of cabins, I doubt we'll find a site with (1) enough cabins that (2) aren't too rustic.
---
Art's 1999 Shadow 1100 ACE
.
Ride bell by Dr. Bob's Patient
aight well im gonna mark it down and cross my fingers and start a penny jar
---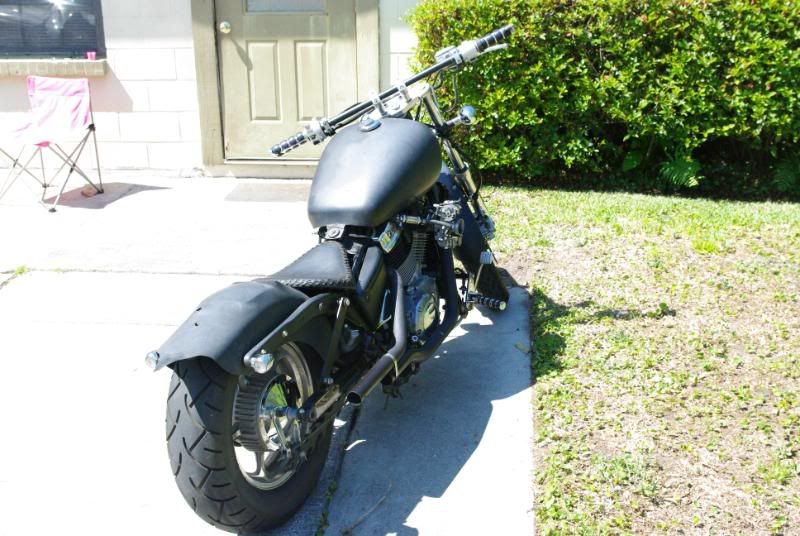 More on cabins in state parks - North Carolina:
• Morrow Mountain features six cabins. Hanging Rock has ten cabins. All cabins have two bedrooms, a living room, a bathroom and a kitchen. The cabins are rustic, so it's useless to bring your laptop. Leave it at home and enjoy the natural surroundings. Swimming privileges at both parks cost extra and are not included with the cabin rental fee.

• You need to bring your own sheets, towels, cleaning supplies and food. You won't find little bottles of shampoo, so bring your favorite toiletries. You'll need twin sheets for the two bedrooms (each with two twin beds) and double sheets for the futon in the living room. The parks provide pillows and blankets. Each cabin has basic dishes, silverware, pots and pans; you won't find a microwave, TV or DVD player. The parks expect cabin guests to clean the cabins before checking out.
---
Art's 1999 Shadow 1100 ACE
.
Ride bell by Dr. Bob's Patient
---
Art's 1999 Shadow 1100 ACE
.
Ride bell by Dr. Bob's Patient
I don't remember how many cabins we used in Blairsville but they came with everything we needed except the food, beer, and bourbon. There certainly are enough great roads around there that we didn't ride yet. And now we have a guy (hint, hint) in GA who can check out the rides for us. Jo can speak more on how many cabins there were and how we got them last time.
---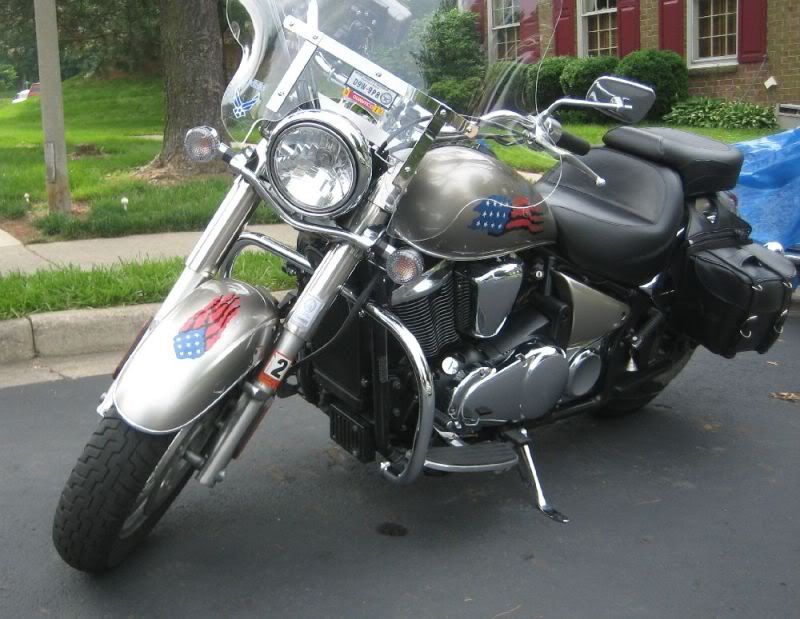 Ride Bell by the generous Kara
Member of the Colonial Cavalry
My wife has chimed in with
this suggestion
.
On edit: maybe
this
is a better link. This place looks like it has all the choices we're trying to get. Gotta check about bonfires...
Another edit: There's a
motorcycle museum
60 - 80 miles down the BRP from there.
Barry,
There are seven cabins at the
place in Georgia
. It is a wonderful place but the location is too far for some of the folks who commit AND show up. The cost and limited choices will discourage others. If we want to keep participation under a dozen or so then it is a top-notch choice. If we're looking to have anything approaching 20 then it doesn't seem like it would work out. IMO.
---
Art's 1999 Shadow 1100 ACE
.
Ride bell by Dr. Bob's Patient
Member
Join Date: May 2008
Location: Beech Island,SC
Posts: 220
That Diamondback lodge and road looks interesting...
---
'96 VT1100C2 A.C.E.
Hard to believe that my wife is so fired up for next year's rally considering how she handled riding pillion on VA16 but she has responded to my thought that Switzerland Inn might be too far for some (Paulie is about 600 miles away, Pete and JoAnn about 550) so she is searching for other spots.
Her latest find
-- all cabins. About as rustic as she likes it -- and that's a LOT less so than me. This place has a good location in the heart of outstanding WV riding country -- but it would take us to a state without any east coast.
As she comes up with sites, I'll post the links. I know we're a long way off but I might not have so much free time starting on Monday and Helen's enthusiasm will definitely wane as everyday life takes hold again.
On edit: Here are the first six scenic routes (in purple) from the booklet I picked up (from the
Southern West Virginia Convention & Visitors Bureau
) mapped. About 20% of the way down from the top, just about the L-R center, there's an image of a cabin showing where Country Road Cabins (latest find) is located:
Those six rides total 800 miles.
---
Art's 1999 Shadow 1100 ACE
.
Ride bell by Dr. Bob's Patient
Art Switzerland is doable for me. Both seem to be good selections.
---
A smart remark is the most effective means of birth control. Paulie
2006 Star Stratoliner Midnight,1986 VT1100C
Ride Bell by Maggie and Chris
Quote:
Originally Posted by Paulie
Art Switzerland is doable for me. Both seem to be good selections.
Well, we've got more than one rally in the future so I won't stop Helen from scouting more places. The more I look at it, though, the more I think Switzerland Inn is perfect. (Got to ask about bonfires.) There were a couple of negative reviews on TripAdvisor so Helen is harassing them to find out what's up. I'll find a way to ride through the area and check them out in person before the Eastern Solstice Meet-up. (Funny, but I was going to stop for lunch in that town after last year's meet-up but decided to press on and try to get past some rain. Didn't work out.)
That Hico, WV place might merit a check-out on the way to the meet-up, too -- it's about a 3 hour ride to Fisherville. I'm plotting out some ride routes centered around Beckley, WV for the days before and one of the goes right through Hico. I might anchor myself nearby for a couple of days. (Cabins are too expensive just for me.)
---
Art's 1999 Shadow 1100 ACE
.
Ride bell by Dr. Bob's Patient
Posting Rules

You may not post new threads

You may not post replies

You may not post attachments

You may not edit your posts

---

HTML code is Off

---