Member
Join Date: May 2008
Location: Beech Island,SC
Posts: 220
Post here when you get home...
---
Got home around 1:30pm. Had a great time with great folks, cannot wait to see you all again.
---
'96 VT1100C2 A.C.E.
Got home about 6pm on Saturday.
+1 on the great time, hope to make the whole rally next year.
Phil
Senior Member
Join Date: Feb 2004
Location: Town of Elon, NC
Posts: 3,520
Got in around 1:30 as well.
happy trails....till we meet again....
---
1996 VT1100C2 ACE
Senior Member
Join Date: Jun 2006
Location: Southeast Michigan
Posts: 8,932
Completed the first leg of my triple-redundant journey home about 30 minutes ago. (That means I'm home.) Pushed hard, rode MUCH more e-way than I like and paid for the high speeds with MPG -- I consistently hit reserve at the 125 mile mark. Not a fun day at all.

Still in all, it was well worth it to spend time with you folks again. Wish we could make it longer!

On edit: Pete & JoAnn made it home safely by 2 PM.
---
Art's 1999 Shadow 1100 ACE
.
Ride bell by Dr. Bob's Patient
Yes, we got in around 2pm. Had to unpack, mow grass, get groceries, update Fantasy Football site, and eat.

Un-eventful ride up... we did ride into about 15 seconds of rain just north of Marietta Ohio.

All-in-all was a grand time with great people. Hope next year to be back for the fun and festivities.
---
Lower Lakes 1000 - 07/07 * Lower Lakes 1000 - 09/10 * Bun Burner GOLD - 09/10
Lake Superior 1000 - 07/11 * Lake Michigan 1000 - 09/11 * Lake Huron 1000 - 09/11
Saddlesore 2000 - 09/11 * Ohio 1000 - 07/13
Member
Join Date: May 2008
Location: Beech Island,SC
Posts: 220
ptgb, you make me feel bad, I unpacked, ate, and took a nap
---
'96 VT1100C2 A.C.E.
Member
Join Date: May 2008
Location: Beech Island,SC
Posts: 220
I also wanted to say a big thank you to adlowe and rickbb for taking the lead on two great rides on friday and saturday, and for their hard work on planning the ECR this year, you guys are the best!!
---
'96 VT1100C2 A.C.E.
I got in about 4:00 after a nice ride on the BRP. I want to add my thanks to Art for putting this weekend together. And of course thanks to Rick for giving us a chance to practice our off-road riding. I will see you all next year and hopefully earlier.
---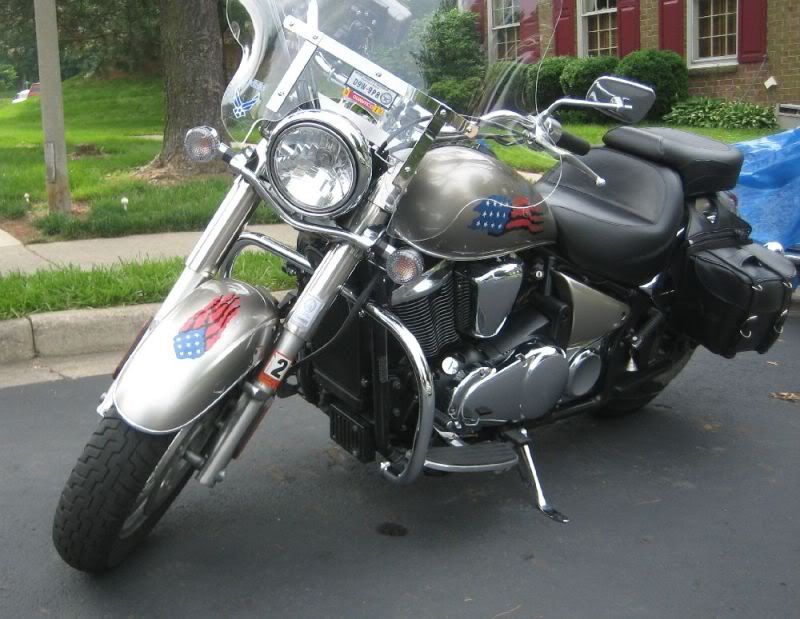 Ride Bell by the generous Kara
Member of the Colonial Cavalry
Made it in around 5:30 or so.

Would write more, but Dexter is about to start.
---
2006 Spirit 1100
theantidj.net
Well I didn't leave Hillsville until 11:30am pulled into Chadds Ford Pa. (about 20 miles from my house) around 7:30 and had a leisurely dinner. Four Hundred and fifty miles in 8 hours flat, a personal best for me. Glad all the Virginia troopers were on I77 cause I wicked it up as traffic would allow. I got to use the heated gear, got pretty cold riding after sundown. I got to use the headlights more than I wanted also. What I get for standing around jawing all morning. I'm blaming Rick and Jo.
I had a great time, great rides, great booze and great people, what else could you ask for.
Going to go lay down in bed and watch the Eagles play. Later babies.
---
A smart remark is the most effective means of birth control. Paulie
2006 Star Stratoliner Midnight,1986 VT1100C
Ride Bell by Maggie and Chris
Posting Rules

You may not post new threads

You may not post replies

You may not post attachments

You may not edit your posts

---

HTML code is Off

---