Junior Member
Join Date: Mar 2011
Posts: 13
Fuel Pump Problem!!
---
I have a 95 VT1100C. It has been sitting for about 18 months. I have been working on it like crazy for the last 3 weeks and today was the big start up day!!! Well im not getting fuel. My petcock is working, my filter is not cloged up at all but im not getting any fuel to my T-split at the carbs... I looked in my manual to see what to troubleshoot and it says to check to see if I have voltage between the Green and Black/Blue wires. Am I supposed to check the pump side or the harness side? I will get a meter tommorrow. Im pretty sure thats the problem. Is there any way the pump could be cloged from sitting and is there a way to clean it out if so??? A new pump is $175 from the dealership. And if found one on bikebandit for $156. I checked e bay but the only one I found was for a 96 for $79. Does anyone know if that will fit??? Thanks for any input!!!!!
So past READY to ride!!!!
Senior Member
Join Date: Jan 2004
Location: Central, Minnesota
Posts: 4,827
I'll try to help you as best I can...
The Shadows fuel pump only runs when the engine is turning over, so if you just turn the key on to test it, it isn't getting any power.
Also, there is a safety relay that also controls the pump, used incase the bike is tipped over (in an accident) so the fuel shuts off to eliminate a possible fire.
You'll need to test it with a separate power supply to see if it's working. *Also, just because it runs, doesn't mean it supplying enough gas to keep the bike running. You have to do a fuel supply test, meaning there's a set amount of fuel it should deliver per minute to work properly.
I replaced my fuel pump ('96 VT1100) with a used one I bought off Ebay from an 1100 Saber. All the Shadow fuel pumps are basically the same and should work on your bike. The only difference I've noticed is the configuration of the gas lines to and from the pumps. Some use either 1/4" or 5/16" fuel lines, but that can be remedied by just using a reducer inline, which can be found at any hardware store.
Another option is to buy a small electric automotive fuel pump that's rated at 3-5 lbs. pressure (about $40) which also works. It should fit in the stock fuel pump location without too much trouble.
---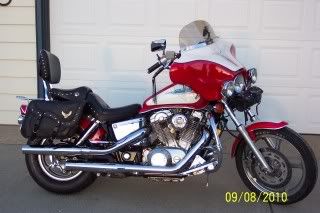 Senior Member
Join Date: Jul 2010
Location: Lexington, IN
Posts: 1,027
+1 yet again to the PainterD.

Pump only operates during engine cranking. Not just key on. It's ODD and DUMB too me also, but that's the way it is. I also know it's designed that way for a reason, it's just not "mechanic friendly" when troubleshooting.

I ran out of gas (once) and it took alot more cranking of the engine to get fuel back up to the carbs than I thought. This was 2 days after buying bike, I completely RAN OUT the "on" setting, pulled over to side of road, didn't think I might be out of gas for a FEW minutes. Then, when I switched over to reserve, I didn't get engine to "hit" for 3 or 4 "tries". I was actually afraid I might run down battery (again, JUST GOT BIKE) so I would only crank it for 10-15 sec. and quit.
---
95 VT1100C
Stock Air box (UNI-Filter), HK's, River Road XL Slant Braided saddlebags, 6 degree Timing Advance, Mustang Wide Touring w/ Driver Backrest, PF3 Windshield, Chrome Engine Side covers, Lower forks, Final drive, Driveshaft, Swingarm, Master Cylinders, Brake caliper
1983 VT750C
1983 VF1100C Magna
manigauna

It may be the fuel pump, or it is more likely the fuel pump relay.

I have a figure that shows how this is wired. Your wire colors may be different.

You want to test the fuel pump without the relay. The only downside to this is the fuel will continue to pump when the ignition is on and the bike is not running. This could be bad in a crash and could lead to a fire. But for testing it is fine (some folks have this jumpered full time and it does not hurt the fuel pump).

To jumper the relay, disconect the three wire connector at relay and use a piece of wire tie the black wire to the blue-black. Don't let this jumper wire touch the blue-yellow wire or it will short to ground. This jumper is on the pump side of the connector. The jumper lets +12 flow to the pump whenever the key is ON.

If this fixes your problem, then your pump is ok. Good luck!

-Dave
---
01 Sabre Dave
08 V-Star 1300T Sarah
Junior Member
Join Date: Mar 2011
Posts: 13
---
So I tried to jump the relay and when turning the bike over still got nothing from the pump!!! So that has to be it. I bought the 96 one off of ebay for $75. I hope this solves my problem. Any tips for removing the air box??? It looks like its in there pretty good? Do I need to unhook the wiring harness or can I do it with all of that still hooked up???
Senior Member
Join Date: Jan 2004
Location: Central, Minnesota
Posts: 4,827
You can replace the pump from under the bike if you have baby hands!! It's a ******* to get at and remove at the same time because there is little room to get your hands in there. The bike was built around the pump, I'm sure!!

What I did was removed the back header pipe and muffler, to get at the side cover and the pump is right there. No need to remove the filter box at all. It's still a pain to change, but easier to work on from the side insted of under the bike.

I tried like **** to figure out a better place to mount my new pump, but it looks like that's the only place there's enough room for it.

If you want to ride the bike while your waiting for thenew pump to arrive, you can just run a fuel line from the petcock to the T fitting that goes to the carbs and gravity feed the engine. It will run good that way, but your tank will not be able to empty out because the carbs are actually higher than the bottom of the gas tank. You will get about 3/4 of the tank to drain that way. It's a good tip if you pump goes out when your far from home too.
---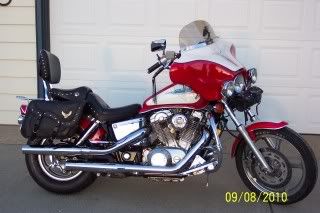 Junior Member
Join Date: Mar 2011
Posts: 13
@PainterD Alright man I took the exhaust off, got the side covers off and the three hoses that go to the pump... How in the world to you get that son of a bitch out of there?!?! Is there a bolt or a nut holding it in or is it just a matter of pull??? And once I get it out how do I get the new power cord back up to the main harness??? Thanks again for all your help!
Senior Member
Join Date: Jan 2004
Location: Central, Minnesota
Posts: 4,827
Manigauna,
Yes it can be a bitch to get at it, that's for sure. I unscrewed the bolt that holds the pump on from under the bike (just about have to stand on my head to do it!!) Then carefully unhookd the fuel lines and unplugged the wires to the pump and removed it out the side of the bike.
The just reverse the procedure to install the new one. No, it's not something I'd like to do everyday, so just take your time and you'll get it...eventually.
That's the main reason why I looked for an alternative place to mount the new pump, but that didn't happen because of the way these bikes are put together. There's just no room to relocate it unless you get rid of the airbox an use an alternative (smaller) air filtering system.
The only other option I thought of is to find a 6 year old kid, with itty bitty hands to do the installation! Just sit by and talk them thru it, which would be a piece of cake to do with smaller hands.
---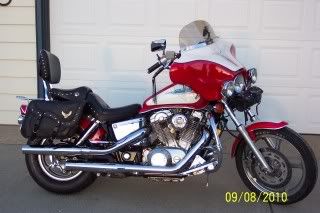 Posting Rules

You may not post new threads

You may not post replies

You may not post attachments

You may not edit your posts

---

HTML code is Off

---