Junior Member
Join Date: Apr 2011
Posts: 28
Battery won't stay charged
---
So, I got my bike about 2 weeks ago, and a few days after I got it the battery died on me. I bought a new battery, charged it up, and checked all the voltages. They all checked out fine according to the service manual. So I ride the bike for about a week and it died on me again. Since it is a brand new battery, I figure it has to be the charging system. But that seems strange since it looked like it was working. So I talk with my brother who is the gearhead in the family (I'm more of a computer guy myself), and he said it might be a corroded wire. So I pull the bike apart today and I think I found the issue. These are the connections between the regulator and what I'm pretty sure is the alternator.
Since I already had everything torn apart, I figured I would test the alternator and the regulator to see if they are working. So I think it is the stator. I tried to test it but not sure if I did it right. Which of the 3 wires is suppose to be ground? If I do end up having to replace it, I got the service manual, so I can probably figure out how to replace it, but I was wondering if there was anything special to watch out for? Anything else that I would have to replace while doing this swap like gaskets and such? I'm not a engine guy and my brother who is doesn't live local, so if you could dumb it down a bit for me, that would be great.
---
---
Last edited by Dyrge; 04-30-2011 at

07:13 PM

.
Senior Member
Join Date: Mar 2004
Posts: 4,688
Yep that is the 3yellow wire (Stator to Rectifier) to three yellow wire issue that most of the Spirit and Goldwing line for many years.
You can remove the connectors strip back to clean copper and solder the yellow wires togehter essentially removing the connector. Then test you idle ane mid-range charging voltage to see if you will need to do more.......should be >battery voltage and < 15 volts - should go up at higher Rpm if not (mine was dropping to below 12.5 volts at mid throttle) you will need to run the Electrosport diagnostics to see which component is fried.
Junior Member
Join Date: Apr 2011
Posts: 28
I just ended up replacing the connectors with new ones in case I ever need/want to replace one of the components. From what I can tell based on service manual and other forum posts, it looks like everything is good. I'll probably keep my multimeter close for a bit while riding and keep an eye on the battery to make sure its getting charged.
---
Member
Join Date: Nov 2006
Location: Northern Calif.
Posts: 399
The above stated solution is your best choice. This is a continuing problem in many Honda models, including my '96 Shadow a.c.e. vt1100c2. I was experiencing the same symptoms as you. This connector is a weak link that cannot handle the flow of electricity and led to me replacing both my stator and regulator/rectifier before figuring out the problem. I saw the wires frying and shortened them and put them back in the connectors, but the problem continued, until I installed a Kuryakan voltage gauge. With the engine running I could see the system still wasn't charging as it should. As I wiggled the connection, I could see this was the problem. I cut out the plug, soldered the wires and I've had no problems since, and I run a Cobra light bar, heated gloves and a halogen headlamp. And I now (and forever) use a sealed battery. Try this; after a ride pop off the battery cover and feel the wires around the connector and see if they aren't overly hot. If they are, make the change.
---
Fly below the radar!!
Senior Member
Join Date: Dec 2008
Location: Newport Beach
Posts: 2,180
---
2007 Honda Shadow 600
Member
Join Date: Aug 2008
Location: INDIANA
Posts: 486
As long as there is a quick disconnect in that circuit it will keep melting down. Because of where that connector is and the amount of current running through it any slight increase in resistance from oxidation and corrosion on the terminals will cause it to overheat. The long term solution to the problem is to eliminate that connector. You can always cut and resolder the wires if you have to remove the regulator or stator. Another critical connection to check is the ground connection on the neg. battery cable. Make sure it is clean and tight and cover it with dielectric grease.
---
A 9m is a .45 set on stun
---
Last edited by Drail; 05-01-2011 at

07:51 AM

.
Senior Member
Join Date: Jan 2004
Location: Central, Minnesota
Posts: 4,827
Even eliminating the connector and soldering the wires, your still going to have a poor charging system on your bike. The problem is, in my opinion, the voltage regulator and thin stock wiring that causes the problem.

Your stator sends all the power it can to the regulator, thru thin wiring and to a poorly designed regulator that barely keeps the battery charged and causes the wires to over heat. Not only the wires get too hot, but the regulator gets too hot (that's how it designed to work by sending the extra power to ground making it run hot) and keeps the stator running way too hot also.
So replacing the regulator with an after market (Mosfet style) regulator and the stock wiring with thicker 10 gauge wire, will keep things running cooler and keep the battery fully charged, even at idle.

I've recently done this mod to mine after years of poorly charged batteries and it works a **** of alot better than it ever did. My bike charges better at idle now than it used to at full throttle. The bike actually runs better too. I can run my driving lights and stereo and still get 13.5 volts at the battery at idle, and up to 14.2-14.5 at higher RPMs.
I'v never had those kinds of readings all the time I've owned this bike.
---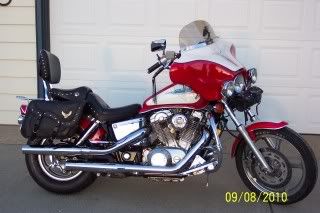 Senior Member
Join Date: Dec 2008
Location: Newport Beach
Posts: 2,180
Quote:
Originally Posted by PainterD

So replacing .... the stock wiring with thicker 10 gauge wire, will keep things running cooler and keep the battery fully charged, even at idle.
How did you go about it at both the regulator end and the stator end since those wires seem hardwired to their respective devices?
---
2007 Honda Shadow 600
Posting Rules

You may not post new threads

You may not post replies

You may not post attachments

You may not edit your posts

---

HTML code is Off

---