Member
Join Date: Apr 2011
Location: Florida
Posts: 31
Miles Per Gallon
---
I have a 2005 Shadow Aero 750. Would anyone know how many miles per gallon I should get on a full tank? Also when I need gas, what will happen before I switch to reserve. I dont wanna be going down the street 50 mph and my bike locks up. Help.....
Member
Join Date: Dec 2010
Location: McCalla Alabama
Posts: 284
Wont lock up will start spitting and sputtering before it dies.
Most on here seem to be getting between 50 and 60 mpg on the 750's
---
1996 Shadow Ace 1100
Mac Fat Stakkers
National Cycle Dakota Shield
Jardine Forward controls
Tourmaster Saddlebags
Senior Member
Join Date: Dec 2010
Location: Weber County, Utah
Posts: 1,078
Practice switching the fuel petcock on the go so when your bike does start to sputter, there's no need to pull over and fumble with it.
---
You're right. I could die riding my bike. I could also die while driving my cage. I could die while crossing the street. I could die from cancer. I don't live life worrying about what might kill me. I just enjoy life as I see fit.
Angela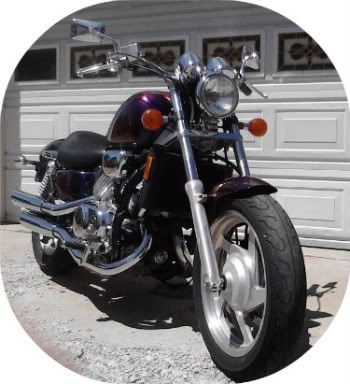 "The Flying Purple People Eater
"
2001 Honda Magna 750: ride bell from I-AM-TIM and Daunte's grip ends
Senior Member
Join Date: Nov 2008
Location: Visalia, CA
Posts: 5,377
Easy to find out. Fill the tank, zero trip meter, Go for a ride. When the motor sputters, switch to reserve and note miles traveled. Now each time you fill up you zero the trip meter and start looking for a filling station when you reach the mile from that first ride.
For me I just look for gas station at 100 miles or so, reserve kicks in at about 110 miles and I plan to walk after 150 miles.
---
93 VT1100C Sleeper, VH Exhaust, Saddleman Seat, Baby Apes, Metzlers, 2mm sleeved and bored (1150cc),10.5:1 comp, Modified Heads, Valves, Cams, Adjustable Timing, Bored Carbs.
Banned
Join Date: Apr 2010
Posts: 3,795
I have an 1100 so it's apples to oranges but usually switch at 126 miles around town, 142 on the freeway, but as mentioned above, I usually just gas up around 100 miles to avoid the issue.

Martin
I had a 2006 750 Aero, I could go 156.6 miles before it ran out...Guess how I know, like the others said switch to reserve and find a gas station. Now I would not trust the 156.6 mile marker, I was a careful serious Newb riding and starting slow. I went 120-130 and filled up after that. Normally got 55-62 mpg.
Coop
---
Ride Bell By OldDad
I wish I had a reserve, I hate this gas gauge
---
Check this thread
for where the book is now -
it's traveling!
Make sure you get your shot at it!!
Longest ride to date: 28 days 16058 miles.
Find an empty road turn your petcock to off and see what happens in a few minutes. Thats what I did it also give you practice reaching for the petcock while driving. You can also experience the symptoms first hand.
---
Chillicothe, Oh
27 year Navy Veteran
2009 Honda Shadow Aero
Memphis Fats windshield
Saddlemen Saddlebags
Cobra Highway Bars
Mustang Seat
Member
Join Date: Apr 2011
Location: Florida
Posts: 31
Thanks for all the tips....very helpful. I will be applying all of this from now on.
Posting Rules

You may not post new threads

You may not post replies

You may not post attachments

You may not edit your posts

---

HTML code is Off

---