Member
Join Date: May 2011
Location: Florida
Posts: 39
Exhaust Options Older Shadow 700
---
Heya Folks,
1985 Honda Shadow 700c. Header pipes are fine. Muffler on the other hand is a mess. Left side the end was either drilled out or punched out while the right side was left alone, go figure.
Anyone have any cost effective (read, "I'm on a VERY tight budget) options for new muffler pipes? It appears that the stock mufflers connect to a resonance chamber underneath the bike. This would all be replaced it looks like if I went to a straight muffler setup. J&P has some cheap ones but not sure if they have baffles in them or not, and I NEED baffles, I want to keep what hearing I have left.
I'm sure with a new muffler and getting rid of that chamber under the bike I'll probably have to re-jet, more on that later as I'll probably start a new thread if/when it becomes necessary.
So there you have it, I'm sure someone here has replaced their stock setup on an older shadow inexpensively and has a few ideas.
Thanks in advance!!
---
Senior Member
Join Date: Apr 2007
Location: Portland OR
Posts: 2,023
I am in the same boat with my 84 VT700c I have not looked all that hard but from what I have seen there are very few exhaust options for the 83 - 85 Shadows, one place I looked at to replace the resonance chamber assembly wanted over $600 for it.
Mine have had cats spray them (and permanently burn/etch it) and two nights ago I laid it down scraping the end of it all up so I am looking for some cheap replacements as well.
Regarding your motorcycle... anything that restricts or un-restricts the amount of back pressure in the exhaust system has the potential to cause you to have to adjust the a/f screws or completely re-jet the carbs.
I am going to want baffles on mine too, I don't seen any reason for needing to be heard over a mile away on something with a 700cc engine.
MAC makes a replacement exhaust system for these bikes for just under $300 or Ebay might have some used stock parts or try Craigslist in your area sometimes you get lucky.
Search Results - Cheap Cycle Parts
---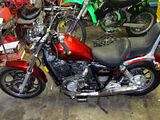 85 700 Shadow

Member
Join Date: Jan 2011
Location: So California
Posts: 756
Mac are not very high quality, since your on a budget, you can use your stock header pipes, and just put new mufflers on them, I put sportster mufflers on mine, you can find them real cheap, got mine for $40 for the pair.
---

83 VT 750 C Shadow






I have MAC on mine, they blue pretty easily but beyond that they're fine. I'm considering header wrapping them though as the rear pipe and my boot argue on a regular basis.
---
Mike
1983 VT500
Senior Member
Join Date: Apr 2008
Location: Palatine, IL
Posts: 10,061
Emgo makes a lot of replacement mufflers for older bikes. Put some on my Magna when I had it and they were better the Mac's.
Member
Join Date: May 2011
Location: Florida
Posts: 39
Thanks for the replies!! Yes, I'll be using my old header pipes as that seems to be the cheapest solution on a tight budget.
Keep the ideas coming!! I did locate these at J&P, but if someone knows of a better price by all means let me know, this is the best I've come up with so far:
Universal Mounting Shorty style Muffler | 4500055 | J&P Cycles
---
Senior Member
Join Date: Sep 2007
Posts: 2,806
Member
Join Date: May 2011
Location: Florida
Posts: 39
Hmmm, keep the old one, that's a thought, I didn't think it would be fixable. I'll have to take a picture of what it looks like to see thoughts on how to go about that.
I checked ebay before even posting here and my system is actually in better condition than either of the ones you linked but thanks for the effort!
So basically I'd have to figure out how to weld a round plate in the backs of each muffler and drill holes through them to make them uniform on each side. Sounds like that anywho till I hear different from you guys.
I'll post some shots tomorrow.
---
Posting Rules

You may not post new threads

You may not post replies

You may not post attachments

You may not edit your posts

---

HTML code is Off

---