12 volt plug- will it kill my battery?
---
I have a question folks.
I want to hook up a basic 12 volt plug (for my cell phone) on my bike.
My son says he can do it for me, but my husband says no way.. that it would kill my battery and blah, blah, blah....
#1~ Will it kill my battery? (I have a 750 Aero)
#2~ If so, how do I put a switch on it, so I can turn it off?
#3~ Can someone tell me what I need and just how to do it? (Provided it WON'T kill my battery...)
Thanks!
PS: Going on a camping trip this coming weekend, and I want to keep my phone charged to keep in contact with my kids and mom in law (who is worried to death about us taking off on our bikes...)
---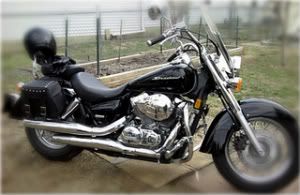 Momma's Aero
Senior Member
Join Date: Mar 2004
Posts: 4,688
No it won't hurt your battery - just charge it while you are riding - it takes almost no wattage to charge a cell phone. Just set the 12v connector plug up on a relay to only be powered when the ignition is on then even if you leave the phone plugged in it will not charge with the igniton key in your pocket (ie ignition turned off)
He probably just doesn't want you talking on the phone and riding - I would tell my wife the same thing if I thought it would help to keep her mind on riding......
As far as telling you how to do it (if your son can hook it up he can research (google) how to hook up a relay - it is very simple). Relay cost only a couple of dolllars.
I've had no problems, I have a 12v for my GPS and charge the phone on it, However only do it when riding, I Have the 12V in my fork bag and usually just put the phone in there too when riding on charge. I have a headset in my helmet so if I get a call it auto answers, If I need to make a call I pull over, wouldn't want to be messing with it when riding but incoming calls I can answer hands free.

Dauntae
---
2001 Shadow Spirit 1100 Cobra highway bars Kury ISO grips w custom weighted bar ends ,a VTX headlight and Kury Large ISO pegs but the best addition, Riding bell from Kathy M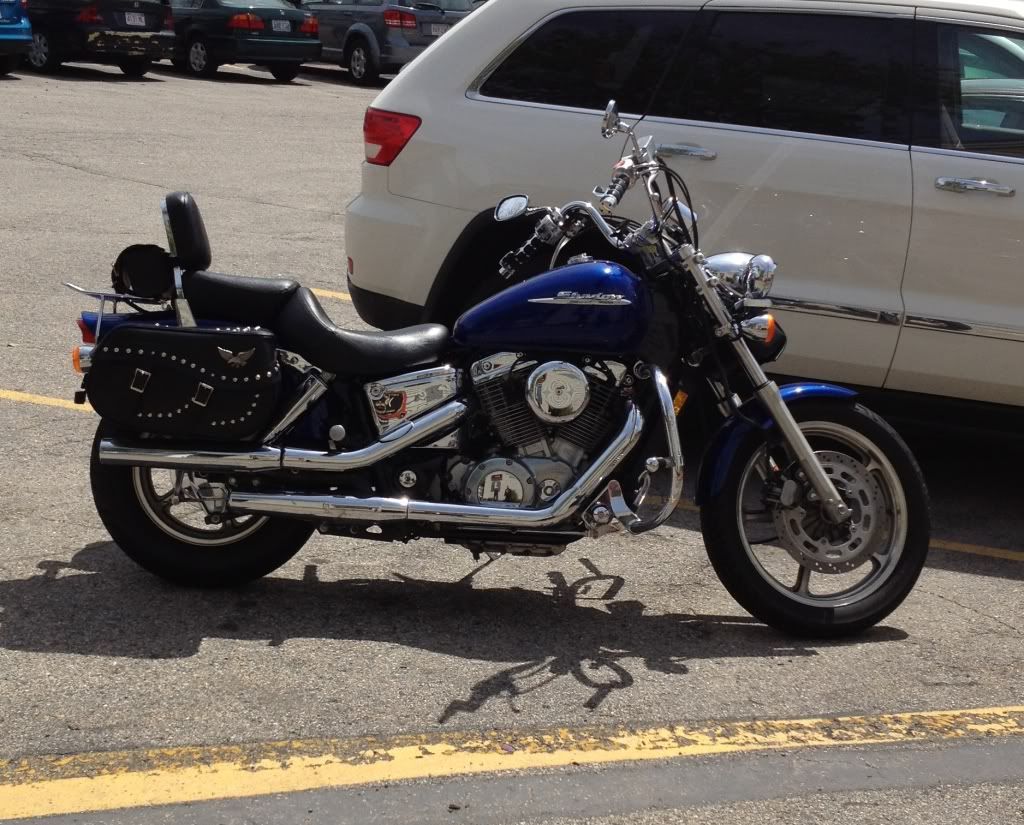 I laugh in the face of danger, then I hide until it goes away
The book of John Hopkins map
http://www.travellerspoint.com/membe.../tripid/365293
Senior Member
Join Date: Mar 2008
Location: Maryland
Posts: 6,045
The only way it will "kill" your battery is if you leave your accessory plugged in for an extended amount of time while the bike is off if it's wired directly to the battery.
---
Bernie
08 M109R *SLAMMED*
02 Sabre, gone but not forgotten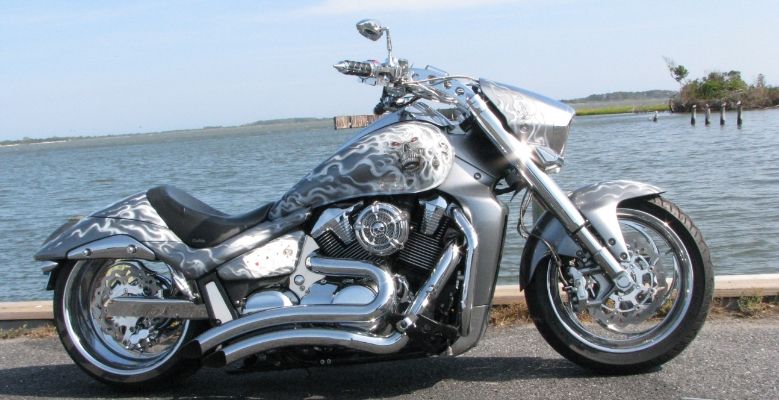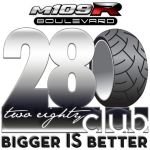 Thats what relays are for.
---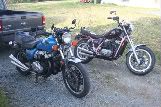 1981 cb750c with 900f forks, cams, oil cooler.
1983 vt500c
1979 cbx
Senior Member
Join Date: Nov 2009
Location: Seward, NE
Posts: 2,158
I charge cellphones, iPod, laptop, camera batteries, air up air mattresses etc from my bike and it's 12v. All with the engine off. Bike always starts up. Some of that charging is from a dc to ac converter. You'd be surprised how little power it takes to charge a phone etc. You're talking in mili amps of draw. Plus a phone charges for what.. 4 hours maybe? That's very very little draw on the battery.
---
1997 Honda Shadow VT1100C1 Spirit -- Too much work to list

Member
Join Date: Jan 2008
Location: Toronto, ON, Canada
Posts: 843
The safest way is to use an automotive relay, which is a little 1.0" square box with a trigger. When a trigger is on, such as ignition on and your rear tail light is on, the relay will allow power to flow through to the 12v plug. If the trigger is off, as when your ignition is not on, the relay will not allow power to your 12v plug. Using a relay means you will not be able to run down your battery when the bike is off.
Relays are also used for accessories such as driving lights and horns, where you do not want these accessories on when the bike is off.
Wiring is pretty simple:
Member
Join Date: Jun 2011
Posts: 42
My wife and I both have power plugs right on the top of the right side cover. We plug the cell phones in while we ride and we plug in the com.radios on the helmets when we park or they go dead while riding. We have never had a problem. The specs for your charging system are listed in the repair/service manual. We had a thread on another forum on this and I will try to find it and link it to here but this is the basic of it
Charging system capacity is 345 watts at 5000 rpm (for the ACE)
lights power usage on the bike (stock) 123.28 watts (if everything is on)
so that leaves you with 221.72 watts in reserve to power other things like heated vest /gloves, radio, GPS, cell phone, ect. There will be intermitant use stuff like the cooling fan but they are not going to be on long. You will have no problem with the cell phone.
Hope that helps.
I found it. check this out
http://www.powerlet.com/learningCenter/excessCapacity
and this is from the VTX forum
http://www.vtxcafe.com/showthread.ph...ht=Power+usage
---
Last edited by desert rat; 06-20-2011 at

04:33 PM

.
Posting Rules

You may not post new threads

You may not post replies

You may not post attachments

You may not edit your posts

---

HTML code is Off

---