Junior Member
Join Date: Sep 2010
Location: Reno, NV
Posts: 25
Pipes/cleaner/jets worth it?
---
So after having some family in town (Harley riders) for a big bike rally, I was told that to go from stock (exc. jardine slip-ons) to a full V&H exhaust, K&N air cleaner, and jet kit on my bike will do nothing performance-wise. Pipes will sound better, and I need a jet kit and better filter for the bike to run better afterward is all. Any truth to this logic? More HP isn't that big a deal for me, just want some quality pipes and have the bike run well with them is all, but I find it hard to believe that those mods will yield no increase, may even hurt low-end torque. Hopefully they're not just scared my Honda may overtake their Harleys!
---
'87 VT1100C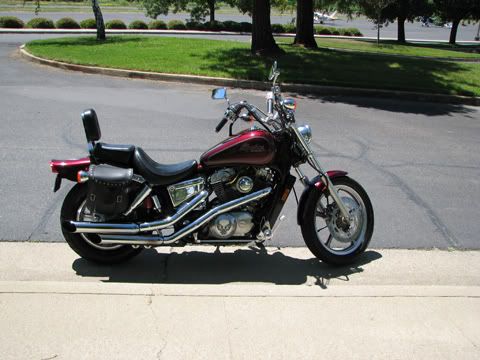 Member
Join Date: Aug 2011
Location: Sack-a-Tomatoes, CA, US
Posts: 808
If you really get pipes that work better rather than just sound "better" and an air cleaner that passes more air, then with the correct jets to match, you should expect better performance - often better low, mid and top end.
Box stock, you can prolly already outrun a Harley of similar engine size....
---
Black Beast = '71 CB750
Lazarus = '86 VT1100C rescued from a salvage yard.
Member
Join Date: Aug 2011
Location: Missouri
Posts: 46
Over the past several months, I have done a lot of research looking for and asking the same questions. First I picked out the exhaust I want (V&H Cruiser). Then I called V&H and inquired which rejet kit they suggest based on my bike and the same mods you are talking about.

For me, having a smaller engine than you (750) they suggested a Dynojet stage 1 rejet kit. They were very helpful when I called them. As far as performance goes, I can't speak for myself yet but most fingers point toward a slight but noticable increase in HP. From what I've read/heard if you can dial in the right air/fuel mixture it cant hurt either way. Hope this helps.
Yes, it helps.
06 750SS
Bean Box
V&H Cruisers w/ Hard Chrome baffles
Factory Pro Kit, 135/138, 42 pilots
Stock dyno Run : 27.61 HP, 39.24 Torque
Modded Run: 38.85 HP, 48.32 Torque
41.24 HP without baffles, but she was loud so I tuned accordingly.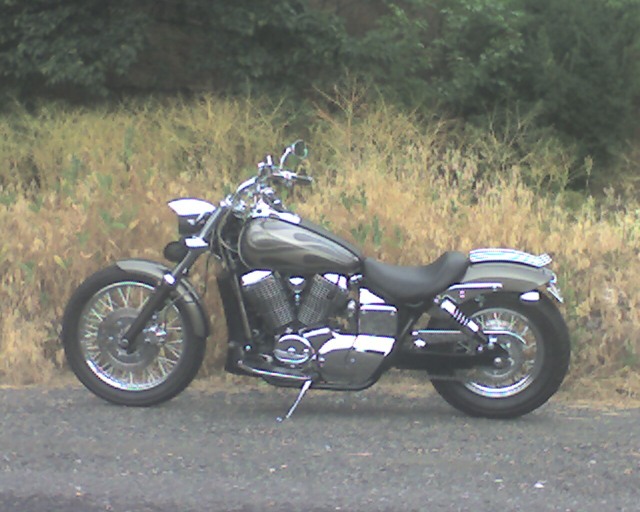 Of course pulling the gars and a couple of NOS stickies will do almost the same thing......
---
When The Knock On The Door Said Alcohol, Tobacco, and Firearms, I Naturally Thought It Was A Delivery.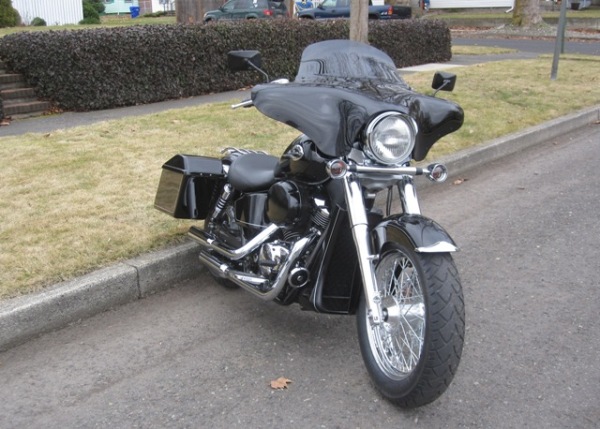 They are probably talking about, like many bikes running around, bikes that have loud pipes just to be loud. If the right combination of air cleaner, jet kit, and exhaust is used then you will surely see an improvement in performance. I have many people come to me that say they put on new pipes and their bike "feels" slower. Well they all thought that an aftermarket exhaust with no baffles would make them faster. That's not necessarily true. Their bike might be making more horsepower at a very high RPM, one which 99% of them never see anyway, but their low end torque gets diminished in the process so the bike feels slower. Many of them I just talk into reinstalling the baffles and they are happy. Others who are more performance minded we end up getting them a good free flowing air cleaner and a jet kit to match their exhaust.
And thus the debate keeps going on.
Red1100
, your 87' is the better performing 1100s from the factory. So many put aftermarket exhaust on the "twin pin" 1100 just to have louder "sewing machine" and didn't like it. I agree that to do everything air/fuel/exhaust has to be changed but @ what cost? It will still be a 87' 1100 Honda. I'm still pondering a V&H exhaust only because of the location of the stock exhaust interferes with the passenger comfort/peg position (gotta keep momma happy) but a FI bigger bike would be a better option for us + get better mpg than our 1100. Return on your "$$$ spent factor" so to speak. But it's your ride and whatever makes you happy is all that matters.
Junior Member
Join Date: Sep 2010
Location: Reno, NV
Posts: 25
Balls_Deep, I was looking at the V&H Cruzers too, but they don't make it for my bike apparently. Only the Classic IIs will fit, oh well.

Also considered Cobra drags but after seeing a youtube vid of they guy making his head-pipes red hot and shooting flames, I think I'll stay away from the poorly tuned and blue-prone setup. If I go the V&H route I'll keep the baffles for sure, and I've had the K&N filter sitting around for awhile.

I know what the limitations are, it being an older shadow, not a big performance bike, but I love that damn thing (first bike) to death. Hell it's a year older than me! Fell in love with the shadow from the beginning. Like most my age who get crotch-rockets, I decided to go a different route and opt for a real riding experience. Thanks for the input all, much appreciated.
---
'87 VT1100C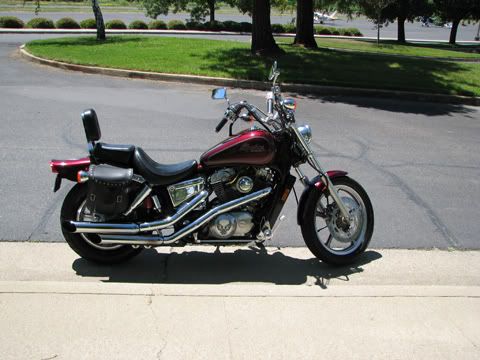 Red1100, the V&H Pro Pipe that's produced for the Sabre 1100 should fit your bike. I put one on my '02 Spirit and your '87 VT1100C is essentially the same bike. Just another option if you don't want the Classic IIs. In my opinion the Pro Pipe is the best sounding setup there is for the twin pin 1100's. You will see a slight gain in performance but it's nothing significant. I did notice a slight increase in low end torque with the Pro Pipe, but the top end is about the same as the drag pipes that were on it previously. I've never run my bike with the stock exhaust so I can't make any comparisons there.


---
2002 Shadow Spirit 1100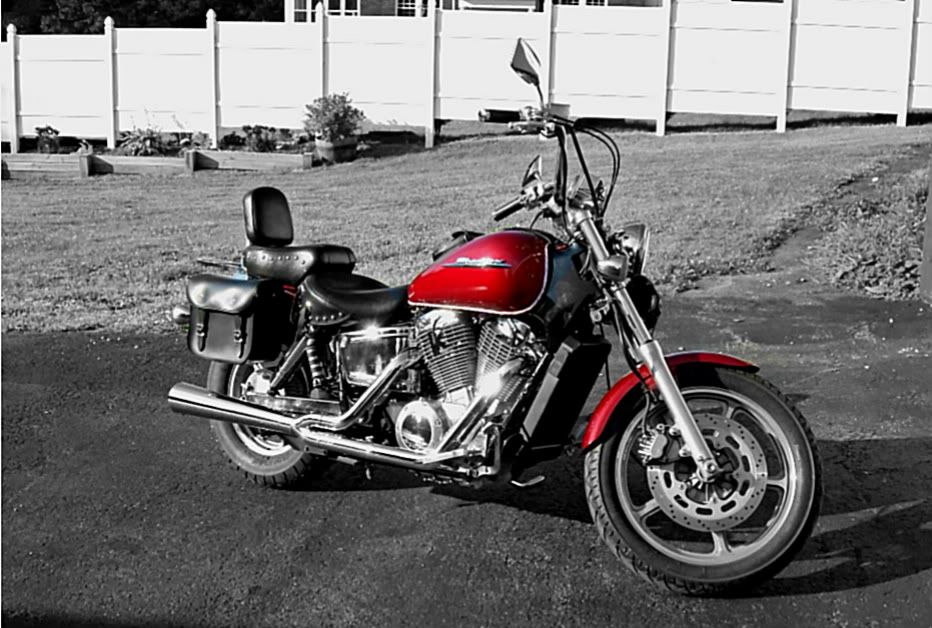 Member
Join Date: Jul 2011
Location: Central WI
Posts: 387
red1100, I have a 93, the same bike.
I have baffless cobras on mine (well, there is a bolt in each one to provide a little bit of backpressure). I got the bike with a stock filter, stock jets and these pipes. Sounded good, but I knew I was lean because of the blued headers. I bought a K&N and Cobra (really DJ in disguise) and after some tinkering got it dialed in. I can tell you the pipes with jet kit/K&N produce more snappiness than the pipes with stock filter/jets. Now, I feel better knowing I'm not running lean. I could care less about performance because it's a cruiser...as long as I can pass on the highway and such, I'm good with it.

Now, I test rode another 93 1100 for a friend of mine. It had stock pipes on it. I HATED the sound. I could hear the motor working over the pipe sound. I could have sworn it wasn't as snappy either.

But, in the end its up to you and whatever your style is. I prefer the loud pipes. My bike also has sentimental value for me, because it was my deceased cousins bike before. So, if you aren't planning on saving up for something fancier and want to stick money into your ride, I say go for it. But, if you're just trying to make it fit the mold of a bike you would rather have, I'd say save up and buy what you really want, because no matter how many mods you do to the shadow, it'll never be what you really want.

BTW, if you keep your eye on ebay, you can score a discontinued cobra heat shield kit that actually goes right up to the heads and covers 99.9% of the part that blues on the drag pipes. Only problem is you'll need to cut the rear cylinder one short and spread both of them apart to get them to fit. As you can see from my signature pic, you can't see the blueing on mine...it was really an eyesore too!
---
1970 Honda 50 Mini Trail - gone, but not forgotten
1978 Honda 50 Z
1975 Suzuki RV 125
1993 Honda VT 1100
1982 Kawasaki 550 LTD
1968 BSA B44 - sold...
1980 Kawasaki 750 LTD - sold to get the shadow
1973 Honda CB 500 - sold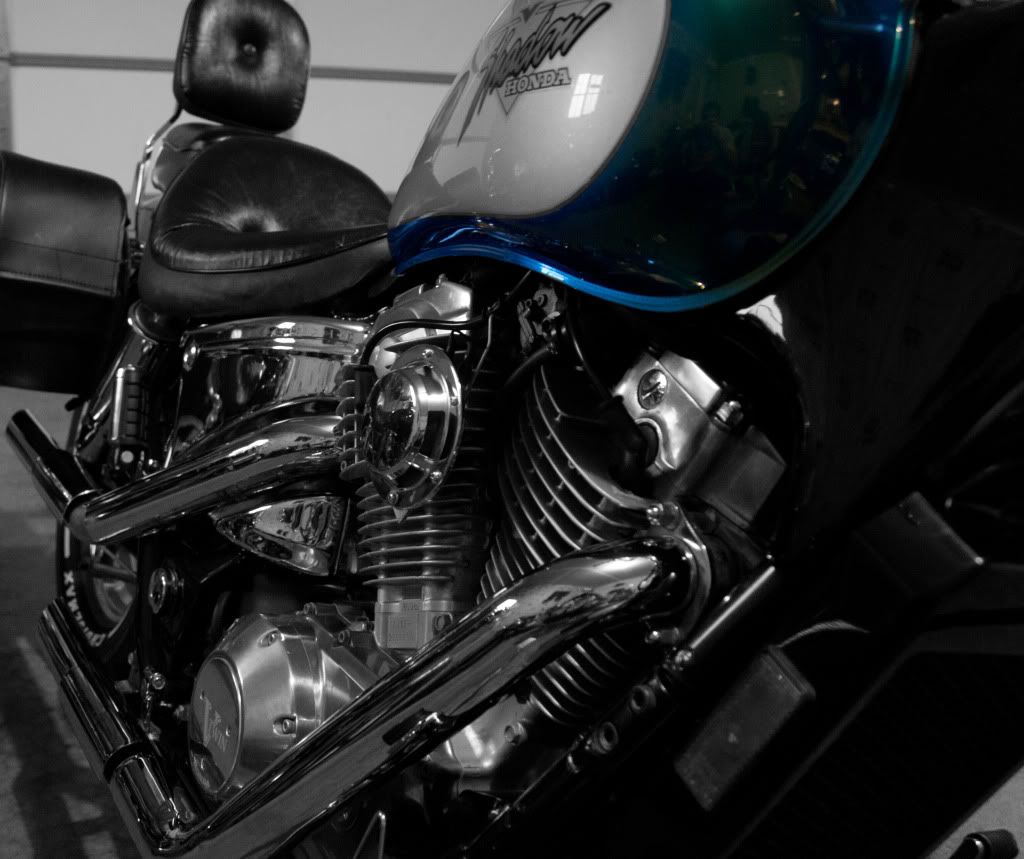 Member
Join Date: Sep 2011
Location: marysville, ca
Posts: 94
[QUOTE=GrumpyOldMan;1223250]If you really get pipes that work better rather than just sound "better" and an air cleaner that passes more air, then with the correct jets to match, you should expect better performance - often better low, mid and top end.
Box stock, you can prolly already outrun a Harley of similar engine size....[/
QUOTE]
lol
but yes you should definitely see a HP increase
---
2006 kawi ninja 500
2001 kawi vulcan 500
2006 honda aero 750
1997 honda spirit 1100 (current)
Posting Rules

You may not post new threads

You may not post replies

You may not post attachments

You may not edit your posts

---

HTML code is Off

---