Loudest pipes for Shadows?
---
First off please don't give me comments asking why I want loud pipes or any negative things please....
With that said after riding a Harley with a sweet ass pipe on it (drag pipe) I'd really like to get my Shadow sounding a little more burley. Does anyone have input on the loudest pipes they have heard or own for a Shadow?
---
2003 Honda Shadow Spirit...
-Daaaaaark Pony
Senior Member
Join Date: Mar 2008
Location: Maryland
Posts: 6,045
what year and model shadow? you know it will never sound like a Harley.
---
Bernie
08 M109R *SLAMMED*
02 Sabre, gone but not forgotten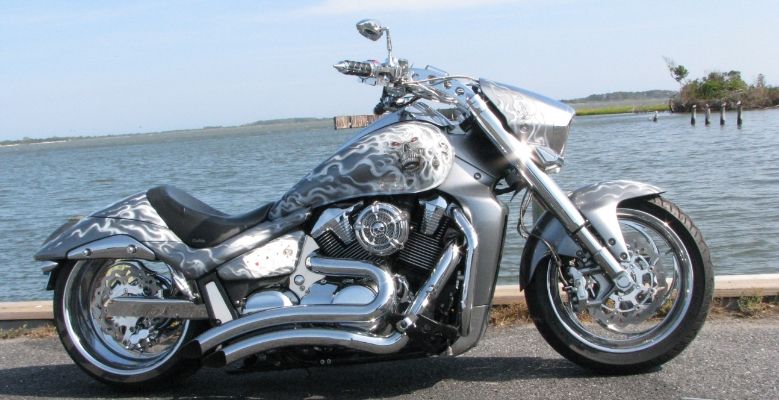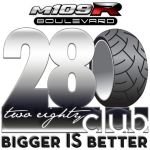 Nothing beats drag pipes! I cut everything off the the end of the header back and welded on straight 2" 16g automotive exhaust pipe. Afterwards, I wrapped them in black exhaust wrap and then put a few coats of black silicone paint.

I had to back the pilot screw out about 3 turns (from the stock position) to richen up the mix a little and reduce the popping/backfiring. This was uber cheap but, it may or may not, be the look you're after.

It seems like lazy four wheelers and soccer moms completely block out the sound of beeping horns but they sure as hell here/see me when I wrench on the throttle now.
---
1985 Honda VT700 Shadow
Drag Pipes
Conical Filters
130 front and 135 rear main jets
48 slow jets and 2 shims per needle
Barnett Clutches/steel plates
Senior Member
Join Date: Jan 2011
Location: Taylors,SC
Posts: 2,404
---
03 VT750DC Spirit
00 XR650R (Sold 5/3/13)
Senior Member
Join Date: Apr 2011
Posts: 3,311
Senior Member
Join Date: Jul 2011
Location: Des Peres, Missouri
Posts: 2,270
V&H, but like he said, it won't sound like a Harley.

-john
---
Peace.
-john
It's not the bike; it's the rider.
2012 Harley-Davidson 103 cu. in. FXDF; Stage 1 modifications, Vance & Hines exhaust, Harley-Davidson security system
'03 Honda 750 Shadow Spirit; '93 Yamaha 750 Virago
Ride bells by old dad and Ann
I had open Cobras on my '03 and I really liked the sound.
I wish I could get that Harley sound on my Harley. Lol. The Revo motor isn't the same as the air cooled.
---
'03 Honda Shadow Spirit - Sold
'07 Harley Davidson VRSCDX Night Rod Special
Member
Join Date: May 2011
Location: Lancaster, Pennsylvania
Posts: 405
my pipes are unmarked, but the PO thinks they're cobra. they're perfect. not painfully loud, but still loud enough to set off alarms and turn heads!
---
"Faster, faster, until the thrill of speed overcomes the fear of death." -Hunter S. Thompson
2003 Honda VTX1800R
1978 Honda SOHC CB750 K8 (SOLD)
2003 Honda VTX1300S (SOLD)
1979 Honda DOHC CB750L (SOLD)
1999 Harley Davidson 1200 Custom (TRADED)
2003 Honda VTX1800R (TRADED)
2003 Honda Shadow Spirit 750 (SOLD)
2005 Honda Shadow Spirit 750 (TOTALLED)
1985 Honda Shadow VT500C (SOLD)
I have the short V&H pipes and have to put the standard exhaust back on every six months to pass the warrant of fitness test. My standard exhaust measures at 72Db, my V&H ones come in at 113Dd!
---
And I to my motorcycle
Parked like the soul of the junkyard
Restored, a bicycle fleshed
With power, and tore off
Up Highway 106, continually
Drunk on the wind in my mouth,
Wringing the handlebar for speed,
Wild to be wreckage forever.
~James Dickey, "Cherrylog Road"
Senior Member
Join Date: Jun 2011
Location: San Antonio, TX
Posts: 1,722
+1
Short shots might be louder, but I don't know why you would want it louder. My straight shots are uber loud.
---
'95 ACE VT1100C2
Ride Bell: OCONEEDAN
Cobra: FloorBoards
Kuryakyn: Controls, ISO Grips, and Chrome DooDads
Craigslist-Batwing
Vance and Hines: Straightshots
Saddleman: Yoke bags, hardmounted
12V powerpoint
Travelcade: Gel seat
WOLO OOOgha horn
and some more junk I want to change.
Posting Rules

You may not post new threads

You may not post replies

You may not post attachments

You may not edit your posts

---

HTML code is Off

---