VT1100 project
---
Hey guys,
Thought I'd share what I'm up to with my 1100, this is my project diary....
Starting to strip it down..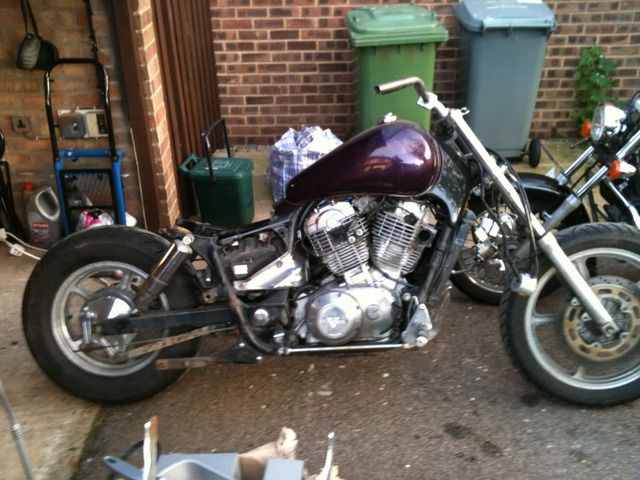 and some more...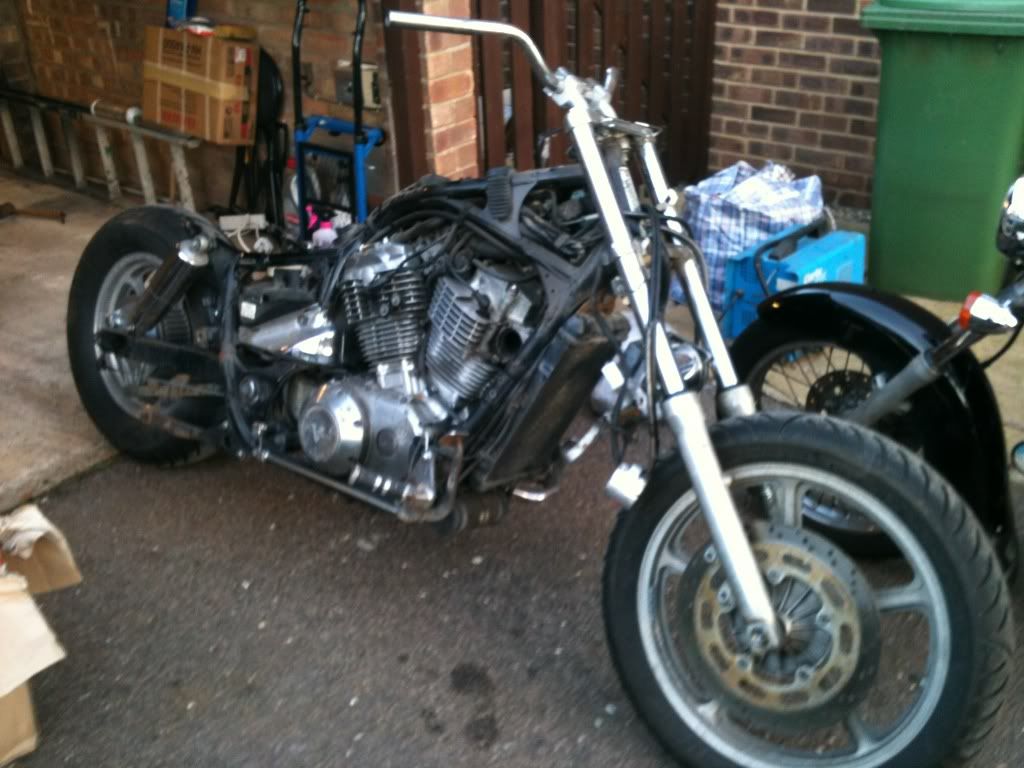 Carbs are out..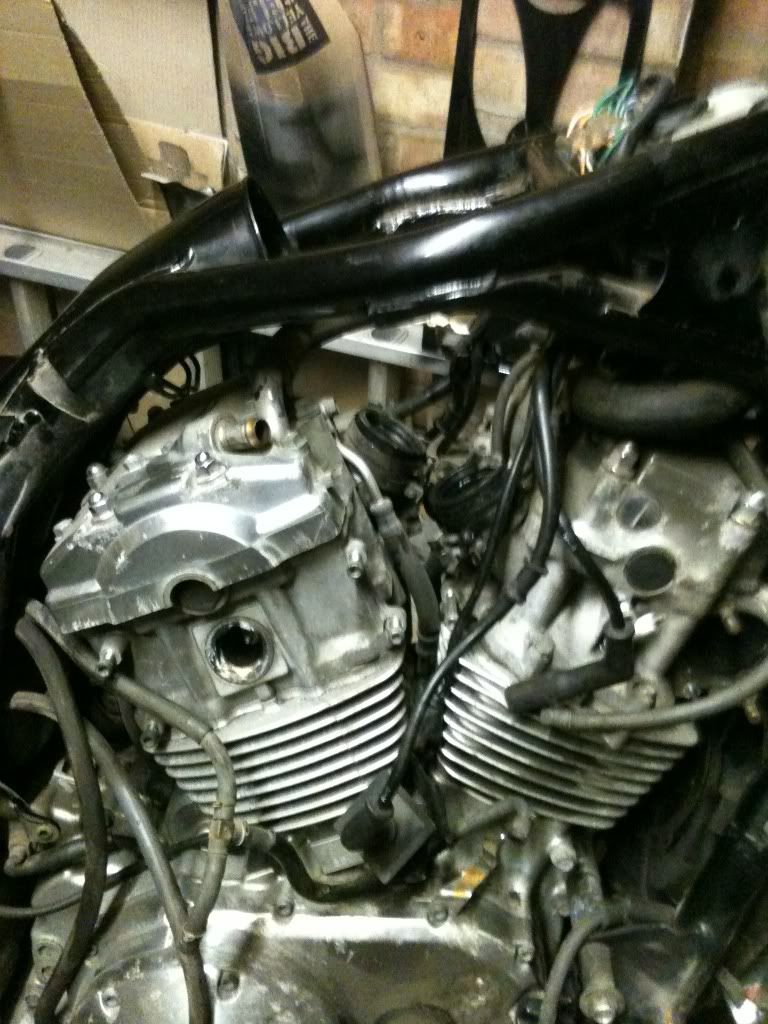 Got to be the ugliest cross bar ever...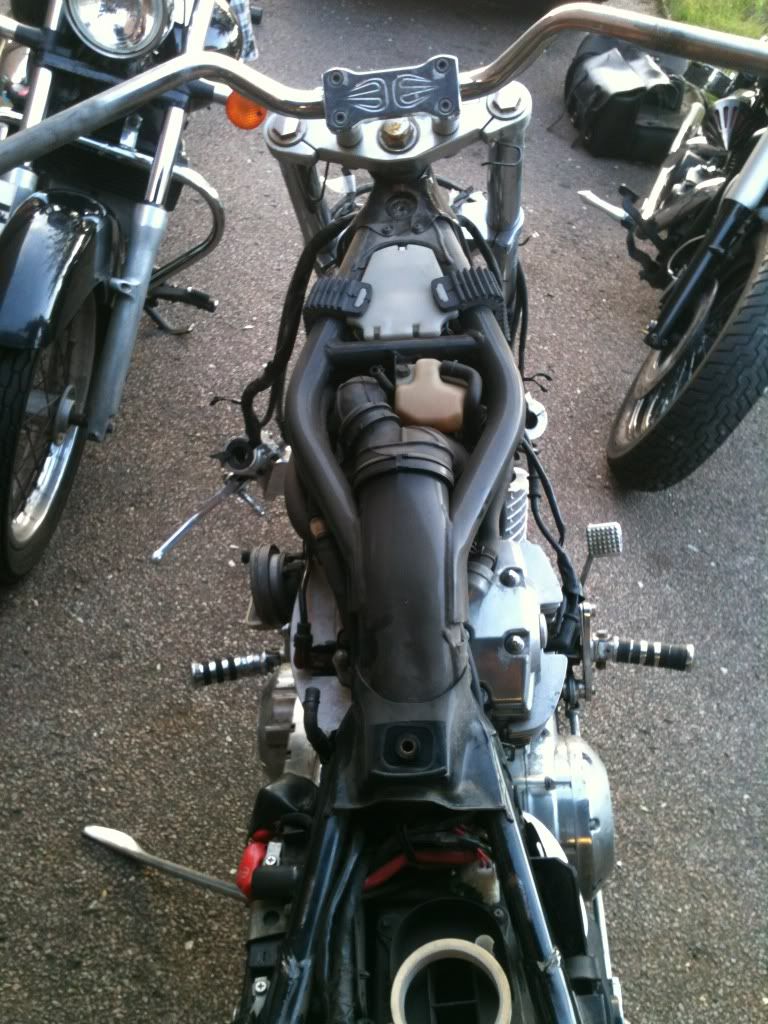 So now it's taking the rest of the bike to bits, raking out the front end a little (possibly with a chopper kit if I can find the yokes cheap enough), keeping the stock length forks, reducing the rear shocks (if not hardtailing) and trying to get a proper low-rider appearance.
Then it'll be overhauling the engine, getting it back in with a few changes, replacing the twin carbs with a single side mount affair (poss mikuni 41mm?), and making it look all pretty!
I really don't want to chop the headstock off to re-position it because in the UK it's a nightmare getting the bike re-certified for road use. Could use a raked headstock if I can find one.
__________________________________________________ _______________
Well bloody xmas has gone, needed something to get me back to normality so got back onto stripping the 1100
Was rather pleased with myself for finally getting the engine out - it was a rather drawn out process due to not having much of a clue what I'm up to!
So now the rolling chassis looks like this...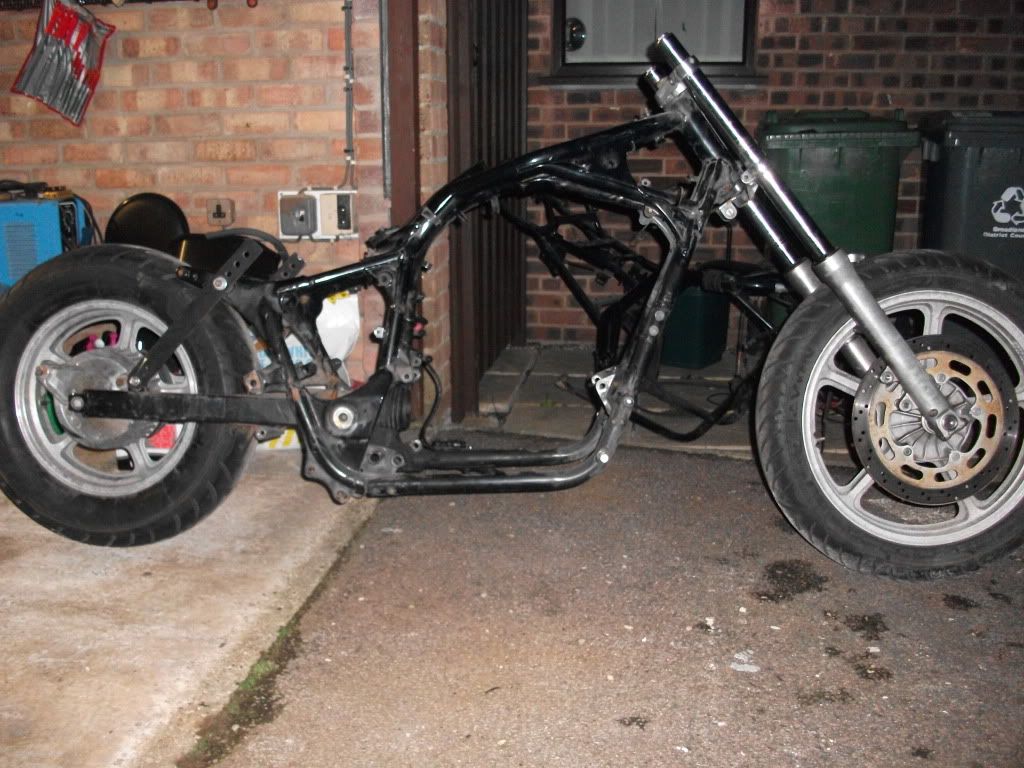 And the engine.....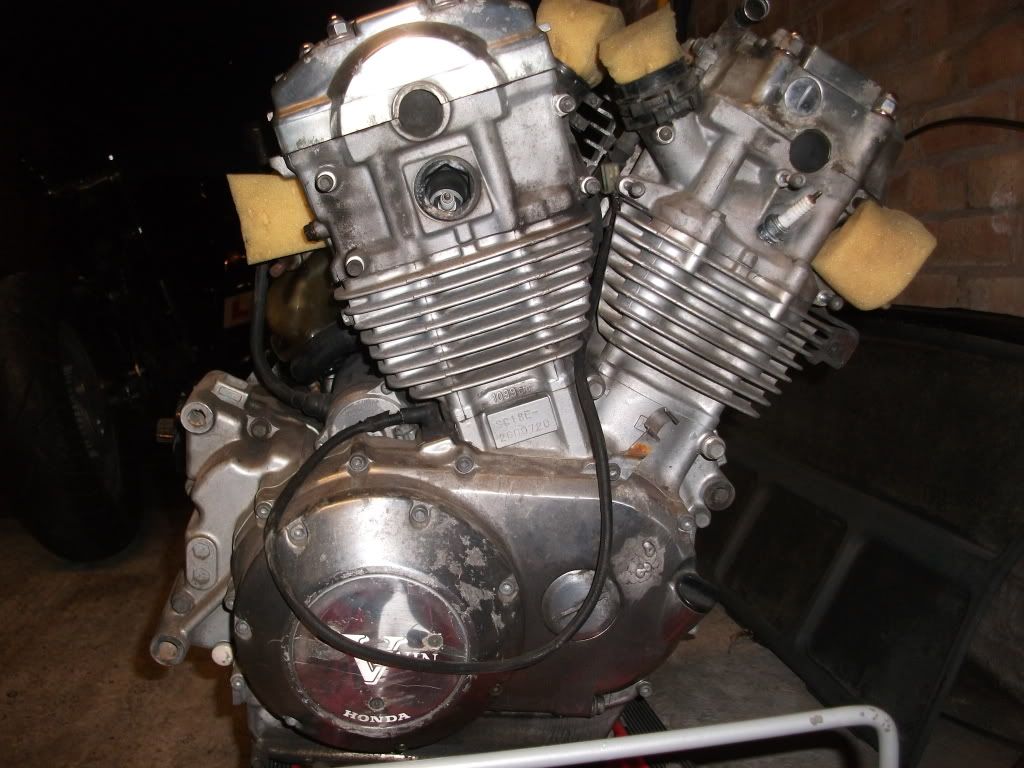 The pictures really do make it look better than it is!
I'm thinking now I should block up all the holes and drive, then pressure wash it, dry it off with the compressor and see what I've got to work with.
Then it's the starter out for a re-furb, fitting whichever carb goes on after making a manifold and we're starting to make progress. Not sure if I should do the soda blasting or whatever route happens to prep the engine for painting after the dry build has proved a success.
The frame then needs re-working and I may have to rob a bank in order to get some funds for a raked set of yokes.
More of this needed I feel..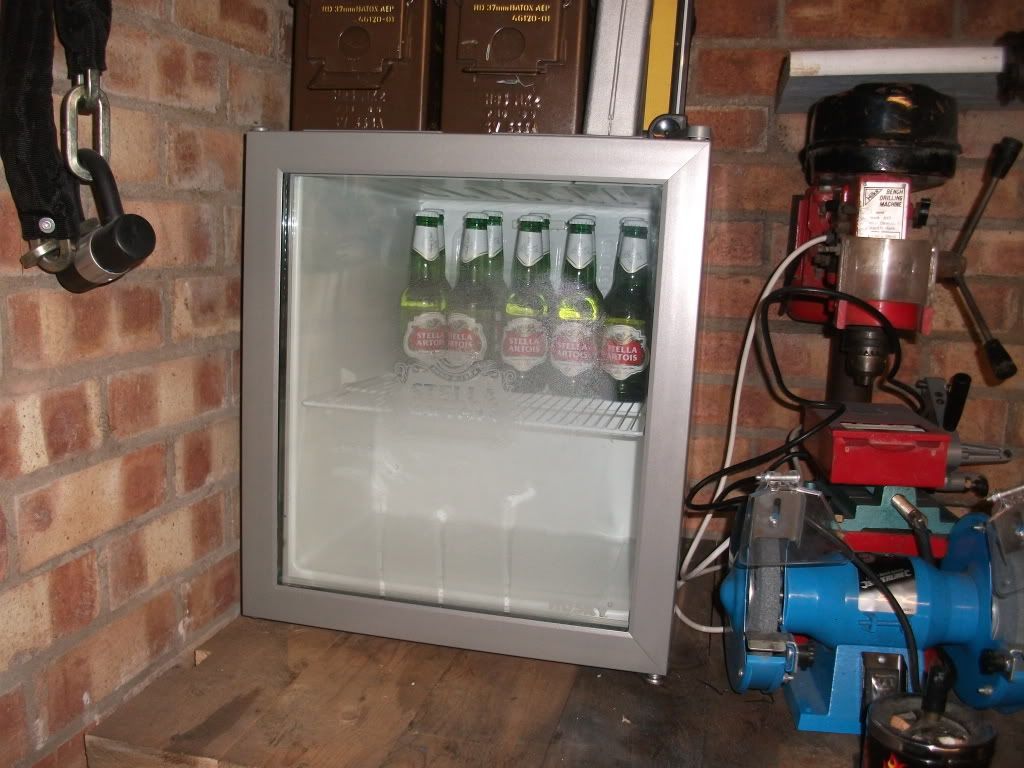 As always, advice is always more than welcome, I'm loving the learning but am fully aware I'm only about 30% there to getting the bike up, running and looking the **** again (if that if I'm honest!).
---
Doorman
Live life in the Shadows and live the dream!
Oh, and this is what the old girl looked like when I first picked her up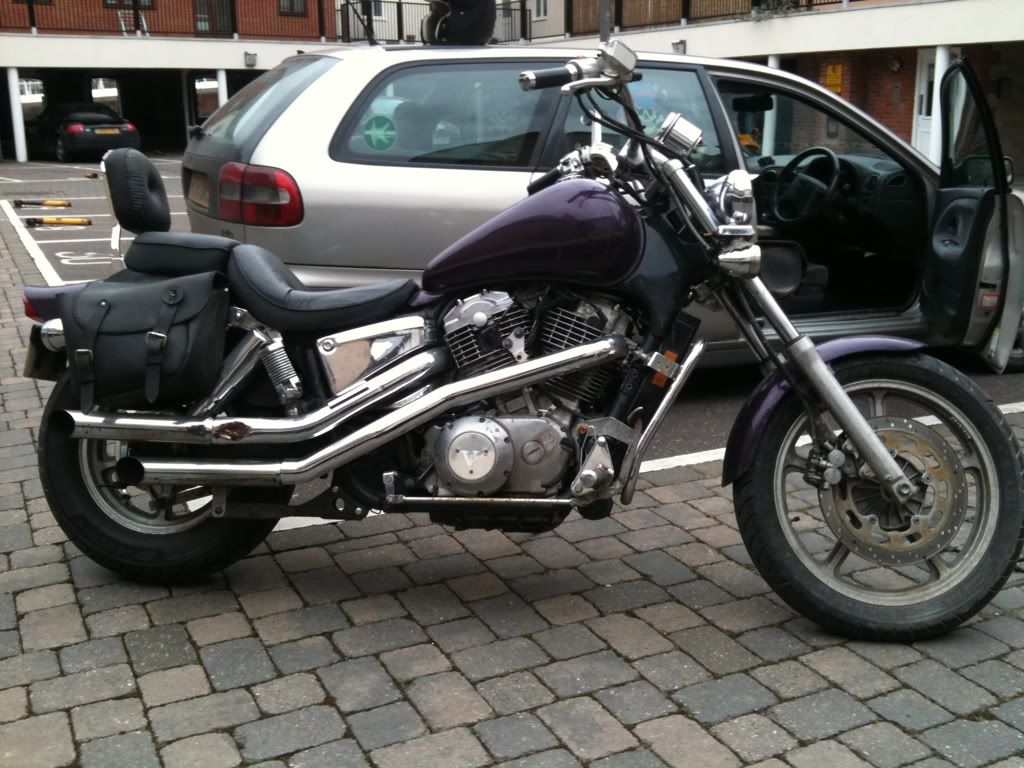 ---
Doorman
Live life in the Shadows and live the dream!
cool cool! keep us updated with your progress!
---
I started out with nothin'... and i still got most of it left.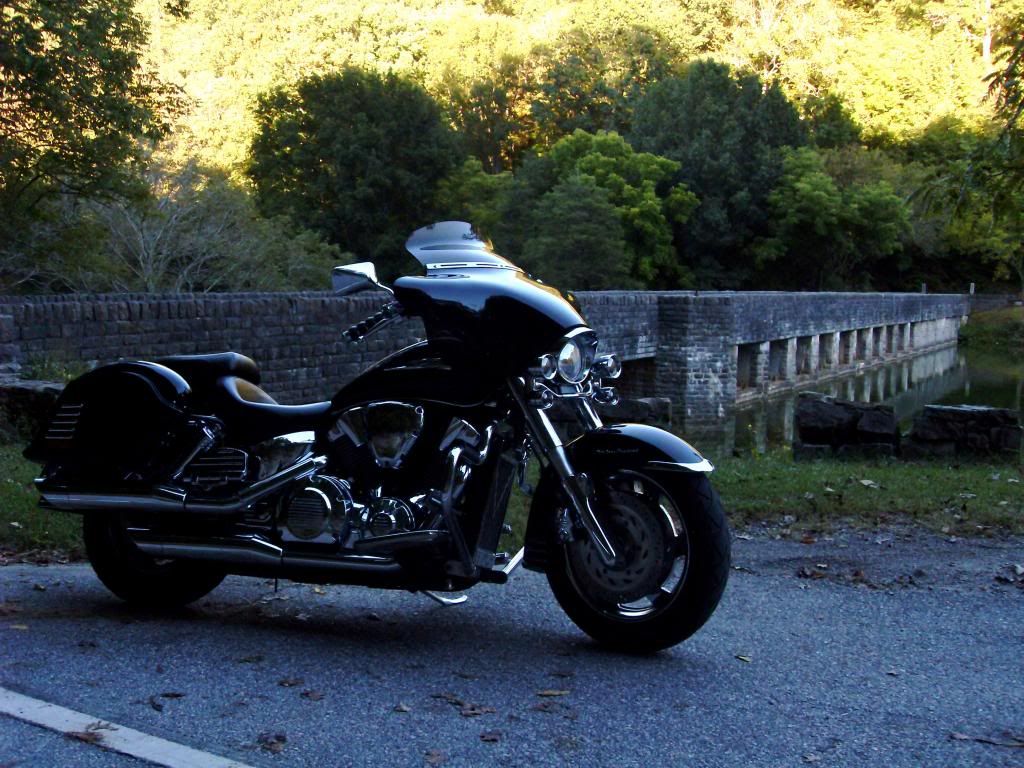 2006 Honda VTX-1300R
Memphis Shades Batwing, Stock "C" Model Pipes, Mustang Seat, Mustang Fender Bib, National Cycle Hard Bags,
Lindby Multibar, Küryakyn Sound System, Küry ISO Grips, Show Chrome Grille Cover, Küry L.E.D Light Kit, Küry Triple Whammy,
Küry Constellation Light Bar, TTO Tach, Metzeler Tires, Chromed Wheels and much, much more.
Senior Member
Join Date: Aug 2009
Location: In your garage stealing parts off your bike
Posts: 2,928
Suh-weet man! Following for sure ... make us proud brotha!
---
82 CB900C -
CB Lingo for My Road
82 Magna -
My Road is Magna-ficent!
91 VLX -
My Road to Bob
03 ACE -
My Road to Rod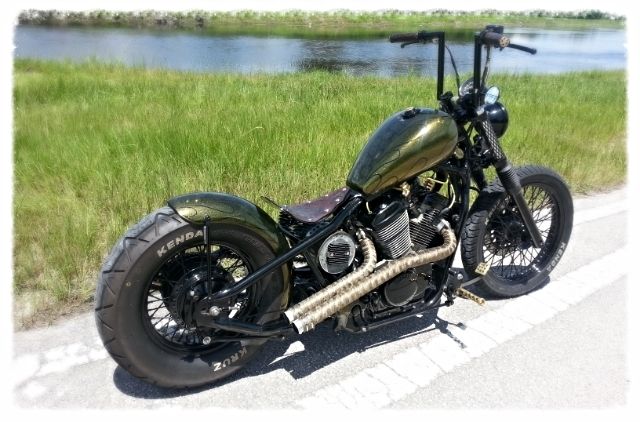 From me to you:
"Keep the rubber side down, unless of course you have a rubber head!"
Senior Member
Join Date: May 2008
Posts: 12,291
Good luck with the carb conversion!
great pics. nothing like doing it yourself.
Member
Join Date: Aug 2011
Location: Suwanee, GA
Posts: 154
Glad to see the last pic showing the most important tool in any workshop
---
2002 Honda Shadow Sabre
- National Cycle Switchblade Shorty Windshield
- National Cycle Hand Deflectors
- Stebel Nautilus Compact Horn
- Hyper-Lites Brake/Run Flashing Lights
- Comagination VisiPath Headlight Modulator
- Volar 3" Forward Controls
- Heat Demon Internal Grip Heaters
- Kuryakyn ISO Grips
I've been really slow on this project since my last post. In fact, I've achieved the sum total of zero. It's been WAY too cold to be in the garage with no heating.

Things are looking up though! Should be looking into raking the headstock a touch this weekend, then I'll have some more triple trees on order to bring the trail back into a rideable figure hopefully! However, once the weekend has happened, I can start knocking up some trial tanks and see how that goes. Also gotta start work on the flowing bodywork and rear mudguard. So, fingers crossed within the next couple of weeks I'll have some more pics to put up and some quality results for this poor old 1100.
---
Doorman
Live life in the Shadows and live the dream!
Senior Member
Join Date: Jan 2004
Location: Central, Minnesota
Posts: 4,827
Doorman,
Let us know how the single carb setup works out for ya. I'm curious to see if it's possible to get similar performance with just one carb instead of two.
---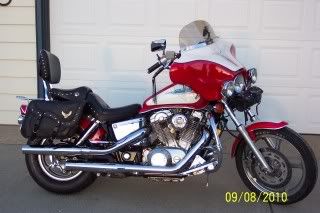 Quote:
Doorman,
Let us know how the single carb setup works out for ya. I'm curious to see if it's possible to get similar performance with just one carb instead of two.
Will do mate, it's going to be a little while off before I have to worry about that yet though.
Current state of play:
The frame is with a bike builder friend and all round legend this week, the neck is being stretched, goosenecked and raked a little. Hopefully I'll get it back and take some pictures at the weekend. REALLY looking forward to seeing the result. The stock forks are going back on so they're pretty long anyway, it will have a ride height of a smidge under 7 inches from the floor to the frame.
Once it comes back, I can get started on fabricating the tank. I'm still not sure yet, but I'm thinking on going for something pretty radical. Will have to see how either the ideas or my lack of skill pan out! Then onto fabricating some bodywork and the rear mudguard for a really smooth 'swooping' look.
Then it's on to the carb manifold, and a couple of other mods before sticking it back together and seeing if it works before even thinking about spraying it up
---
Doorman
Live life in the Shadows and live the dream!
Posting Rules

You may not post new threads

You may not post replies

You may not post attachments

You may not edit your posts

---

HTML code is Off

---