Banned
Join Date: Jan 2012
Location: Mesa Arizona
Posts: 185
Installing a Tachometer on my 2011 Honda Shadow Aero VT750C
---
I am hoping someone here with Technical Knowledge and/or experience with the Specific Cobra Tachometer 01-1637 being installed on a Newer (Preferably 2011) Honda Shadow Aero VT750C, could confirm some concerns I have with an up-comming Installation on my 2011 Aero.
I have a Cobra 01-1637 Tachometer headed my way and am looking forword to installing it on my 2011 Honda Shadow Aero VT750C.
Has anyone here installed a Cobra 01-1637 on their Bike? I would like some feedback from real users on this item and any Tips you may have on the installation.
What I would really like is to hear from someone who has installed this exact model on a 2011 Honda Shadow Aero VT750C, anyone out there??
The instructions look easy enough but I am just looking for a confirmation that I can indeed use the "Slide Connecters" that are supplied with the Tachometer and truly do not have to cut or splice the bikes electrical harness in anyway. Also would like confirmation prior to taking my new bike apart that the wires will indeed be the same colors as Cobra indicates in the instructions for the Cobra 01-1637 Tachometer.
Just a bit nervous about doing the install on my brand new Bike but not nervous enought to pay a Dealer to install it for me I guess....
I would really appreciate hearing from any Shadow Aero owners who have actually installed a Cobra 01-1637 on their bikes, preferrably a 2011.
Thank you in advance.
Have Fun Riding!
Greg in Mesa Arizona
---
Last edited by GregInMesa; 02-16-2012 at

10:13 PM

.
Senior Member
Join Date: Nov 2008
Location: Visalia, CA
Posts: 5,377
Relax..........
Don't have a tach. It's a cruiser don't need one. Probably wouldn't have the speedo, if I didn't need the odometer to tell me when to find gas.
Doubt the wire colors on the tach will match the wire colors on the bike. the instructions will tell you which tach wires to attach and WHERE they should attach. Your manual, should have a wiring diagram, for the bike. This will help you identify the Wheres, and coresponding bike wire colors.
---
93 VT1100C Sleeper, VH Exhaust, Saddleman Seat, Baby Apes, Metzlers, 2mm sleeved and bored (1150cc),10.5:1 comp, Modified Heads, Valves, Cams, Adjustable Timing, Bored Carbs.
Banned
Join Date: Jan 2012
Location: Mesa Arizona
Posts: 185
I bought that Cobra Tachometer already it's in-transit to me.

I am a guage lover always have been and especially a Tach. Everytime
I ride I experience times when I am not sure if I am in 4th or 5th gear and with a tach I will be able to know based on the Speed and the RPM.

The Cobra model I mentioned is the only Tachometer I was able to locate where the Manufacturer states it is specifically for the Honda Shadow Aero and one other Honda Model. It also look great.

They go for between $219 and $279, I bought mine brand new for $130.
I was waiting in the weeds on Ebay for a dealer to list one with a "Best Offer" and it came along and I grabbed it.

Did the same thing with the OEM Digital Audio Kit which comes it two kits actually. One kit is the AMP and Speaker and the other kit is Bike Specific
the mounting hardware and Audio Connection Wires. These Two kits
together normally go for around $500. You might see a dealer on Ebay list both for around $475 if you buy them together. I waiting in the weeds, made an offer and got the AMP/Speaker kit for $299 and the Attachment Kit for $80 both included shipping.

Tomorrow I am going to ask the dealer to quote me a Price to install both these things. Makes sense to do both at once because both require removing the Gas Tank, the seat and other same parts to install.

If the dealer says $150 or less to install both (Fat Chance), I will let them install it, maybe $200 if they say its a bitch. Anymore than that I will install it myself.

Not sure where the Tach is going to actually go on the Bars until I see it, that Audio Speaker will take up a LOT of real estate up there on the handlebars.

I know, Yada Yada yada... But I can't wait to get it all done and cruise around listening to Music....

Loading the 32GB Zune I bought with Music as I type this (Got it today refurbished from Best Buy for $139.00, looks brand new)

Thanks and have fun riding!

Greg in Mesa Arizona

ps: Service Manual for my Bike Purchased today on Ebay $39 + 3.45 shipping (Pretty much New).
Senior Member
Join Date: May 2009
Posts: 1,415
I installed a Tach on my bike (not the cobra) I got off ebay for $45. It was advertised as being for a Harley. It works perfect.
3 wires, one red, one black and one blue.
Red for power, black for ground and blue to the coil.
20 minute install.
---
1998 VT1100T A.C.E. Tourer
I installed on on my bike as well, pretty easy.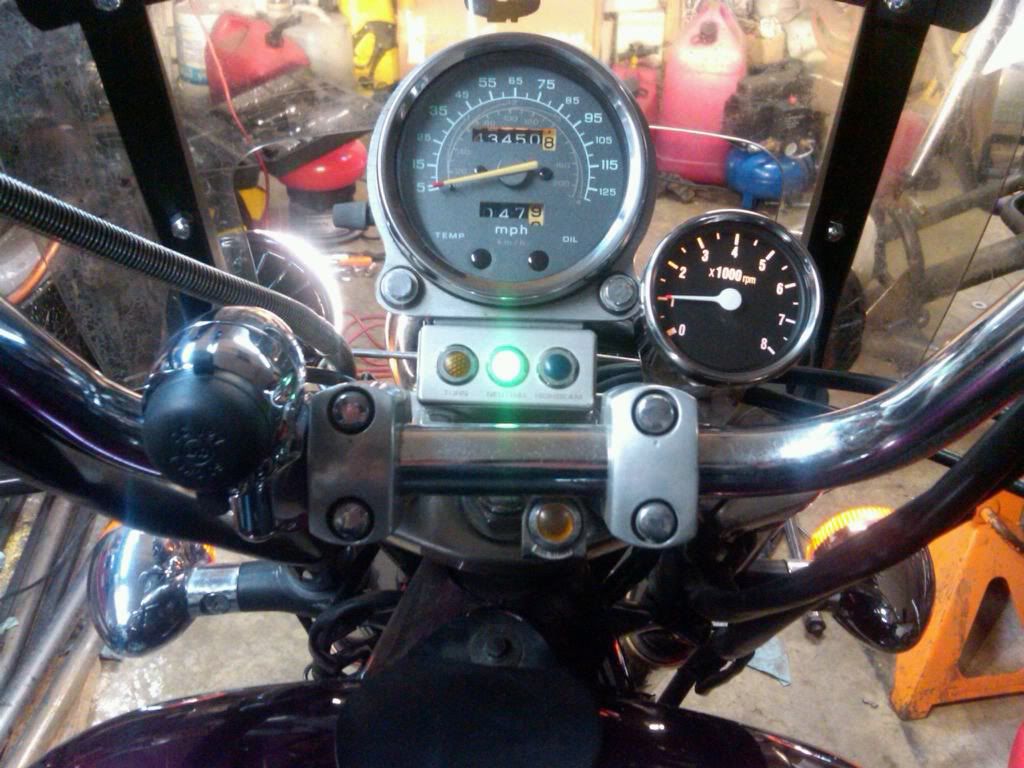 ---
1989 Honda Shadow VT1100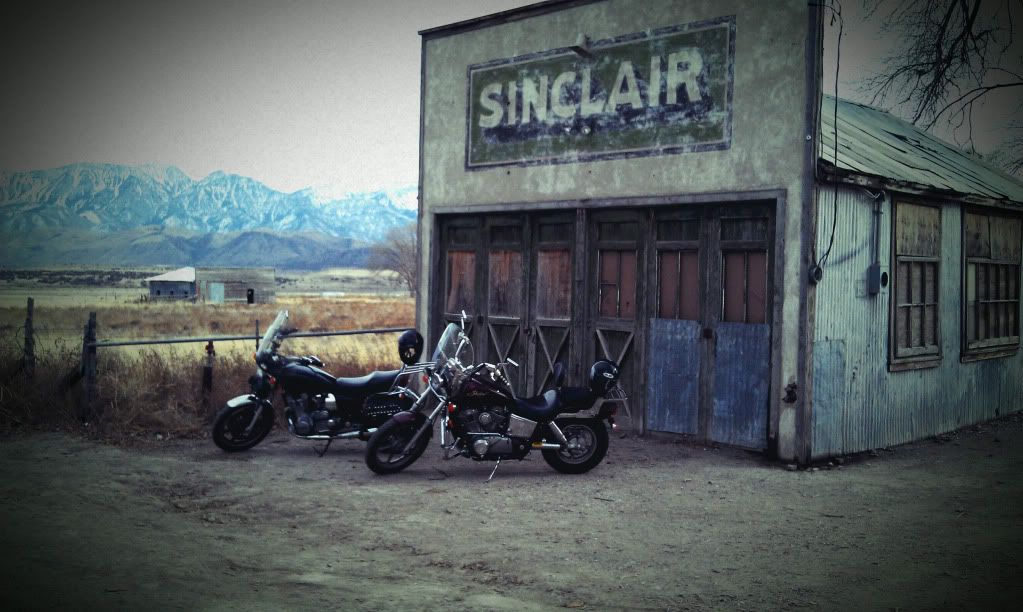 THE Answer - to life, the universe, and everything. . .
---


2004 Spirit 1100


Banned
Join Date: Jan 2012
Location: Mesa Arizona
Posts: 185
Thanks You guys and Nice looking Baron Tach...

The Cobra Tach will be in my Hands tomorrow, Already have the Audio System waiting and have a Küryakyn Power Point and Honda Service Manual in transit to me.

I want to install all these at once since they all require the Gas Tank to be removed.

Looks like Middle of next week I will "Operate" on my Aero ... LOL

I feel good about it, the Audio system is OEM and is all Plug in, The Tach
comes with "Quick Slide" Connecters and only three wires..shoud be simple and the Power Point simply goes to the Battery.

A Little worried about where I will locate the Tach on the Handle Bars with that Honda OEM speaker Bar in the way but I will get it on there one way or another, I'll know more whan I get my Mitts on that Tach (UPS scheduled delivery Thursday (later today).

Have a good one everyone!!

Greg in Mesa, AZ
Banned
Join Date: Jan 2012
Location: Mesa Arizona
Posts: 185
I got that Cobra 01-1637 Tachometer and tried to install it but one of the quick-slide connecters was broken so I called cobra and they sent me new connectors.
I had already installed the Tach before realizing the one connecter was bad and it was the Coil connection that had to wait for the new connecter. I had used the cracked broken connecter with electrical tape thinking I would replace it when the news one came in. The Tack was acting funny, only going to 1.5 1000 rpm and fluctuating, I thought it was that bad connecter.

New connecters came, I installed it and by then the Tach was completely Dead. It lighted up but the nedle had ZERO movement even before I installed the new connecter, and afterwards. It had fluctualted like I said but after a few days went dead and the new connector didnt help.

I had bought the Cobra Tach "New" on ebay for less than 1/2 price ($130) and when I got it I noticed the install instructions had fingerprints on them and they looked used, the box looked like it had been opened a few donzen times too, but I guess I was in denial and believed it was New.

I ended up returning the Tachometer and got my money back. I now believe the Tach was actually a defective return that found its way back into the sales area of an internet parts dealer, in fact, the dealer told me it has happened before where he sold someone and exhaust system and the customer found someones Old exhaust in the box when he recieved it.... Arrrrghhh see what I get for trying to save a Buck!
The old addage, if it looks too good to be true, it probably is..definetely applied here.

I left the connectors attached to the connection points on my bike and ordered some matching male connectors and also orderd a Brand New Tach which is due in today,
shoulf be an east plug and play deal, I hope it works.

To be continued.....
Banned
Join Date: Jan 2012
Location: Mesa Arizona
Posts: 185
Got in a Drag Specialties Tachometer along with a Barons Tach Adapter a couple of weeks ago.

With the Tach adapter in place I got a Zero RPM reading.
Without the Tacj Adapter in place and only running from the Fron Coil
I got what appeared to be 1/2 RPM readings again.

Funny thing is with the Tach adapter in when I hooked either one of the coils to the adapter I got what appeared to be a 1/2 RPM, but when I hooked both coils through the adapter I got Zero.

Either coil to either input on the apdapter 1/2 RPMs. Withut the Adapter 1/2 RPMs.

It appeared to be 1/2 RPMs not sure that what I was actually seeing.

There is something about the 2011 Honda Shadow Aero Ignition that will not work with any of the aftermarket Analog Tachometers with or without
the Baron Tach adapter.

Probably why Cobra doesnt sell a Tach for the 2011 Honda Shadow Aero 750
they stop at 2009 with fitment.

I have given up the idea of having a Tachometer on my 2011 Honda Shadow Aero 750. Three Tachometers and 2 tach adapters later you can't say I didnt try.....

I am over it....
---
Last edited by GregInMesa; 04-17-2012 at

01:10 AM

. Reason: typos
Senior Member
Join Date: May 2009
Posts: 1,415
make sure it is designed for a 2CYL dual fire ignition.
---
1998 VT1100T A.C.E. Tourer
Posting Rules

You may not post new threads

You may not post replies

You may not post attachments

You may not edit your posts

---

HTML code is Off

---