Where/how to move turn signals for large saddlebags,
---
Looking at my 85 Shadow VT700, if I want to go with a larger saddle bag I'm going to need to relocate my turn signals. Where do I put them. I would like to avoid just drilling and mounting them in the fender. I'm thinking something like on the side of the tail light or with the license plate.
Would this work on my bike?
Emgo REAR TURN SIGNAL MOUNTING BRACKET - JCWhitney
Anyone know?
Member
Join Date: Feb 2012
Location: marysville,Ca
Posts: 370
Improvise
---
"Layde" , my 86 VT700
Member
Join Date: Jul 2011
Location: Apple Valley, CA
Posts: 566
Go to the hardware store, get some L brackets or the like and mount them to your license plate mount. I custom mounted my front and rears that way. Cheap and DIY.
---
10/2012
Senior Member
Join Date: Feb 2007
Location: Tecumseh, Michigan
Posts: 1,340
The ones that come with the Leatherlike bags are just a piece of flat steel that mounts to youre license plate bracket and the ends are bent forward 90 degrees with mounting holes for the signal stems. You should be able to make one yourself if you have access to a bench vise for bending.
---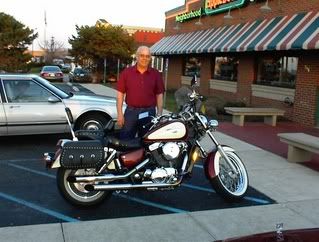 Thanks for the replies. I think I'm going to make a run to Home Depot tomorrow.
---
1985 Shadow VT700c
Looking around online late last night and I found a universal turn signal relocate kit. It's made by Saddleman. It's looks like just a U shaped bracket that blots up to the license plate. I went for the chrome on and got if on Ebay for under $30.00 with shipping. Could have gone with black for a few $ less. I think it's going to work out better then trying to make something myself.
Senior Member
Join Date: Mar 2012
Location: Ketchikan, Alaska, salmon capital of the world!
Posts: 1,304
Are there legal implications as to where they rear turn signals are mounted? As long as they are clearly visible I am assuming?
As long as your going to relocate the turn signals, look into turning them into run-stop lights as well, really increases the visability of your bike. I did the relocation and the signal mods at the same time when I put on my bags, you have to modify your wiring anyway for the extra reach, and the signal upgrade was cheap, They make the run-stop kits that use your stock signals so it's not like you need to buy new signals, Great upgrade.
I got mine from crusiercustomizing.com, you should check them out.
Just my 2 cents
Senior Member
Join Date: Mar 2012
Location: Ketchikan, Alaska, salmon capital of the world!
Posts: 1,304
I just redid the wiring on the back end of my shadow. It was a mess, cuz some one just didnt have them connected. But the color coding was good and I got it straightened out fairly easily.

How hard is it to change the wiring into a run/stop/turn signals? As apposed to just having them be turn signals?
Or you could purchase one of those cool tail lights crotch rocket riders install that have the blinkers built in.
---
88 Honda VT1100C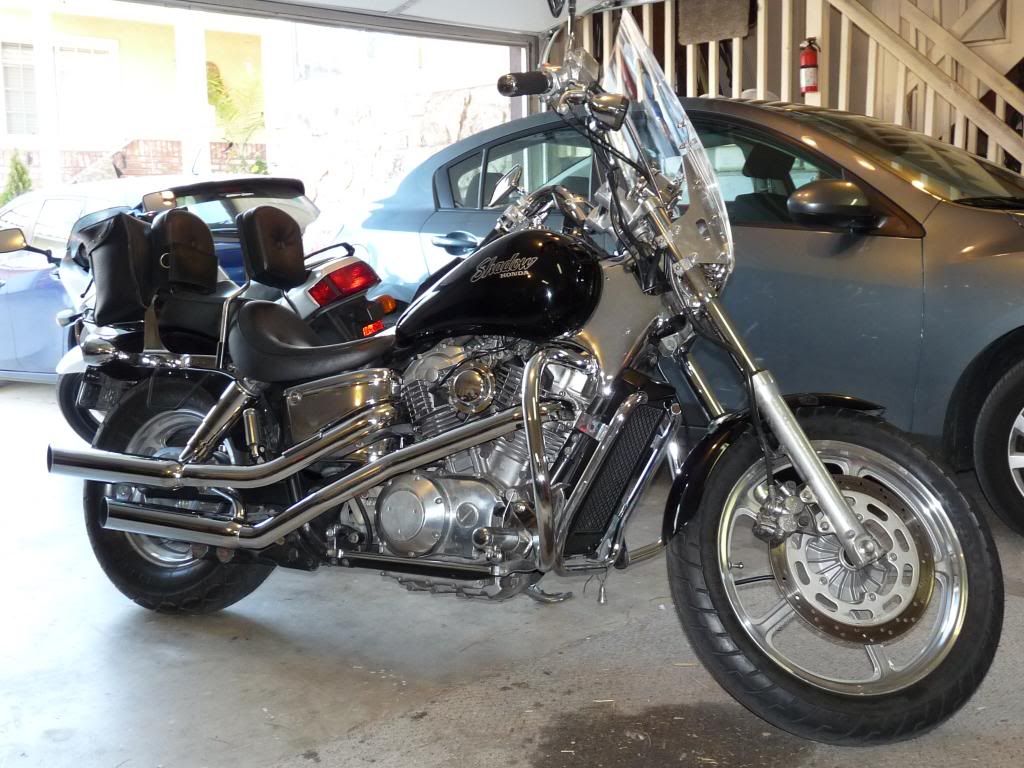 02 Yamaha WR426
71 Honda CB175
Posting Rules

You may not post new threads

You may not post replies

You may not post attachments

You may not edit your posts

---

HTML code is Off

---