Member
Join Date: Mar 2012
Posts: 31
Hesitation/miss during acceleration
---
So today i did a lot of work to the bike, it has been running better the more I drive it but yesterday the floats stuck and flooded the bike. I took the carbs off today and cleaned them, put in all new hardware/screws on the float bowls and the diaphragm side to make sure they were tight. I soaked the carbs in Berrymans carb cleaner for 45 minutes or so. The carbs looked squeaky clean. I put new jets in them that I ordered recently. I went up in jet size for the drag pipes. I put all new gas line, gas filter, plugs, air filter, cleaned floats and all other gaskets ect. I went riding and the bike rode fine for about 3 hours and then it slowly developed a miss. the more i drove it the worse it got. When you take off its not too bad but as you accelerate the bike cuts out. Its really bad when you mash the throttle, if you gently ease the throttle it does fine. what gives Im outta ideas,
---
The lady gaga bike
a 1990ish shadow
how much bigger did you go on the mains?
did you pull the plugs to see what they look like, are they fouling out with fuel sooty?
are you using stock needles, did you shim them, or are you using adjustable needles?
the insides of those pippes are looking pretty sooty.
fuel filter good, any crud in the tank or carb bowls?
did you check the charging system?
---
1999 VLX
1998 SA750
1991 NSX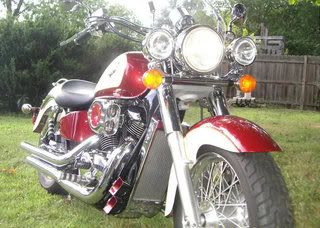 Member
Join Date: Jun 2011
Location: Minnesota
Posts: 447
I had a similar situation on my Radian this week. It ended up being my clutch. Got new friction plates in the mail as we speak.
---
Black Max
- 1983 Honda Shadow VT500 - Gone but Never Forgotten
Member
Join Date: Jul 2011
Location: Remote Central Asia
Posts: 299
You may have gone up too far on the jets...sounds like you're running rich and flooding the carbs.
---
1985 VT500C Shadow
Blackout, custom comfortable 2up seat, drag pipes, air horn, over 20k miles.
Now riding Central Asia on a 1994 Honda Dominator NX650.
Member
Join Date: Mar 2012
Posts: 31
Honda Shadow Shadow Deluxe 88-94
Main Jets sized up (#120) from stock and 2 shims per carb. Pilot jet sized up (#42). Stock Needles with 2 shims each which is what the kit calls for. The carbs are squeeky clean, readjusted the floats and soaked everything until it was varnish free. The whole reason I took carbs off was because it was dumping raw gas coming out of the carbs and exhaust pipe, hence the soot. The fuel filter is a week old, I put new gas and some Seafoam in the tank and will run it like that and see what happens. Tank is clean, filter is clean. Plugs didnt look bad.

---
The lady gaga bike
a 1990ish shadow
Member
Join Date: Mar 2012
Posts: 31
I let the bike sit overnight now the bike wont start at all, im out of ideas. I just dont understand how it ran so good then all the sudden took a downhill turn overnight
---
The lady gaga bike
a 1990ish shadow
Member
Join Date: Sep 2011
Location: Bloomington/Macomb, IL
Posts: 194
If you have a multimeter check the reading on the battery. This recently happened to a buddy of mine while we were doing roughly the same work to his bike.

It sounded like it wanted to go, lights turned on, starter would try but there just wasn't enough juice in the battery to get it to go. You should be reading over 12.5v (someone else will know the actual voltage).

Hopefully it's that simple for you!
---
2007 Spirit 1100, Hard Krome pipes, K&N, DynoJet Stage 1, Saddlemen Tattoo Slants, Switchblade Windshield
Not enough miles...yet
Member
Join Date: Mar 2012
Location: Belleville Illinois
Posts: 92
The way you described it earlier, it sounded like it might have been actually starving for fuel. Even though the filter is new, it could still be plugged up internally. I'd pull the line off prior to the filter, see if you're getting fuel from the tank. If so, reconnect it, and then check after the filter to see if you are getting fuel through the filter.

I agree with what you said earlier, if you messed up the jetting, it should have ran like crap from time one. The fact that it ran good for three hours and then slowly developed a miss makes me suspect the opposite end of the spectrum.
Member
Join Date: Mar 2012
Posts: 31
I will run a new line from the tank to the pump and see if that helps. I checked the float bowls and drained the gas in them, maybe its just not getting enough?? I flooded it last night so the plugs are out and hopefully its dried up by the time i get home tonight, I am charging the battery today also why im at work. I will keep people updating as I find out
---
The lady gaga bike
a 1990ish shadow
Member
Join Date: Mar 2012
Posts: 31
So last night i got home, the battery had been charging for 24+ hours on a trickle charget. I put the spark plugs in and the bike fired right up no problems. The miss is gone! I guess the battery was low enough to not produce enough spark for the engine? the battery is less than a year old, do i need to check the rectifier on the bike to make sure its charging properly?
---
The lady gaga bike
a 1990ish shadow
Posting Rules

You may not post new threads

You may not post replies

You may not post attachments

You may not edit your posts

---

HTML code is Off

---