Well from your other "carb" thread it sounds like you have #1 resolved?
#2 is annoying but fixable.
But #3 is going to be a PITA! Is it leaking oil out of the bolt or out of the gasket? I'd think with the other bolts torqued down the gasket should still be compressed enough to create a seal, but what do I know. If it's just the bolt leaking oil then I'd say go with the LG (liquid gasket) and see if it holds up until the next time you feel like pulling out the engine again.
Oh, that's a bummer! I feel your pain! If it makes you feel any better, I have to split my case sometime in the future and fix my clutch drum alignment because when I'm in 1st or 2nd gear, my trany periodically slips into neutral. But it's a learning process right?
---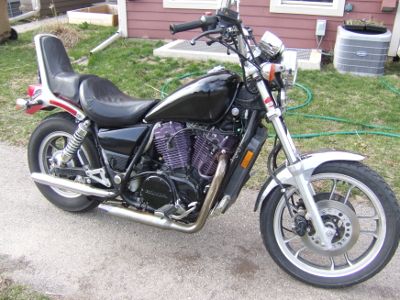 1983 vt750 - "Fra-Hankenstein"

---
Last edited by mattyo; 10-04-2012 at

02:43 AM

.
With the oil leak, I have not tried to start it again becuase it spews oil out all over the rear of the engine.
I think I will leave the carb issue until I get the leaks fixed. I would have thought the pressure from the other bolts would be good enough, but it definetly leaks out still. I think I'm going to try the liquid gasket route first to see if it will hold me over until I pull the engine completely. If it works, great. If not, then I'm not out anything.
I thought I'd give an update even though there isn't much progress. Moose hunting started, so my time was spend out of the shop the past month. I was successful in bagging a young bull, so now we have meat for the winter.
The other thing stopping me from working on the bike was my garage heater being out of commission, I finally got it back up and running, so it's toasty warm in the garage now.
The things I have left on the bike are;
1) Replace O-Ring on coolant pipe
2) Plug front hole to stop oil leak
3) Fix thread on the top cover
4) Get it running!
I have to pull the engine to fix # 3 which I'm not looking forward to, but it has to be done to fix it properly.
I'm hoping to work up the ambition to get everything done before spring. This leaves me 5 months. Should be plenty of time, right??
Here is a picture of her tucked away for winter, or until I get around to addressing the issues.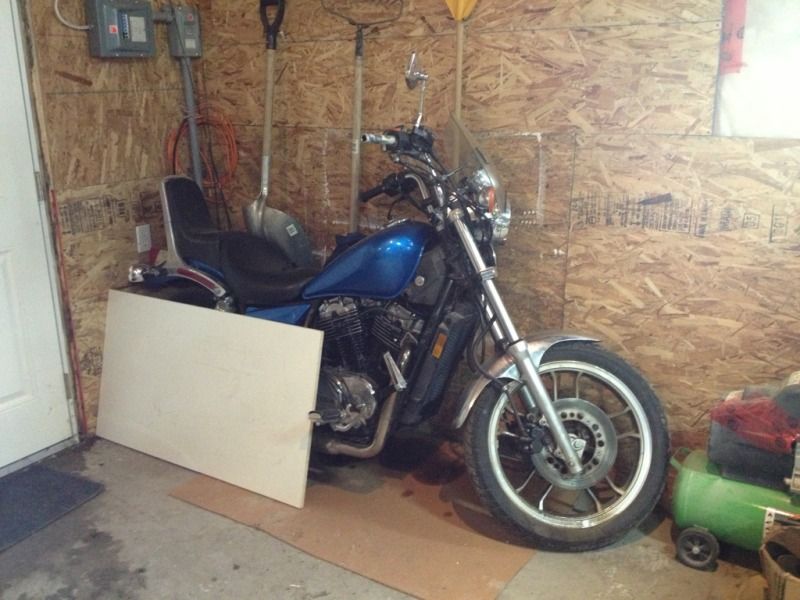 Quote:
Nice bull! Holy sh1t!! Looks like a rifle shot with that giant hole behind the shoulder. Nice shootin tex! That's like 2 years of sausage laying there! OH, that's so awesome! Screw the bike, you just provided 200 lbs of meat for your family! YEE-HAA! I need to move to Canada...
---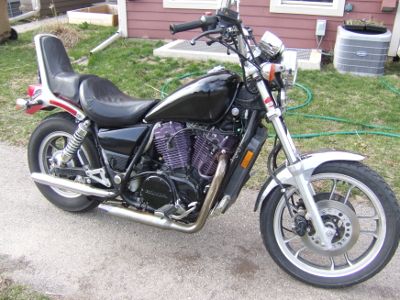 1983 vt750 - "Fra-Hankenstein"

did you get new piston rings? if so, where did you find them?
I've been checking the fourm more the last few days which got me motivated to dig back into the bike.
I got the bike partially torn apart. I was able to leave quite a bit still attached. I only needed to move it enough to get at the top engine cover bolt.
I originally thought I would have to drill out the hole and put in a helicoil, but after futher investigation, it looks as though the bolt hole is deeper than the bolt, so there is still some good thread. I am going to pick up a longer bolt and see if I can get away with that.
The only part I need to order will be the oring for the coolent, but I'm wondering if I can get a generic oring instead of the original honda. Is it normally flat, or was it a normal round oring that squashed?
I also pulled the carbs apart. Boy are they nice and clean inside. The previous owner had them cleaned by a mechanic a year or two ago, and he must have drained them before he stored the bike. There is no old gas buildup at all.
Lastly, I took a look at the jets. Both the front and rear cylinder are the same. They are 40 and 118. The seat that the float needle goes into has a 24 on it.
I have yet to read up on jetting, but my bike has aftermarket pipes, so I would think it has been rejetted.
I'm hoping to have her back together by this weekend.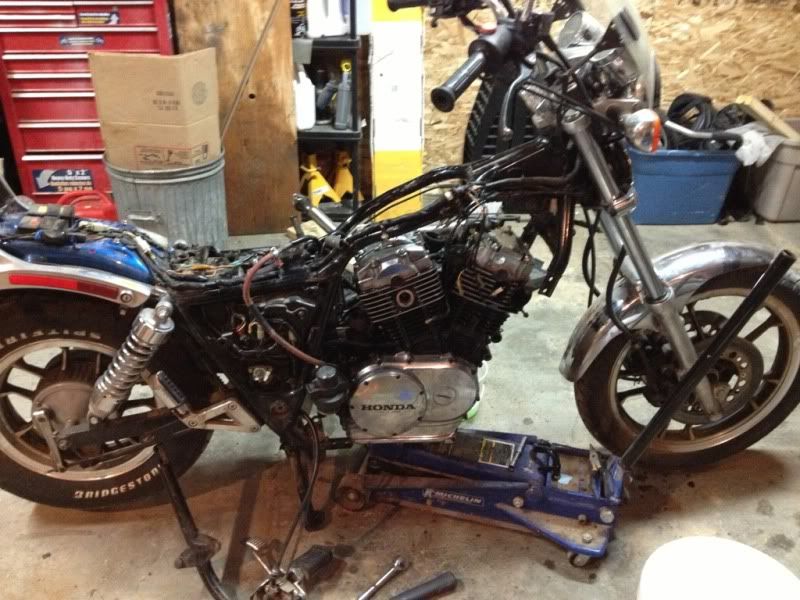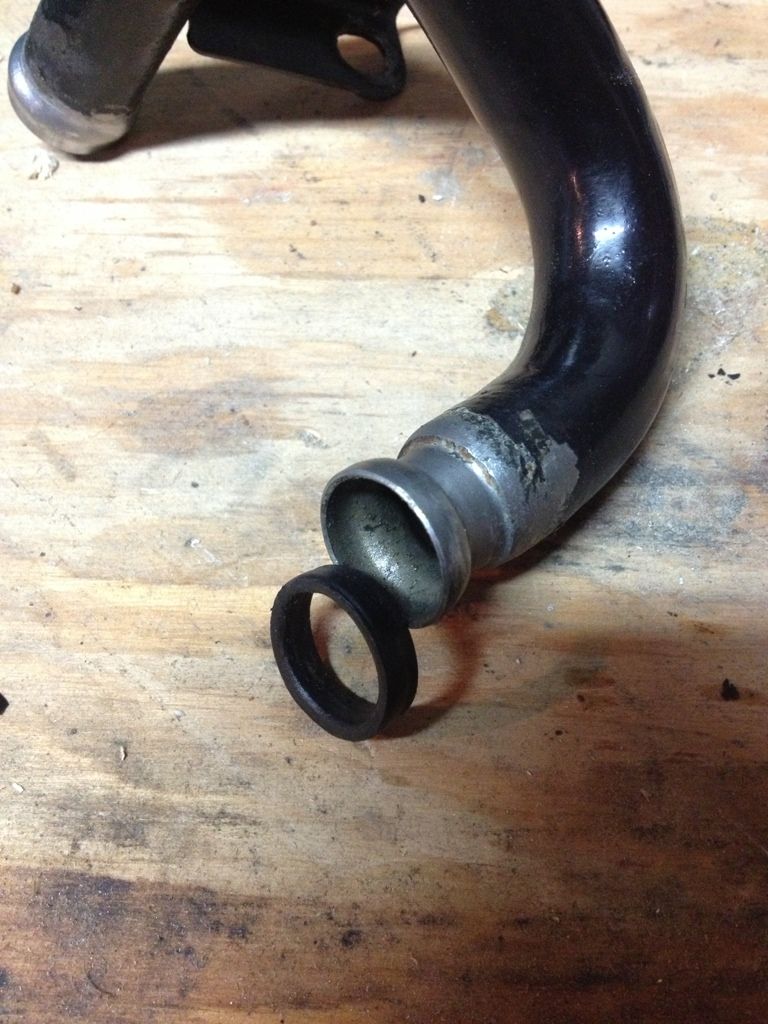 Those o-rings are not the regular o-ring you can buy from a hardware shop. They are wedged shaped, and not that expensive. They cost about 2 or 3 US$. It will not be any fun to have those tubes leaking after all that work.
I bought a complete set for my engine and no leaks whatsoever. Use some engine oil or WD40 on the o-ring after they are installed on the tube to help the tube slip into its place.
I made some progress today. I got a longer bolt for the top cover and tapped the hole in the front. It doesn't look the best, but better than oil leaking out.
I also decided I would pull all the coolant lines and replace the orings. I'd hate to have it all together and find out that its leaking somewhere else because I didn't want to spend the extra $15.
I'm not sure how long those orings will take to get in, but that's all I'm waiting for before I start putting her back together.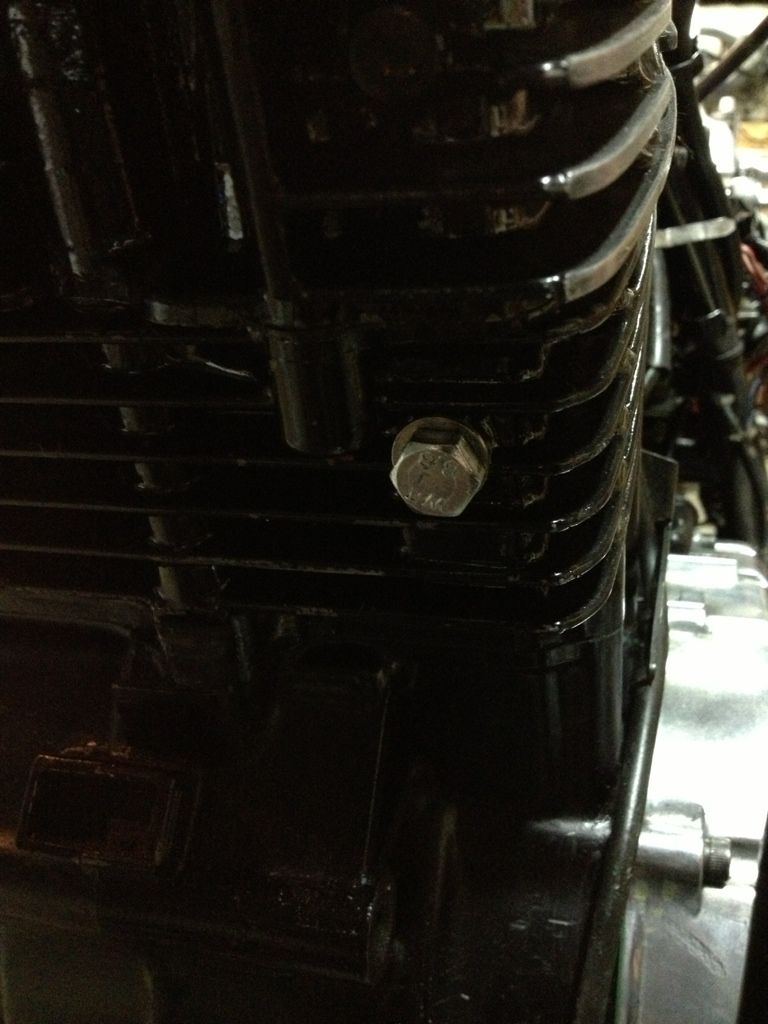 What hole is that, on the front? I hope that's not the drain hole for the spark plug...
Posting Rules

You may not post new threads

You may not post replies

You may not post attachments

You may not edit your posts

---

HTML code is Off

---