Well I got most of her back together tonight. Enough that I was able to give it a test start and to somewhat of a suprise, she fired up. After all this work it's rewarding to hear it run again.
There are a couple things that I have questions about.
1) How much coolent does it take? I keep pouring in and it the level keeps going back down. Until it doesnt do that anymore?
2) The front cylinder pops every now and then at idle with no choke on. Will adjusting the air/fuel screw fix this?
3) The clutch doesnt seem to engage. The first half of pulling the lever there is no resistance. I put it in gear to check and the clutch is definetly not engaging all the way.
Here is a video of it running. Since there is 2 feet of snow outside, I won't be going for a test drive anytime soon, but it will be nice to know it's ready for spring!
6BA10171-8907-4C88-99E2-BC90109F3134-9937-0000086A517B43F0.mp4 video by corner27 | Photobucket
Well done, my friend. Congratulations for your great success.
One of my cylinders sometimes puffs a bit for the first 3 or 4 minutes of starting the engine and after that it works great. I have no idea of which cylinder puffs because the mufflers are interconnected and the pressure is equalized. It seems like both do it at the same time which is not possible. I know one of my coils has a cracked outer casing which means there is corrosion on the inside. They are not cheap and buying a used one is a Russian roulette. I think I'll source a new one. I'm not saying that that is your problem, though.
Just keep pouring coolant in there until it tops up. Burp the circuit by pressing a water tube. You may even run the engine with the thermostat cap off to see the coolant passing trough. After a good engine run, let it cool down and check the expansion reservoir, under the reserve fuel tank and fill to the marking line. Use a small flashlight to check the level.
Check if you have tightened the clutch slave all the way and bleed the lines.
1- Open the clutch fluid reservoir and fill it up to the marking.
2- Put a tube on the slave bleeder, pump the lever until you feel some pressure building up, pump, pump, pump, hold the last one in.
3- Open the bleeder and let the oil come out (nasty stuff and it will squirt)
without letting go of the lever
.
4- Close the bleeder.
5- Restart until you fell normal pressure right from the first lever pumping.
6- Keep re-filling the fluid reservoir and close it at the end.
7- Take some nice photos of your bike and post them here.
8- Ride into the sunset like a boss at the Lucky Luke music.
---
Last edited by luisr320; 12-06-2012 at

05:08 AM

.
I am not so sure what Luis means by saying that the mufflers are interconnected. As far as I can see on your bike Luis you have 2 exhausts on each side - they do not join anywhere. Am I missing something ?
corner27 if you search this forum there is plenty of write ups on the clutch rebuild/ bleeding but I was in the same boat. Had to rebuild the slave cylinder. Plenty of parts on flea-bay.
I also have a loud pop on decel coming from my rear cylinder. Tried the a/f screw adjustment but nothing. I have to first synch the carbs to see if it goes away, and if not the I have to re-jet.
here is a link for new coils Luis
Dyna Dual Output 2.2 Ohm Coils (pair) DC4-1 | DYDC4-1 | www.z1enterprises.com
---
1983 VT750C
I guess the thing I found odd was that the clutch worked fine before the engine rebuild. I didn't remove any of the clutch lines, just removed it from the engine.
Sent from my iPhone using
Motorcycle.com Free App
Yeah, it looks like Corner has some aftermarket pipes which will not be interconnected. The stock exhaust on some of these models had a muffler box or whatever you call it that both pipes connected to.
Ronayers.com Microfiche Honda>Motorcycle>1983>VT750C>MUFFLER
For the clutch. Even though you didn't take the clutch slave apart, I bet it still needs to be bled. And bleed the clutch master. And don't forget the banjo bolts. Bleed the master banjo first, then the slave banjo, then the slave bleeder nipple. Repeat that process a few times until you get good resistance on the clutch. Put a 1" spacer between the clutch lever and the handle-grip so you don't overextend the clutch master piston.
Carb? You may need to re-jet your carb, maybe not. Worry about that after you get everything together.
You'll at least need to adjust your a/f screws. Make sure you have the a/f plugs removed right away so you don't have to do it later. And as Czech pointed out, it would be a very good idea to sync the carbs before making any other adjustments.
---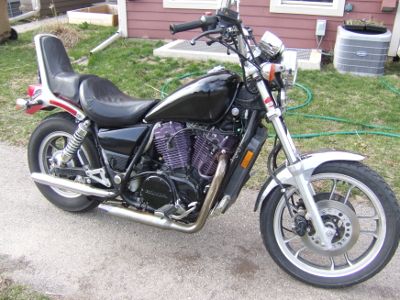 1983 vt750 - "Fra-Hankenstein"

---
Last edited by mattyo; 12-06-2012 at

01:36 PM

.
I filled up the coolent (too much), tightened the exhaust, and put everything back together.
I checked over all the lights to make sure everything is functioning properly. The rear brake light needed some adjusting as the spring was too tight, so it held the light switch on even after you let go of the pedal.
When you select the signal lights, it doesnt seem to stay. You have to hold the selector left or right in order for the signals to keep flashing. Is the switch worn out?
I still need to bleed the clutch, and get some new grips and then I think she's ready for spring.
Is it odd that I'm already keeping my eyes open for a new project and I am still on the tail end of this one?
Not that you need to see another picture, but here she is all together.
man can never have to many project on the go....
as far as the switch go, you have to take it apart to see what's wrong. I had it completely out for cleaning purpose - very easy to work on.
---
1983 VT750C
oh..I see you got the same pipes as I do. Kick a** pipes
I am curious if you going to have a pop on decel like I have or not. (Matt is probably sick and tired of hearing about my popping)
---
1983 VT750C
I adjusted the a/f screw a bit and got it to settle down. It's not necessarily just on decel, but when idleing too. I'm not going to worry about that too much until spring.

When warming your bike up, how many minutes should it take before the heat gauge starts to move?
Posting Rules

You may not post new threads

You may not post replies

You may not post attachments

You may not edit your posts

---

HTML code is Off

---