Quote:
oh..I see you got the same pipes as I do. Kick a** pipes
I am curious if you going to have a pop on decel like I have or not. (Matt is probably sick and tired of hearing about my popping)
Nope, you had me at hello.
These Mac pipes are starting to seem like they need the slow jets sized up. At least from my experience and from what I've read on this forum anyway.
A little popping on decel is okay. But if it's popping at idle, probably want to size up the slow jets. But first sync the carb to make sure it's the jets that need changing and not just a bad sync causing one cyl to be very lean.
---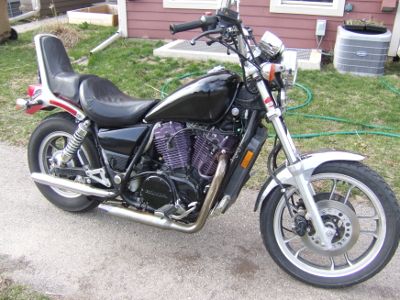 1983 vt750 - "Fra-Hankenstein"

...and you had me at "nope"
Yep, choke cures it, but I do not want to be riding with choke on all the time either. Do synch and if that does not help go with #41 or #42 on slow jet. If I recall correctly the factory should be #40.
What do you use for air filter ? factory OEM ?
---
1983 VT750C
Quote:
When warming your bike up, how many minutes should it take before the heat gauge starts to move?
It depends. If you ride her hard from the beginning, she'll heat up after 5 minutes. If you go easy on her, she may take up to 10 or 15 minutes before you notice a movement, specially during the cold weather.
Now I can see a couple of guys finding a second meaning on my words but for clarity purposes I'm referring to the bike.
Huh... Until you mentioned the second meaning, I was thinking only about the bike.....well I am not now.

You are 100% right it could be even longer. Outside temp. has lot to do with it.
---
1983 VT750C
Quote:
You are 100% right it could be even longer.
That's what she said!
---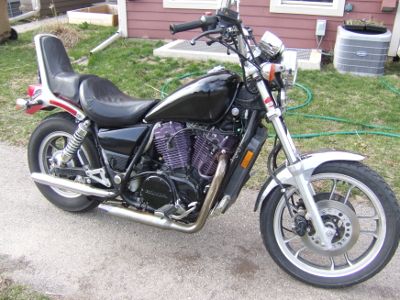 1983 vt750 - "Fra-Hankenstein"

Tonight I went over a few things on the bike. I installed the battery, as prior to this I had it jumpered to a deep cycle RV battery so I wouldnt drain the motorcycle battery.
I had a tiny bit of oil leaking from the line that runs up to the cylinders, and a bit of coolent leaking from the water pump. I tightened everything up and let it run till she was good and warm. Doesnt appear to be any leaking, so that's a good thing.
I adjusted the front carb some more and finally got it to stop popping when warm.
I took it for a bit of a drive down the back alley. Those tires sure arnt made for snow! I almost got stuck a few times. Don't worry, I was only going walking speed.
One thing I noticed is that the rear cylinder gets a fair amount hotter than the front. Is that normal? The exhaust pipe is super hot, even with the shield. Will this be better with the air movement once the bike is actually on the road?
The only real thing I have left is the signal lights. I took the switch apart to clean it and noticed that a piece was missing. With my klutziness, I lost another piece, so I will have to check to see if I can find a used on at a bike yard.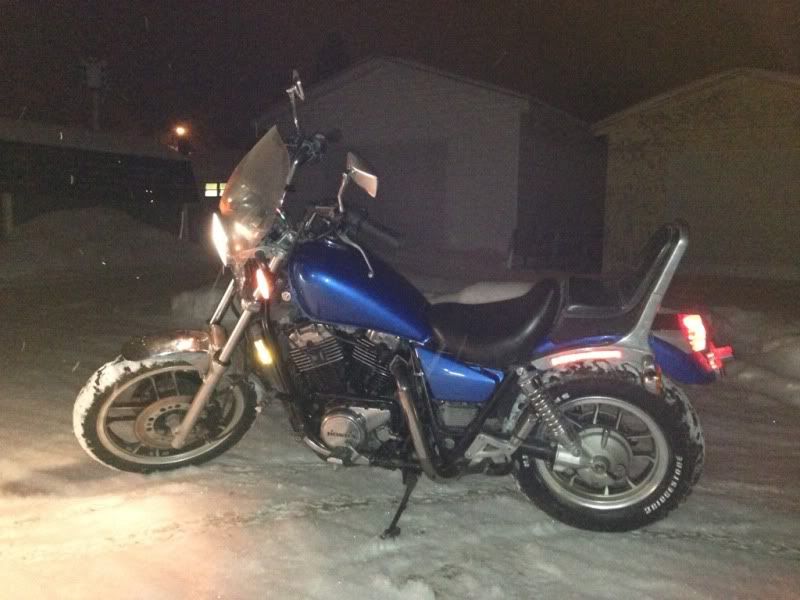 you have to put the motor under the load to find out if you still have the pop or not. Mine never does it just idling, only when I down-shift. Driving this thing on snow is Kamikaze if you ask me, but I get that you just have to test things somehow.

As far as the switch goes this one is toasted. Try flee-bay or like you said bike yard. I do not have any bike scrap yards around here so I am stuck with ebay.

Bike looks good man.
Cheers
---
1983 VT750C
My driving in the snow was more of me being excited that it's all back together, rather than testing anything. I can't imagine what the neighbours thought!

When I used to live in MB, I went to GT Snow & Cycle once to find parts. I believe its north of the city. Is that place still around?
I never heard of it. I will have to investigate a bit. Awesome sound these pipes have
---
1983 VT750C
Posting Rules

You may not post new threads

You may not post replies

You may not post attachments

You may not edit your posts

---

HTML code is Off

---