just bought a '84 VT700c
---
So, I just finished my MSF class and bought an '84 Shadow. Had a friend help me look at the bike and ride it home 1.5 hours for me.
Known problems:
Missing speedo cable. (on order)
Missing instrument panel cover. (thanks ebay!)
When you roll throttle hard it sputters and you get the feeling it will die. If you apply throttle slowly, no problems. (probably fixed)
Brake light in instrument panel doesn't light when brakes applied, but does on ignition test.
White smoke in exhaust at idle.
Rough idle after it warms up and choke turned off.
I've been toying with it for a few days. Pulled the radiator to clean it up and refilled coolant. (can't seem to see coolant level in bottle, old bottle?) Replaced spark plugs. Put some carb cleaner in the tank and let it run for awhile (1/2 hour?)- heard it shut off and went to check on it and it puked coolant all over (from overflow bottle?) Pulled overflow cap and it was a little foamy. Started it back up and watched it run for a bit. Got some white in exhaust but it eventually went away, and disappears with throttle. The white in exhaust is mostly visible at idle.
Throttle problem seems to be gone but the bike wants to die at idle. When I drained the old coolant, it looked old but not oily. Haven't changed the oil yet. Dipstick never seemed to have coolant on it but I haven't checked it while warm yet.
What do you think is wrong it? What are some things I should try to check? It's actually in pretty nice condition for the age (and price haha).
Thanks in advance!
---
Last edited by kyxon; 11-03-2012 at

09:32 PM

.
Member
Join Date: Jun 2012
Location: North Carolina
Posts: 542
I have no idea about your engine situation, but I wanted to let you know your brake light shouldn't come on every time you hit the brakes.
Sent from my iPhone using
Motorcycle.com Free App
---
Steve G.
North Carolina
2006 Vlx Deluxe
When I grow up......ahh hell I ain't plannin to do that!
Member
Join Date: Mar 2006
Location: Omaha, NE
Posts: 932
Do you know if the bike had been sitting for a while before you bought it? White smoke usually indicates moisture. If the bike had been sitting could be condensation or water in the fuel. Run most of the fuel out and refill with good gas and see it that might help.
---
Riding for the Son.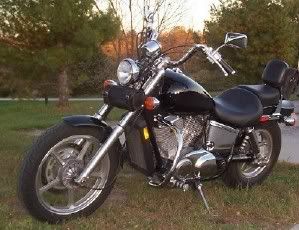 Current Bikes: 2003 Spirit 1100, 2008 GSX650F, 2006 Suzuki GS500F, 1996 Kawasaki KLR 250, 1974 Yamaha DT250
Ahh... I thought that instrument panel would light for the tail light, thanks.


I assume the bike sat for awhile, outside, under a cloth cover. The title hadn't been put in the latest owner's name and was signed by the prior owner 18 months ago. The seat was full of water. Further, I found out he refueled it before I arrived to see it using his lawnmower gas. A much more hopeful suggestion than what I had feared.
Member
Join Date: Jul 2012
Location: Stanwood, WA.
Posts: 83
Run some seafoam through it. Also, drain the carb bowls. It is easy to do and may help your bike run better.
Senior Member
Join Date: Jan 2011
Location: Taylors,SC
Posts: 2,404
Sorry to say but white Smoke and Foamy Coolant = Head Gasket leak.It foams because it is getting Exhaust Gasses in it.Hopefuly this isnt gonna break the bank
---
03 VT750DC Spirit
00 XR650R (Sold 5/3/13)
Yeah, I had wondered if that was the case but am not totally sure yet, even though it sounds that way as I describe it.
The coolant bottle is not really see-through so I can't tell how much is in there. Now that I've cleaned it up I can there is a pretty good oil leak from the front of the engine, near the cam plug? that is dripping onto the fan. The old antifreeze that I had drained out didn't look too badly contaminated (it was green and a bit dark but I've seen that in many cars too) and when I drained the oil it was sort of a caramel, golden brown color.

Do I buy a Vesrah Gasket Kit VG-1023 while I still can? It appears to be a whole engine gasket kit. My thoughts are replacing many or all of the gaskets that kit comes with. I just don't want to disassemble anything I needn't-I replaced the head gasket on my car years ago and it never recovered, though hopefully I'm a bit smarter now.

I guess the question is, how much more good life could I expect from a 30 year old bike with unknown history? The odometer says 49000+ but the speedo cable has been removed who knows when. The last guy that owned it let it sit for a year and half, then way overfilled it with oil. It seems to be running very well. It starts when I ask it, even under 50 degrees (haven't tried colder yet).

Anyway, thanks for your replies! I think it's awesome there is such a responsive (and intelligent) following for these bikes.
---
Last edited by kyxon; 11-06-2012 at

10:18 PM

.
Posting Rules

You may not post new threads

You may not post replies

You may not post attachments

You may not edit your posts

---

HTML code is Off

---