Oil type
---
Ok so this may be a dumb question. I have an 03 VLX and I was wondering what type of oil I should use or what everyone might recommend.
there is a excellent "sticky" post on this forum. do read it, it found it very informative.
---
04 Aero 750
Cobra HP Pro Exhaust,Wrapped
De-snorkeled,K&N AF, Dyno Jet JK
Blue Collar Bobbers 31" Drag bars and Risers, Avon Grips,Baron Tach
Goodrich Braided SS/Black Teflon front brake line, EBC HH Front brakes/EBC Rear shoes
ScootMods 4" Control Extensions
ScootWorks Front/Rear 1.5 Lowering Kit
Shaved Stock Seat (Self made)
Flush Mount Tag (Self made)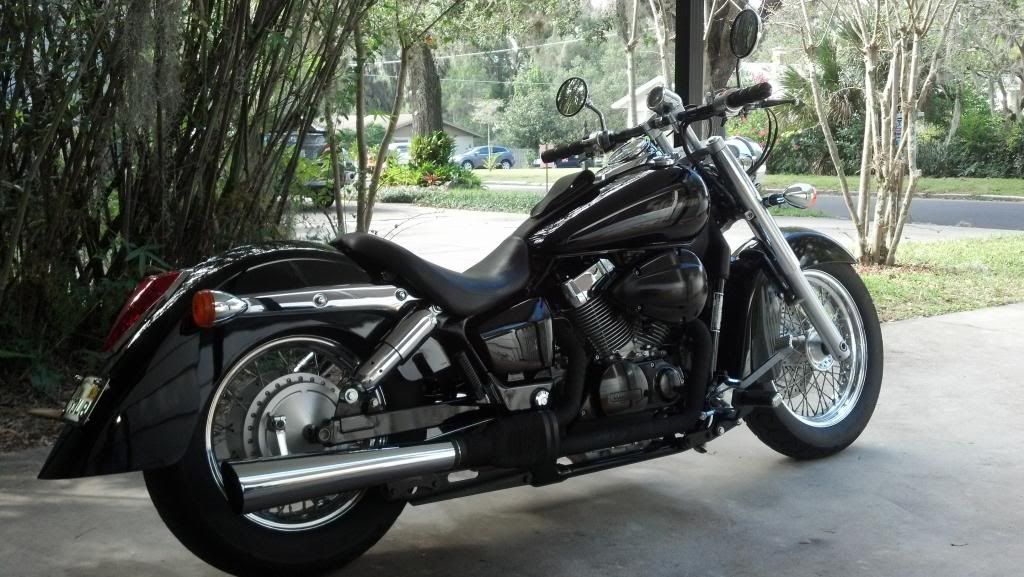 Member
Join Date: Jul 2012
Location: Stanwood, WA.
Posts: 83
Make sure whatever oil you choose, it is wet clutch compatible. I use oil that is specificly labeled motorcycle oil. But that's me...best of luck to you.
Senior Member
Join Date: Nov 2010
Location: Columbus, GA
Posts: 2,286
I use T6 Rotella and it works just find. It's really up to you and what makes you comfortable, though.
---
1985 Honda Rebel 250(Destroyed by being a newb)
Black
1996 Honda Shadow VLX 600(Sold)
Red/Black
2001 Honda Shadow Sabre 1100
Blue/Blue
Member
Join Date: Jul 2012
Location: Stanwood, WA.
Posts: 83
If you want to know what brand of oil I use, P/M me and I'll tell you.
you want an oil that is suitable for your climate. 10w 40 will most likely work. Then decide synthetic or convential. The sticky on oil is great. I've settled on Mobil 1. 10w40 mc oil. mostly because with the extreeme heat here I felt better with synthetic and Mobil 1. Many good choises available however and most will protect your bike just fine
Big thing no matter what brand you use make sure it DOES NOT SAY "Energy Conserving" one the bottle or gal. jug. Ive used the Mobile 10w40 Motocycle oil and I have used the Shell Rotella T6. Only thing I noticed with the Rotella was more valve noise.
---
04 Aero 750
Cobra HP Pro Exhaust,Wrapped
De-snorkeled,K&N AF, Dyno Jet JK
Blue Collar Bobbers 31" Drag bars and Risers, Avon Grips,Baron Tach
Goodrich Braided SS/Black Teflon front brake line, EBC HH Front brakes/EBC Rear shoes
ScootMods 4" Control Extensions
ScootWorks Front/Rear 1.5 Lowering Kit
Shaved Stock Seat (Self made)
Flush Mount Tag (Self made)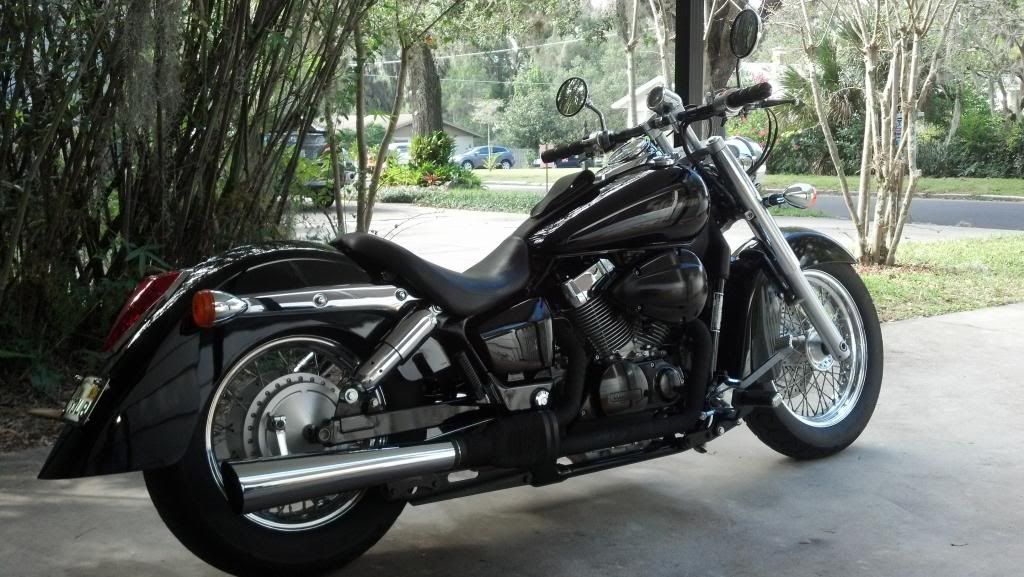 Senior Member
Join Date: Jan 2011
Location: Taylors,SC
Posts: 2,404
Honda GN4
---
03 VT750DC Spirit
00 XR650R (Sold 5/3/13)
Posting Rules

You may not post new threads

You may not post replies

You may not post attachments

You may not edit your posts

---

HTML code is Off

---