Junior Member
Join Date: Oct 2012
Posts: 13
VLX 600 Clutch
---
I am not too sure if I need to replace my clutch or not. I am hoping some more experienced people here can help me figure it out. I just purchased a 2003 VLX 600 and took it out for a quick ride today. The Clutch lever has the recommended 1/8th or so free play but it seems to me that there is hardly any friction zone in this clutch compared to other bikes I currently ride and have ridden. I keep stalling this bike as it seems I have to use heavier than normal throttle to take off and there just doesnt seem to be enough friction zone to ride it out if you can understand that. However it doesnt seem like the clutch is slipping but at just 1/8th pull on the lever and it is slipping. The friction zone appears to be in the 3/4 to full release of the clutch range. I hope I explained enough and made sense. The bike only has 12.5K but I have no clue how the PO rode the bike. Thanks for any and all help.
Individual motorcycles will have different clutch engagement points on the lever. This doesn't mean that your clutch is pooched. Depending on what your riding experience is, the small bore VLX may really need more throttle to get rolling than other scooters you've been on.
Just because the manual says 1/8" of lever free play (this sounds a little tight to me) there is nothing that says you can't adjust for more is you want. If you can do a full throttle roll on in high gear at high speed without the clutch slipping....the clutch is likely fine. Your bike is probably okay.
---
GoldWing. Nothing else needs be said...
Might try a different motor oil. some are a bit easier on the clutch than others. Do you know what oil it has in it? I have found Mobil 1 to feel a bit nicer on the clutch than dino oil.
Senior Member
Join Date: Jan 2011
Location: Taylors,SC
Posts: 2,404
the Shadows clutch is like no other bike I have ever ridden in the fact that it is non existant til the last 1/4 in.It is Normal.I slacked up a little on my endplay for this reason and it helps.
---
03 VT750DC Spirit
00 XR650R (Sold 5/3/13)
Member
Join Date: Feb 2012
Location: massachusetts
Posts: 77
ya i had mine adjusted so the last 20% or so with my hand off was blowin in the breeze. i think you just need to fool wih the able some
---
98' 1100 Aero
98' 1100 Aero again
95' VLX
80' CX500
Junior Member
Join Date: Oct 2012
Posts: 13
Thanks for the answers. I did ride the bike home from the place I bought it which was an hour drive. During that hour drive I spent about 30 to 45 minutes riding at about 75 MPH and never felt the clutch slip at all, nor did I feel it slip at any other point along my ride. Sounds like this bike just has a smaller friction zone than the other bikes I have ridden. The bike came with a free play of about 1/8th inch so I think I will just add a little more free play and just get used to it. I do feel better after reading these posts that there is nothing wrong with the clutch.
Junior Member
Join Date: Mar 2012
Location: Pittsburg, KS
Posts: 20
The manual in my '06 specs 3/8 to 13/16 of an inch of freeplay.
---
06 VLX Deluxe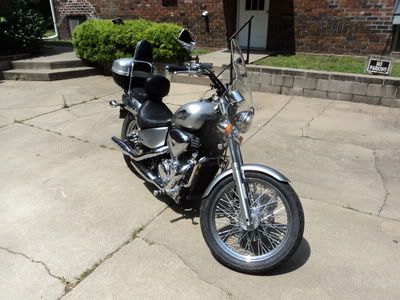 Travis
Junior Member
Join Date: Oct 2012
Posts: 13
Thanks, I adjusted the clutch for some more free travel last night and took her for a ride. It feels much better. It will also take some getting use to. The clutch friction zone on this bike is so much smaller than my Vstar 1300. Is it even possilbe to take off fast with this bike? Seems you have to take off very slow until you get the clutch fully engaged then you can hammer the throttle. Better not pull out in front of any oncomming traffic with this bike.
Member
Join Date: Sep 2012
Location: Northern California
Posts: 274
Go heavier on the throttle to take care of the problem.
Senior Member
Join Date: Nov 2010
Location: Columbus, GA
Posts: 2,286
Quote:
Go heavier on the throttle to take care of the problem.
I like the mindset behind this philosophy. Not sure what it does to the clutch, but you'll be rolling
haha
---
1985 Honda Rebel 250(Destroyed by being a newb)
Black
1996 Honda Shadow VLX 600(Sold)
Red/Black
2001 Honda Shadow Sabre 1100
Blue/Blue
Posting Rules

You may not post new threads

You may not post replies

You may not post attachments

You may not edit your posts

---

HTML code is Off

---