Member
Join Date: Apr 2010
Posts: 35
Left Me Stranded
---
So, my 2004 Sabre finally let me down. Rode it home from work (approx. 35 miles) and everything was fine. Stopped at the Post Office before the house and when I went to start it the lights came on and upon press of the start button one single click from under the seat and the lights all went out. WTF?!?!?! So, I turned it off, pulled the key and tried again. Exact same thing. Ok, lets try this a third time but this time the lights wouldn't even come on with the key turned on. Crap. So I pushed it home (2 blocks up one hell of a hill) and began the troubleshooting.
Mulitmeter read 12.5 with the key off and still wouldn't start. Put the battery charger on it to jump it and it jumped and fired right up. Pulled the charger and the bike began to idle like crap (wouldn't rev, and lights were dimming when trying to rev it.). So, I pulled the battery and charged it for a couple hours and re-installed it. Bike fired right up and ran like a champ. Checked voltage while idling and while revving (13.6 idle, 14.8 revved) and compared it to the charge just off the charger (15.2ish). Turned on hi-beams, turn signals, brake lights and the battery voltage didnt drop a whole lot.
So, after all that I have a couple of questions. First, how could my battery be at 12.5 and not start the bike? How could I be riding just fine for 35 miles and have it off for 10 minutes at most and then have a no-start condition? Any suggestions/comments? Thanks
---
2004 Shadow Sabre
Nick
Crusty connection somewhere. It kinda just creeps up and ambushes you.
Member
Join Date: Apr 2010
Posts: 35
Where would be the most likely offenders? Overall the condition of this bike is near flawless (or as near flawless as a 21k 8yr old ride can be). Thanks.
---
2004 Shadow Sabre
Nick
Member
Join Date: Sep 2012
Location: Canyon Lake, Tx
Posts: 63
bad battery... the voltage does not matter in this situation... it needs to be load tested. i have tested many batteries with a "full charge" but when loaded, they flat line..
---
1999 1100 Aero, ALL STOCK except for Tsukayu hard bags and Memphis shades Batwing fairing.
You might have already gotten it when you charged the battery. Other areas might be ground wires to the engine and frame. Alternator connections (or whatever it's called). I think that covers the charging system. I'm sure there are more knowledgeable people here than me.
@big, someone recently suggested to monitor the voltage when cranking. If it drops below 10v then do we replace?
Senior Member
Join Date: Feb 2007
Location: Tecumseh, Michigan
Posts: 1,340
You may have answered your own question. You pulled the battery and charged it and everything is fine. If you had a loose or corroded connection at the battery it would cause the problem you were having and by removing and reinstalling you corrected the problem. I would suggest disconnecting the battery cables, cleaning the cables and battery posts good and reconnect them.
---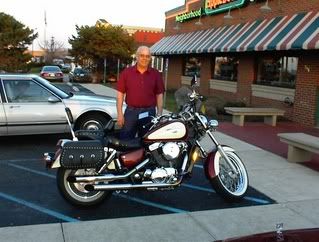 Junior Member
Join Date: Mar 2012
Location: Fort Wayne, IN
Posts: 20
Voltage does not equal stored/available energy. Bad Battery. Replace.
Senior Member
Join Date: Oct 2008
Location: Eastern North Carolina
Posts: 1,685
Have the battery load tested before you replaced it. A bad battery connection can cause the same thing. I just had it happen on my bike with a fairly new battery.

Auto parts stores will load test it free of charge.
Senior Member
Join Date: Sep 2011
Location: Tredegar,South Wales, near England, not far from Scotland.
Posts: 5,352
Quote:
@big, someone recently suggested to monitor the voltage when cranking. If it drops below 10v then do we replace?
Yes it means you have one dead cell.
John.
---
Beauty is only skin deep but ugly goes right to the bone.
Posting Rules

You may not post new threads

You may not post replies

You may not post attachments

You may not edit your posts

---

HTML code is Off

---