Member
Join Date: Jun 2012
Location: Toronto, Ontario
Posts: 186
Voltage Regulator
---
Hi Guys,
I winterized my bike for the first time last night. When I removed the battery I noticed the small 3-prong connector on the voltage regulator was melted. The wires were black from overheating but everything seemed intact and working well as I have had no issues to date. The previous owner changed it just before he handed it over as there was a charging issue. I don't know if this was an existing issue or something that has happened since I have had it.
What would cause this?
Should I get the regulator replaced with one that has a good connector?
The only thing that I have done that may have caused this would be to turn over the engine with the kill switch off to assist in draining oil as per manual. I have done this twice since spring. I also used this method to spread the fogging oil in the cylinders last night.
Thanks,
Fred
---
2000 Honda SHadow Spirit 1100
Senior Member
Join Date: Feb 2007
Location: Tecumseh, Michigan
Posts: 1,340
That is a comon problem with Shadows. Do a search on here for 3 yellow wires and it will explain how to repair and prevent future problems.
---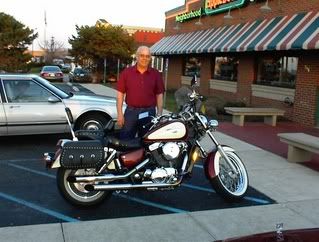 Posting Rules

You may not post new threads

You may not post replies

You may not post attachments

You may not edit your posts

---

HTML code is Off

---