Troubleshooting, Help!
---
98 Shadow 1100 ACE- I made a mistake about a week ago when backing out of my driveway, I laid the bike down-literally. Slow speed, and foot just lost traction, and it slowly went to the ground. It was running at the time, and of course, stalled out. I picked it back up, and eventually got it to start again. I rode about 100 yards, and it acted as though it was starved for fuel when I got up to 3rd gear. Brought it back to the house, and tucked it back into the garage. Plenty of fuel in the tank, switching to reserve didn't change a thing. I opened the air filter up, and its clean and not wet, changed out the fuel filter, and it still runs rough. I can warm it up and open the throttle, and it seems ok until I put it under a load.
Any ideas? A coworker said his first Honda had a similar issue when he laid it on its side, and it ended up being sediment blocking the fuel tank outlet.
---
Last edited by Bufordjm; 11-17-2012 at

03:47 PM

. Reason: giving vehicle info
the sediment blocking the outlet or maybe a float stuck came to mind with me, pull petcock and clean it see if it makes a difference
---
Senior Member
Join Date: Sep 2011
Location: Tredegar,South Wales, near England, not far from Scotland.
Posts: 5,352
This is one of the easy ones although it may not seem so..

First with the engine switched off you need to look very carefully at the bike, you are looking for any small scratches that might give you a clue to the impact area..

Loose connections on rubber pipes/hoses, loose battery connections a knock can cause an un-noticed loose clip or screw or bolt or even a plug cap to come loose but these things can be discovered easily..

Next sediment, If this is the fault it was going to happen soon anyway..the first thing to do is find the fuel filter and remove it, buy a new one to replace it and then cut the old one in half lengthways..if it is full of sediment then it is possible you need to clean the carbs and the tank. however if it is clean the problem is not sediment..

John.
---
Beauty is only skin deep but ugly goes right to the bone.
Double checked connections, may have been a bit loose. Finally got some clear riding weather, so took it for a quick spin around the neighborhood. Slow cruising was better, able to get up to higher speeds. There is still a little hesitation, so running a little Sea-Foam in the fuel, and we'll see how that changes things up. Thank you for the recommendations, if it's still acting up after this tank, I'll try tearing things down.
---
Johnny M.
Keep it rubber side down!
1998 1100 ACE
Sacramento, CA
Member
Join Date: Jul 2012
Location: Stanwood, WA.
Posts: 83
You might also try opening the carb drains and see if any junk comes out... it may also help it run better. Good luck.
Senior Member
Join Date: Nov 2008
Location: Visalia, CA
Posts: 5,377
You know IF you are having a dirt caused issue, seafoam or any tank cleaner, you may be making this particular problem worse. Tank basef cleaner are for removing deposits like water, varnish and carbon, not DIRT OR SEDIMENT. In fact these cleaner tend to turn dirt INTO varnish and carbon build-up.
---
93 VT1100C Sleeper, VH Exhaust, Saddleman Seat, Baby Apes, Metzlers, 2mm sleeved and bored (1150cc),10.5:1 comp, Modified Heads, Valves, Cams, Adjustable Timing, Bored Carbs.
Member
Join Date: Sep 2012
Location: Newport News VA
Posts: 268
One thing that a lot of people don't think about is what is going to happen to the stuff in the tank that gets knocked loose by the cleaners. I recommend changing the fuel filter before you use it, and again after it has been used. The first time to prevent finishing clogging the old filter. The second time is to get out the junk that came out of the tank.
---
Aaron
Newport News Va
There is also a screen in the tank on the petcock, you may want to try to remove it and clean it, but be carefull it may tear while trying to take it out.
---
1999 VLX
1998 SA750
1991 NSX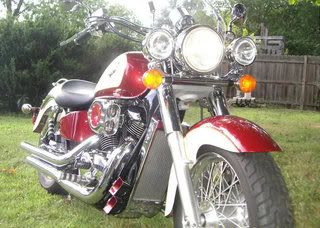 I did open the carb drains when I changed the fuel filter, and all that came out was clean, clear fuel, no crud. I have seen no evidence of any dirt, and the more I run it, the better it seems. Idle appears to be a touch high, though.
---
Johnny M.
Keep it rubber side down!
1998 1100 ACE
Sacramento, CA
Member
Join Date: Aug 2012
Location: Squamish,B.C
Posts: 203
Sea-foam and drive it gets my vote, give it a bit of time sounds like you jarred loose a bit of sediment or maybe there was some sitting in your float resevoir either way time might clear it.
Posting Rules

You may not post new threads

You may not post replies

You may not post attachments

You may not edit your posts

---

HTML code is Off

---