You may wish to Re-think your selection of oil! Most of the V-twin oil is formulated for AIR cooled engines. Water cooled engined don't need the additional oil adhesion additives. In all engines the oil also acts as a coolant. More so in air cooled engines. Water cooled engines have a tendency to cause oils designed for air cooled engines to " Run Thick " according to the oil institute.
---
VT-1100C2

Vance & Hines Long Exhaust .
K&N air filter
Senior Member
Join Date: Apr 2008
Location: Palatine, IL
Posts: 10,065
Your starter may be weak after all these years.
Senior Member
Join Date: Nov 2010
Location: Columbus, GA
Posts: 2,286
I think it's a combo of a weak starter with thick/cold oil. You may have temporarily fixed your problem, but if it starts happening again, take a look at that starter
.
---
1985 Honda Rebel 250(Destroyed by being a newb)
Black
1996 Honda Shadow VLX 600(Sold)
Red/Black
2001 Honda Shadow Sabre 1100
Blue/Blue
Member
Join Date: Jul 2009
Location: Bridgeville De
Posts: 586
the VT500 is known for having little to no extra electrical power. my experience with the bike has shown they will run poorly with even a slightly low charge in the battery. 25+ year old starters usually need a cleaning or rebuild. Read the Oil and filter sticky threads. Personally i would use those extra lights only when you need them.
---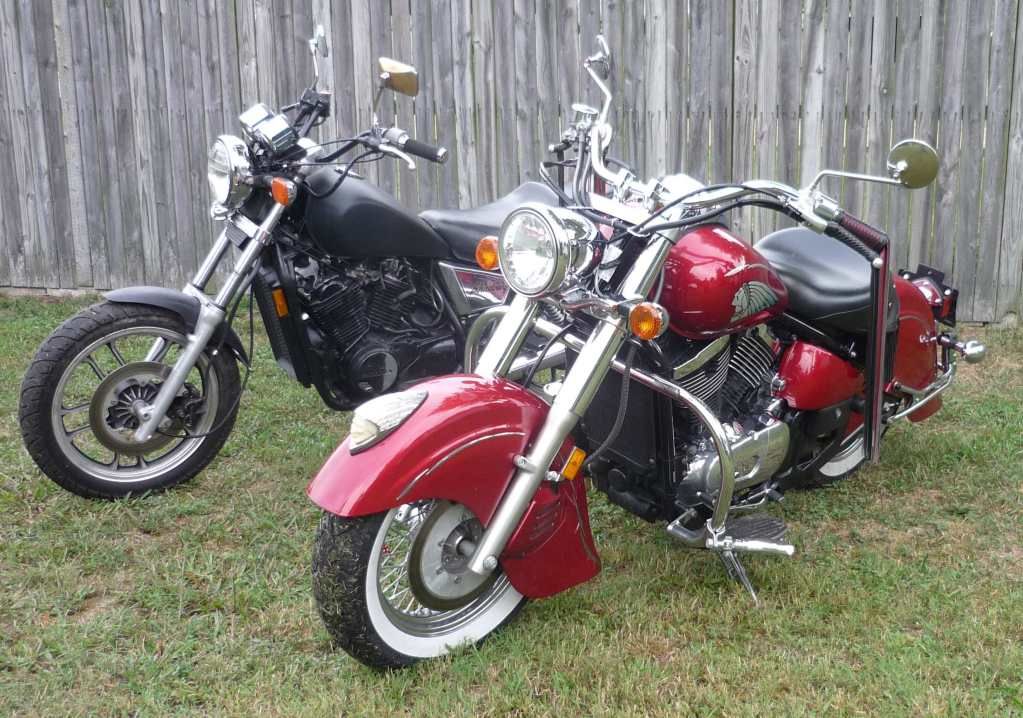 1983 VT500C & 2003 Kawasaki Vulcan Drifter 800
My VT700 has "issues" starting when temps go down below 50, and I have to use the choke/enrichment to get her to even try to start. In temps below 30, it is near impossible... I've come to the conclusion (since my Sabre and my son's NightHawk both start without issues in those temps) that the VT700 engines just hate the cold, lol. Even when I do get her running in those temps, the temp gauge barely hovers in the lowest point of the middle bar, even when I'm riding in-town speeds, and will barely reach that if I go 60mph.

Now that you've moved the lights from the main circuit, running them while the bike is in motion should not cause electrical drain as long as your stator and Rectifier/Regulator are working properly. Stock set up gives you about 100W to work with for "accessories", if everything is working properly.

I also agree, 20W oil is just too thick for starting a bike in those temps... I had 20W50 in my truck last year (hadn't changed from summer), and she absolutely refused to start if temps were freezing or below. I changed to 10W40 and never have any issues starting or running in any weather now. On my VT700, I've been using Rotella T 10W40 and 15W40, and it seems to be holding up quite well... easier starts when its cold out, and still have 40W protection when she's up to operating temps (and in warmer weather).

I'd keep a lower weight oil in her, and check the function of your stator and R/R to make sure you're getting enough output to maintain running those extra lights. As for your headlight... I'd make sure the main reflector (not the bucket where the wires are) is still shiny, and pop in a $4 Hella 60/55W bulb from Amazon (cheapest place I've found them... and they are the OEM bulb that was in my Sabre) http://www.amazon.com/HELLA-HLA-H83140101-12V-Halogen-Bulb/dp/B000CO7NGI/ref=sr_1_3?ie=UTF8&qid=1353422816&sr=8-3&keywords=hella+h4
---
Current -
2002 VT1100C2 Sabre
1985 VT700C Shadow
1999 CB750 NightHawk (son's ride)
"
The Hardest Part About a Zombie Apocalypse, Will Be Pretending I'm Not Excited
"
"
I'm not behind you, I'm 21,565 miles in front of you, and about to lap you again
!"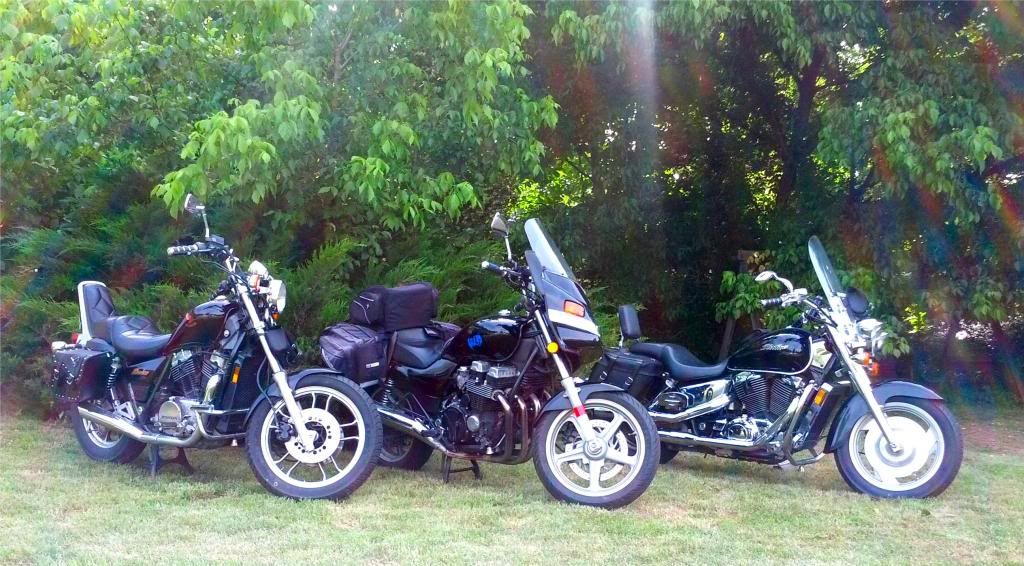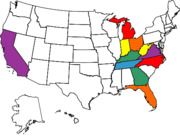 For the headlight fix, I pulled the reflector from the bucket and put in a plain round Silverstar sealed automotive bulb. The diameter is absolutely perfect for the bucket and I held it in with a retaining ring (both bought at Advance for $35ISH) total. It is not the prettiest but my bike is not a pretty bike to start with and it works FANTASTICALLY.
---
Posting Rules

You may not post new threads

You may not post replies

You may not post attachments

You may not edit your posts

---

HTML code is Off

---