Member
Join Date: Nov 2012
Posts: 85
engine guards
---
So while I am in progress doing my repairs on my 84 vt700c, I was wondering...
anyone have suggestions for engine guards? The bike laid down on its left side, the damage was relatively minor, all things considered, but I still had to deal with a busted up gearshifter/bent gearshift spindle. I've been looking around on youtube and have seen a few people use what looks like studs drilled into the frame, but I also am under the impression that can damage your frame, which can be much worse than damaging the engine.
any thoughts?
Senior Member
Join Date: Oct 2011
Posts: 2,288
Lots of engine guards/highway bars to choose from. I put a pair of National Cycle Paladin bars on my bike. Cobra seems to be a very popular brand too. The Lindby Linbar has "foot pegs" built into the bar. That was my second choice but I liked the look of the Paladin bar better (more compact).
I should add . . . everything bolted right up, using the existing foot peg bracket mounts and a U-bolt on the top end. No drilling or customized installation. Took me under 30 minutes to do the complete install, and I like to take my time.
---
Last edited by DRVMN; 11-25-2012 at

06:59 AM

.
I have a Cobra bar on my Sabre. It mounted in existing holes, that were there from the factory. No drilling required.
---
2000 Shadow Sabre VT1100 C2
---
Last edited by Da Skipper; 11-25-2012 at

12:08 PM

.
Member
Join Date: Nov 2011
Location: Lehigh Valley, PA
Posts: 902
And they are all the same whether called crash bars, highway bars or engine guards. I do remember one web site cautioning that no matter what the name, they really aren't designed to "protect" your bike in a crash, more to add accessories like foot pegs and lights.
here's a video from Cruiser Customizing on Highway Bars:
Play Video
IMO you can't go wrong with Cobra. Above average quality at a reasonable price.
---
88 Honda VT1100C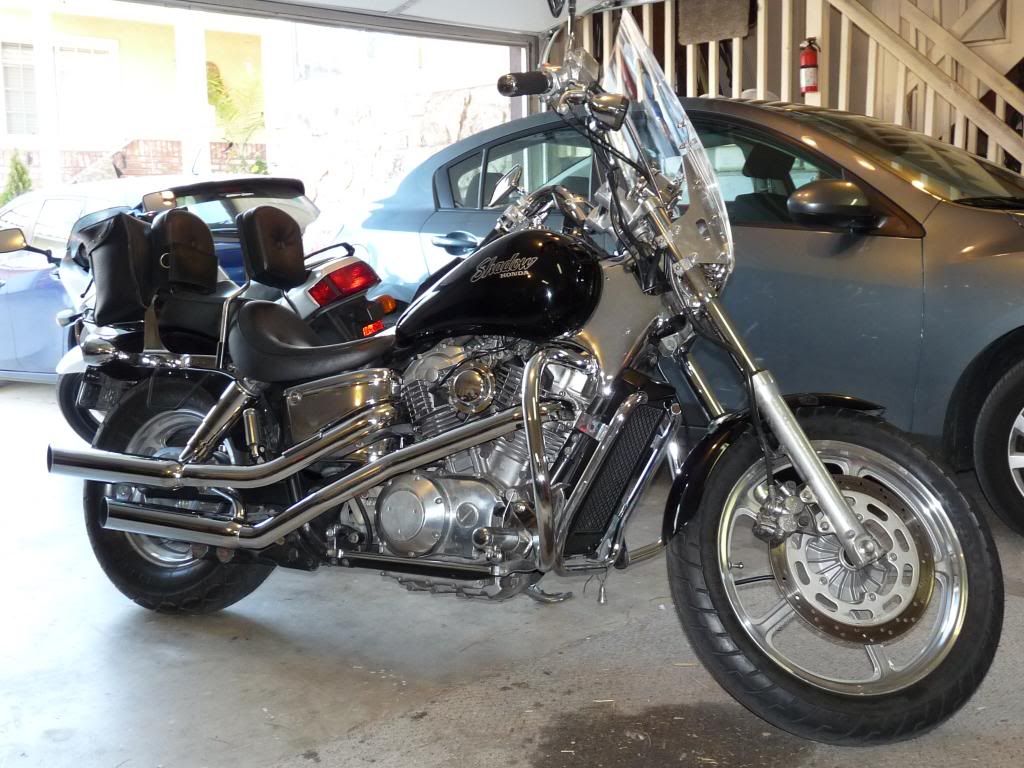 02 Yamaha WR426
71 Honda CB175
Member
Join Date: Oct 2007
Location: Huntsville, Al
Posts: 92
engine guard
---
Had OEM engine guard (crash bar, highway bar, etc) on my 83 VT750 (sig pic) and they bolted to existing holes.

Although I never dropped it, it showed evidence of a hard spill while riding from PO and it did it's job - protected the left side of the engine/shifer, etc. Was a hard enough hit to bend it back far and dimple the exhaust pipe, and although it was mostly straightened back out, I suspect damage would have been much worse w/o it.

Don't think you can find aftermarket ones for these vintage Shadows, but the OEM ones show up occassionally eBay/CL (PRICEY).

Wish I had removed mine before I sold the bike as I'm sure I would have gotten the same price for the bike w/o them and could have easily sold them for $100-150!

Good luck in your search!
Posting Rules

You may not post new threads

You may not post replies

You may not post attachments

You may not edit your posts

---

HTML code is Off

---