Junior Member
Join Date: Jun 2011
Location: Madison, AL
Posts: 21
Bigger, Better Brakes
---
So I want to change out my bike stock brakes for bigger, better brakes. But I have absolutely no idea where to start. Ive got a 2000 Honda Shadow ACE 750. I realize that since my back brake is a drum brake there isnt really anything I can do with that short of getting a whole new rim and converting to disc brakes, but I want to try and get more stopping power out of the front brake. Any suggestions?
EBC pads and disk. Change the stock hose to a stainless braided hose. Change rear shoes for EBC too
Junior Member
Join Date: Jan 2010
Posts: 12
you can also put a four piston front brake caliper if you have a two piston stock caliper
Look at my sig. Just did all the above this past weekend.
---
04 Aero 750
Cobra HP Pro Exhaust,Wrapped
De-snorkeled,K&N AF, Dyno Jet JK
Blue Collar Bobbers 31" Drag bars and Risers, Avon Grips,Baron Tach
Goodrich Braided SS/Black Teflon front brake line, EBC HH Front brakes/EBC Rear shoes
ScootMods 4" Control Extensions
ScootWorks Front/Rear 1.5 Lowering Kit
Shaved Stock Seat (Self made)
Flush Mount Tag (Self made)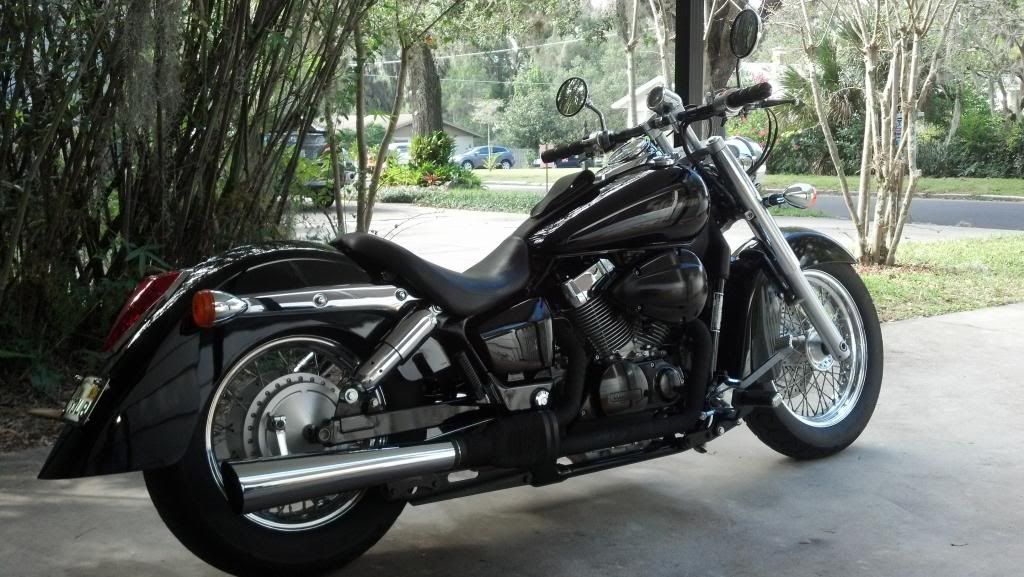 Quote:
Look at my sig. Just did all the above this past weekend.
SWEET is all I can say.
---
1985 HONDA REBEL 250
1993 HONDA NIGHTHAWK 250
1983 HONDA NIGHTHAWK 650
2007 HONDA SHADOW 600 VLX
SEMPER FI do or die DEVIL DOC always try's
Member
Join Date: Aug 2012
Location: Squamish,B.C
Posts: 203
If you change the caliper you'll need more brake fluid to operate it so make sure your resevoir is up to the task. Something often over looked.
Posting Rules

You may not post new threads

You may not post replies

You may not post attachments

You may not edit your posts

---

HTML code is Off

---