Member
Join Date: Sep 2012
Posts: 47
Will these work?
---
they both should work. as long as the bars that are on it now are 1 inch. The bags come with universal mounting hardware it looks like and your bike is listed on the ad as compatible.
Yes and Yes, be sure and post a pic after you get them installed
---
Member
Join Date: Sep 2012
Posts: 47
Well I'm hoping to get them for christmas been dropping hints to my gf and family and putting them on my wishlist so im hoping if i do get them ill definitly post pics because this is just two of many of the things I'm wanting to do and will I need to get risers for the bars? and if so how many inches
Member
Join Date: Oct 2011
Location: Nashville, TN
Posts: 661
FYI, you will not be happy with the 'mounting brackets' that come with those saddle bags.

i bought a similar set from eBay and ended up fabricating my own brackets from square aluminum tubing. i used 1/4", 1x1 square tubes.
---
*********
Live to ride another day!
Senior Member
Join Date: Jan 2004
Location: Central, Minnesota
Posts: 4,827
You may want to look at the angle of the angle of the front brake master cylinder on the stock handlebars. The angle will change with flat bars and although it will work, it will sit at an angle and look out of place. Just a thought. PD
---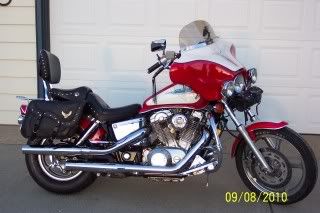 Member
Join Date: Sep 2012
Posts: 47
thanks painter ill take a look at that when i get over this cold
Member
Join Date: Sep 2012
Posts: 166
I'm not 100% on your 01 Spirit but on my 96 Ace the handlebars are drilled to accept the locating studs on both the light switch / turn signal control block and also the start / stop and on / off control block. The bars in the link you posted don't appear to have these holes so be prepared to have to drill them yourself if that is indeed the case.


Chris.
Posting Rules

You may not post new threads

You may not post replies

You may not post attachments

You may not edit your posts

---

HTML code is Off

---