Bolt broke
---
I was taking the seat off my Spirit this weekend to take the battery out for storage, and the bold on the rear fender broke off, just below the surface. So, there is nothing for me to grab onto to try to back the rest of the bolt out. I can do some basic mechanical work, but am very limited in the tools i have available. How can I get that bolt out without damaging the threaded hole?
Thanks,
T
---
Crimson Spirit - Roll Tide!
2009 Shadow Spirit 750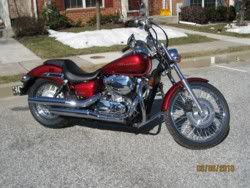 Member
Join Date: Aug 2012
Location: Squamish,B.C
Posts: 203
Bolts are made of pretty hard stuff so don't skimp and use cheap drill bits either get a good one or borrow one from a machine shop. Use penetrating oil too and or heat if its in a good spot you can heat easily. And when you put the new bolt or any bolt for that matter in use anti-seize on the threads and you'll eliminate the problem.
---
Last edited by vonh; 12-03-2012 at

01:35 PM

.
Member
Join Date: Sep 2012
Location: Newport News VA
Posts: 268
Is the hole a thru hole? If it is a thru hole, you can often get the bolt to come out when you are drilling. If it isn't a thru hole, it will depend on when the bolt was broken. If it broke when you were trying to take it out, then it is likely stuck in the threads. Making it harder to get to move with an ez-out. If it broke going in, then it may come out easier because the head is off, relieving the stress.
---
Aaron
Newport News Va
It broke trying to take it out after 6-8 months since the last time I had the seat off. And I don't think it is a thru bolt so sounds like an extractor is the way. What kind of drill bit will it take? I know the one I have is not going to cut into a bolt.

Sent from my ADR6350 using Motorcycle.com Free App
---
Crimson Spirit - Roll Tide!
2009 Shadow Spirit 750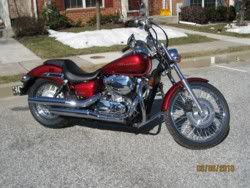 Senior Member
Join Date: Oct 2008
Location: Eastern North Carolina
Posts: 1,685
Yours looks to be different from my 95 1100. It has a stud coming up from the underside of the fender. When that broke on mine I took a dremel tool with a cutoff wheel and carefully ground the head of the stud off and replaced it with a bolt and nut. I see no reason the same won't work for you. You should be able to grind the tab off that has the broken piece of the bolt stuck in it and simply replace it with a nut.

If you try drilling the bolt you run the risk of letting the bit slip and scar the paint on the fender.
Posting Rules

You may not post new threads

You may not post replies

You may not post attachments

You may not edit your posts

---

HTML code is Off

---