Member
Join Date: Mar 2012
Location: Gonzales, LA
Posts: 71
Slip-on exhaust
---
Do they make a slip-on exhaust for the 2000 Sabre 1100? I've searched the forums and can't find anything. I don't see why I can't just remove my exhaust from the muffler clamps and slip on a new Cobra or Vance exhaust instead of buying a complete system.
Member
Join Date: Jun 2012
Location: Chico CA
Posts: 731
Senior Member
Join Date: Apr 2011
Location: London, Ontario
Posts: 2,785
What is it that you are trying to achieve? Throatier sound? Little bit more power? Have you looked into the hole saw mod?
---
2006 Honda Sabre
Senior Member
Join Date: Nov 2008
Location: Visalia, CA
Posts: 5,377
Slip-on mufflers are by definition generic and universal. They becomes bike specific, when the mfg makes the hanger brackets fixed instead of adjustable.

The advantage of a FULL SYSTEM exhaust really has NOTHING to do with the muffler section. Mufflers are often the same as the slipon. When you get a system the special part is the headers. It's the header that gest you the power improvements
---
93 VT1100C Sleeper, VH Exhaust, Saddleman Seat, Baby Apes, Metzlers, 2mm sleeved and bored (1150cc),10.5:1 comp, Modified Heads, Valves, Cams, Adjustable Timing, Bored Carbs.
Senior Member
Join Date: Apr 2008
Location: Palatine, IL
Posts: 10,067
No one that I'm aware of still makes direct fit slip-ons for the Sabre. As has been pointed out, you can buy some generic slip-ons with adjustable brackets. Probably be a lot sheaper then buying model specific mufflers. Just be aware that you will not get any performance increase by changing mufflers.
Member
Join Date: Mar 2012
Location: Gonzales, LA
Posts: 71
Thanks for all the great advise. I thought about the hole-saw mod, but the poll taken on here shows people are only 50/50 about it. If I can do it to where I can put the baffles back in, I might give it a try.
I just want more rumble/noise rather than the 'usual' Honda sound. But I hate to pour $500 into a 12 year old bike, not to mention the cost of a rejet kit.
You just answered your own question. Guess its time to bust out the hole saw.
Once you remove the baffles you won't want to put them back. Its not that loud.

Sent from my DROID RAZR using Motorcycle.com Free App
---
04 Aero 750
Cobra HP Pro Exhaust,Wrapped
De-snorkeled,K&N AF, Dyno Jet JK
Blue Collar Bobbers 31" Drag bars and Risers, Avon Grips,Baron Tach
Goodrich Braided SS/Black Teflon front brake line, EBC HH Front brakes/EBC Rear shoes
ScootMods 4" Control Extensions
ScootWorks Front/Rear 1.5 Lowering Kit
Shaved Stock Seat (Self made)
Flush Mount Tag (Self made)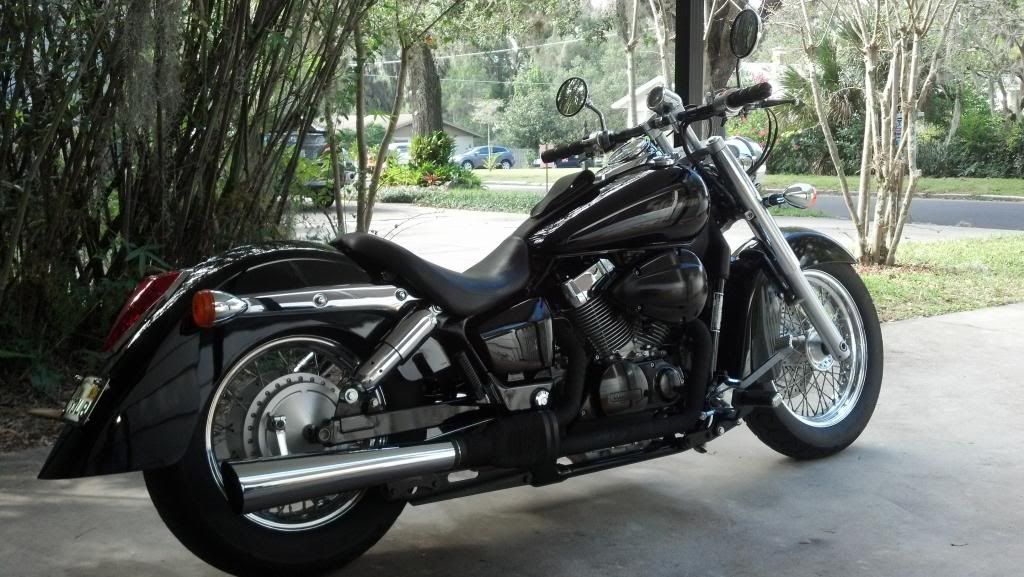 Senior Member
Join Date: Apr 2008
Location: Palatine, IL
Posts: 10,067
Hole saw mod a Sabre sounds like crap to me. Google Emgo mufflers and see if a pair of universal mufflers would be ok. Probably wouldn't cost more then $125 or so. I has a set of 4 Emgo's on my Magna that looked almost like the OEM's but had a slightly deeper sound then stock.
Posting Rules

You may not post new threads

You may not post replies

You may not post attachments

You may not edit your posts

---

HTML code is Off

---