Quote:
I think you are right, it would make sense that it would not be full bat voltage going to the pulse gen. I got some MV reading there with my multi tester but it was erratic.
The green wire at the ICM tested good for continuity
The black wire at the ICM was hot.
Neutral light is working.
Light green/red has continuity to ground in N.
Side stand switch is working.
My last thought is the black wire on the FP cutout. It's definitely not hot at any time unless I bridge it. But even when I bridge it, the bike wont fire and it continues to have full voltage at both coil terminals on both coils.
Any more ideas, I'll gladly chech any lead. Thanks for your help!!!!
And you are deffinitly not even getting a weak spark?
after double checking the diagram, I to would suspect the ICM.
The black wire at the fuel cut Relay should be hot, and the yellow and blue will also be hot till the ICM grounds that rear coil, at that time you should get power to the other wire at the fuel cut relay black with blue.
when you said you have continuity did you check the actual ohm's? or just do a continuity test with the beep?
I would check for any resistence readings that may be more than 1 or 2 ohm's if checking for continuity to ground if you didnt all ready.
do you have a service munual? if not you can download a factory manual at the link in my sig. if I dont get back to you please let me know the outcome/fix.
---
1999 VLX
1998 SA750
1991 NSX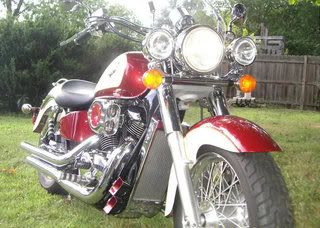 Junior Member
Join Date: Nov 2012
Posts: 15
Hey, Thank you for all your help, I will go back over the connections, yes, I did just use the beeper. But I am gonna go ahead and get the icm (used) and keep my fingers crossed. I'll let you know as I will also be an expert before this is fixed.
Jim
Posting Rules

You may not post new threads

You may not post replies

You may not post attachments

You may not edit your posts

---

HTML code is Off

---