Wiring up heated grips
---
Hi All,
I'm sure there's probably a thread somewhere for this already, so if so apologies and please point me in the right direction...but I'm new to the whole "messing about with Motorcycles" thing, so this is the first modification/kit change I've done and I need some help...
I've got a set of Oxford Hot Grips, which I want to wire up to my VT750S. I'd like to do this so they're wired to the ignition, rather than straight off the battery, so I know I can take a feed from somewhere like the front brake light, or run it with a relay from somewhere, and I'm pretty good with crimping tools and a soldering iron (years of messing about with valve amps!!) - but I'm pretty poor at reading schematics and as the bike's new and still under warranty I want to make sure I get this right and don't mess it up.
Can anyone advise in simple terms how/where to take a feed from (i.e. "connect the live to the red wire coming from such-and-such, and the negative to the black wire coming from so-and-so"), ideally with a picture or something, so a total noob like me can do this without making a total ass of it and blowing fuses or melting the wiring loom??!!
Cheers guys.
Alex
---
"Wrong is a concept dependent on witnesses"
Should be a brown wire to the rear lic. plate light, Switched on with ignition. I should be under a side cover or the seat, in a 3 wire connector, with 2 green wires along side of it.
use that to trigger a relay with power, relay control - pin 86.
the relay Control ground - pin 85 to the batt Neg,
the relay pin 30 to the batt pos.
relay pin 87 out to the grips
---
1999 VLX
1998 SA750
1991 NSX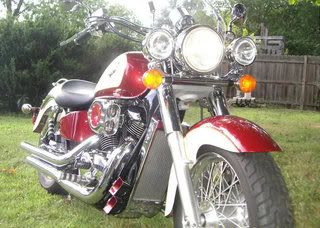 not sure about the style of oxfords grips you have, but some of there controlers are designed where they shut off if voltage drops below a certain level , to safe you from draining the battery, so the only reason to put a relay in line on that design is to instantly shut them off, but also would include having to do more wiring, again not sure on yours, but on my grips a different type , I was also going to go wire in relay as saftey feature , till I found out that mine will turn off if voltage drops below 12.3 volts, never had problems if I forgot to turn off, on high in a couple of minutes they turned off on there own, when bike was shut off. Just something to think about when wiring them in
---
Thanks guys - really appreciate the info. Might be irrelevant now for a couple of weeks, however, as last night some complete A**hole took me out on a roundabout and totalled the bike (see my other post). But hopefully will get it sorted soon.

Thanks again

Alex
---
"Wrong is a concept dependent on witnesses"
Posting Rules

You may not post new threads

You may not post replies

You may not post attachments

You may not edit your posts

---

HTML code is Off

---