Junior Member
Join Date: Aug 2012
Location: Alvarado, TX
Posts: 6
83 750 Charging System
---
OK quick background is my battery was not charging and after a little troubleshooting, I found that the Stator was shorted to ground. So I replaced the Stator coil, my battery was also fried so I upgraded to a lithuim battery.
Started the bike and upon first check it was reading 14.4V at idle. I thought that was pretty good for still using the stock R/R.
Took it for a 30 min ride yesterday and when I got home pulled my DVM out to check it againg before shutting if off. It was now reading 15.3VDC at idle. Interestingly, I found the voltage increases with load. So with no lights on the voltage went down to 15.0V and goes up when the headlight it on. It does not change with RPM increase.
My first suspicion would be the R/R but I never have heard of one doing this before. Any thoughts?
Senior Member
Join Date: Jan 2004
Location: Lowell, Massachusetts
Posts: 3,640
cant help you with that problem but your in the right place & welcome aboard.
---

The wife and I on My, 2001 Shadow Spirit 750.....
Your gonna want to test the RR. Find out what the amp draws are supposed to be at 1000rpms to 5000rpms and compare it. Get yourself a manual or down load one from here, i believe..lol

this will help too. its universal.

---
Jay.
1985 VT500
FYI...Front tire is a 120/90. Stock 100/90
2013 Yamaha V Star XVS 950.
Junior Member
Join Date: Aug 2012
Location: Alvarado, TX
Posts: 6
OK I think I know what the problem is now. That guide was very helpful thank you Captain.

Feedback (black wire) to the R/R is 1.2V lower than the output of the R/R. So somewhere along the line I have a bad connection. But that line goes through the ignition switch and the fuse block so I have a lot of tracing to do. This might just be a real pain in the ass. I might have to run a jumper wire temporarily.
Senior Member
Join Date: Apr 2006
Location: Sacramento,CA
Posts: 1,258
15.3 is to much. I don't think a lithium battery can take that many volts, at no time should the charging system output be above 15.0v or it can damage the battery.

ROD
---
'98 VT1100-T
so many roads so little time
Senior Member
Join Date: Jan 2004
Location: Central, Minnesota
Posts: 4,827
I suggest replacing your stock voltage regulator with a Mosfet regulator (Yamaha and others use them) which will upgrade your electrical system and be a lot better in the long run. I'm still running my stock stator too.
I replaced mine with a used on off of a Yamaha R1 and never looked back. I have 14.3 at idle and 14.7 with riding all my accessories turn on. I have heated grips, AM/FM auto radio, and driving lights and have no problems with keeping the battery fully charged while riding. I have an LED volt meter mounted on my dash to keep track of my battery and it never goes down to less than 13.5 volts now. The Mosfet regulator is the cat meow!
---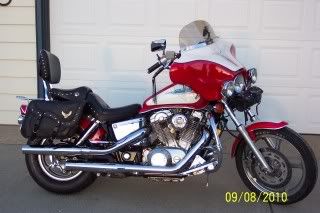 Junior Member
Join Date: Aug 2012
Location: Alvarado, TX
Posts: 6
I am aware of the MOSFET regulator upgrade and plan to do it when I have the cash.

But I did manage to fix the problem. I really didnt feel like tracing the wire and go through all the hassle, so I just installed a relay. Basically I used the feedback line to activate a 12V automotive relay that sends battery voltage back into the regulator. I now have 14.4V at the battery from idle all the way up.
Posting Rules

You may not post new threads

You may not post replies

You may not post attachments

You may not edit your posts

---

HTML code is Off

---