Junior Member
Join Date: Dec 2006
Posts: 5
drilling the exhaust... baffles ???
---
I took a .25" drill bit and drilled 4 holes around the exhaust outlet and the bike got a bit louder and makes a lower rumbly noise which I think I like... i only did this on the top exhaust pipe... but my drill sux so I am going to recharge it and try doing it on the bottom pipe and we'll see what happens... don't know what sort of effects this is going to have on the bike running down the road but I guess I'll figure it out.
I had been reading things about removing the baffles but I don't think I can do that on my bike since the pipe is tapered on the end... anyone got any input?
-Charles
Member
Join Date: Sep 2006
Location: Jax, Florida... for now
Posts: 327
What bike do you have? There are at least a couple different mufflers.
---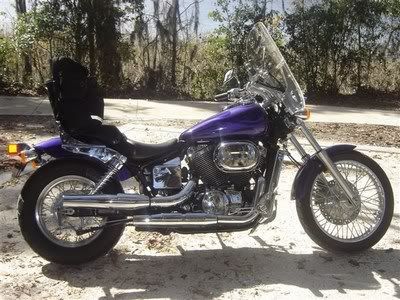 Junior Member
Join Date: Dec 2006
Posts: 5
what bike...
---
I have a honda shadow vlx ... the 600cc one... i think is model number is honda vt600c
drilling stock mufflers
---
I have a 99 750 Ace and i to wanted to do this to my muffler, I followed a detailed description on how to do it from this website.
www.sa750.com
Click on "modifacations" and then go to "exhaust". It will explain everything you need to do. I dont know if it will help your Aero/Spirit, but you may get an idea on how to do it.
---
1999 750 Ace Green/Cream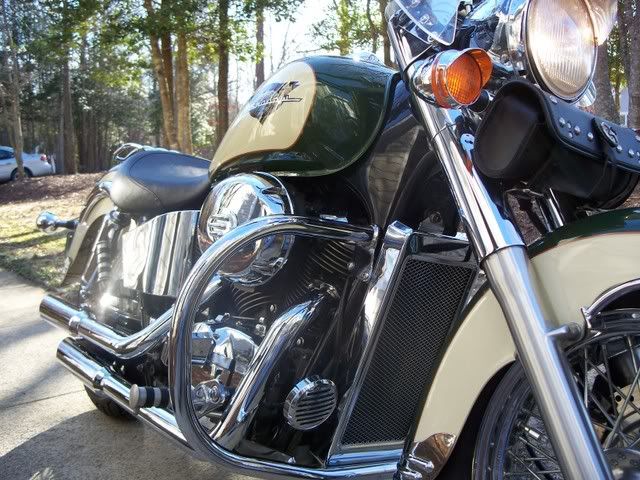 Member
Join Date: Sep 2006
Location: Jax, Florida... for now
Posts: 327
I don't know how the VLX is setup. On the SS 750 there are baffle plates, 3 I think, with 8 3/16" holes around the central port. I drilled these out to 1/4" in the last baffle. It improved the sound somewhat. If you don't get any better info regarding you're specific bike try searching for "hole saw mod".
---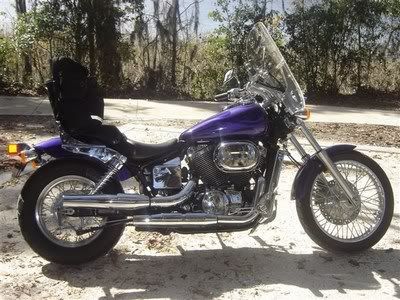 Junior Member
Join Date: Dec 2006
Posts: 5
finished it up
---
I finished it up and I have 4 holes that are .25 inches in diameter drilled around the central port from which the exhaust used to come and 2 holes the same size drilled in the lower exhaust pipe... I can't get my drill in to make any more holes in the lower pipe.

the pipe is straight then tapers down a bit before the end... wondered if anyone had any advice about completely removing the baffles.
I would advise against completely removing baffles...it will decrease performance when you lose your back pressure. A few holes is ok, and I've done this many times. I got carried a way on a Yamaha Roadstar that I had and I lost performance big time....I had to get an aftermarket pipe to get the sound and my performance back.

My first bike was a VLX600 and I can't remember what I did to it, but I think I took a long bit extension and drilled two holes in the outer baffle and two holes in the middle plate and it sounded ok without any power loss. But I might be getting bikes confused.

--BB
---
'74 Ironhead Sportster
'86 VT700 Shadow
Member
Join Date: Oct 2005
Location: Cenla
Posts: 80
I second the holesaw mod, IF the 600 is like the 750 and 1100 exhaust. I dont know about that. As bearkat biker had stated about the power loss, on my 1100 I didnt notice any pwer loss when I holesawed mine. But some say they do.. I dont know if this has anything to do with being at a higher elevation?? Im pretty much at sea level and have never rejetted any of my bikes with straight pipes and no baffles and never noticed any loss. When I did my baffle mod I had removed the mufflers completly and has access to both ends of mufflers. But like said before I dont know about the 600's exhaust.. I do know the vlx 600 sounds good with drag pipes!!!
---
06 TITANIUM SABRE
Member
Join Date: Sep 2005
Location: lake view,ia.
Posts: 35
do the holey order mod.take a inch and three quarter holesaw and cut out the resonators in each pipe.i did it to mine before i got my vance and hines cruzers.

dave
Junior Member
Join Date: Dec 2006
Posts: 5
holy order mod
---
I know what you're talking about but with the pipes tapered at the ends I'm not sure how I'd get the baffle out of the end and I don't want to have cut the end completely and not be able to get it out because that would make all sorts of unwanted rattles... if you can provide some pics or some website or at least detailed instructions on how to do this I'd love to hear it.
-Charles
Posting Rules

You may not post new threads

You may not post replies

You may not post attachments

You may not edit your posts

---

HTML code is Off

---