Rear Fender question
---
Hi Folks,
I have been looking at a 06 Honda Shadow Spirit 750 VT750 Rear Fender 545 and love the look.
Does anybody know if this will fit my 2006 Honda Shadow Spirit 750 DC?
I understand, i may need to re-work the fender frame and i am ok doing so.
Has anyone done this mod? I have a feeling it will bolt right on, but i am wondering if i have to mod the mount for the tail light /license plate bracket.
Any help, advice or photos are welcome.
Thanks in advance
IRideShadows.
Senior Member
Join Date: Oct 2014
Posts: 5,706
I see that one on ebay and maybe you could contact the seller and ask for the dimensions.
---
Only a biker knows why a dog sticks his head out of a car window.
1983 750 Shadow
From the past
=
1951 Cushman scooter
1962 Honda 305 Dream
1965 Honda 305 Dream
1971 Honda 175 scrambler
Member
Join Date: Nov 2006
Location: Bethpage, Tennessee
Posts: 622
That appears to be the stock fender fender for the 750DC. It needs a subframe but should bolt right on since you have the same bike. Looks like my stock fender before I went to my steel fender.
---
My Photos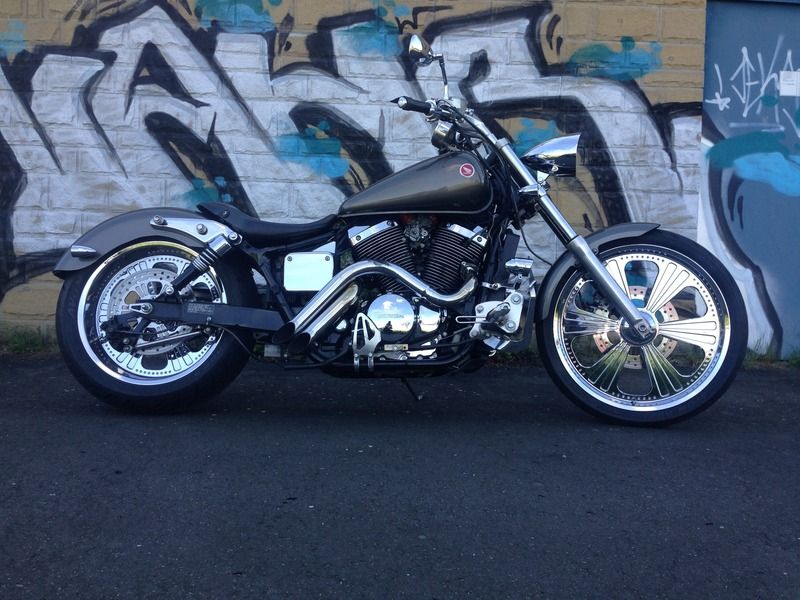 Senior Member
Join Date: Apr 2013
Location: Wherever you go, there you are!
Posts: 2,192
Looks just like the stock one on my '03 Spirit 750. Should bolt right up to the subframe. BTW, the subframe is what the stock rear taillight bolts to, so should be fine.
---
(((=-JammeR-=)))
"My Life is NOT a journey to the grave with the intention of arriving in a pretty and well-preserved body, but rather to skid in broadside, in a cloud of smoke, tires screeching, totally used up, thoroughly worn out, and loudly proclaiming...WOW! What a Ride!!"
'03 Spirit 750
Ride Bells by blue flames and shadowride69 (THANKS!!)
Posting Rules

You may not post new threads

You may not post replies

You may not post attachments

You may not edit your posts

---

HTML code is Off

---