Junior Member
Join Date: Apr 2016
Posts: 12
What is this?
---
I'm getting some damage to the finish of my left side air box, by the key. I've got no fobs, tags, or key chains hanging from the key. Any ideas where this is coming from?
Senior Member
Join Date: Jul 2013
Location: Northern Illinois
Posts: 5,063
Senior Member
Join Date: Apr 2008
Location: Palatine, IL
Posts: 9,894
Senior Member
Join Date: Oct 2014
Posts: 5,359
I was thinking the same thing since there is no damage in front of that area. Your pants or chaps are flapping in the wind and rubbing off the paint.
---
Only a biker knows why a dog sticks his head out of a car window.
1983 750 Shadow
From the past
=
1951 Cushman scooter
1962 Honda 305 Dream
1965 Honda 305 Dream
1971 Honda 175 scrambler
Senior Member
Join Date: Nov 2015
Location: Kingston, Ontario
Posts: 2,523
I would have said a key tag, since that's what has caused mine to look something like that. The shape of it has me wondering if something behind it is getting hot. I can't recall what's behind it though.
---
2006 Shadow Aero 750, "Audrey"
Mods/Ad-ons to date:
NC Switchblade
NC Chrome Deflectors
NC Hand Deflectors
Oxford Grip Heaterz
Power Trip Saddle bags
Willie & Max Handlebar bag
Highway pegs (eBay)
Gremlin Bell (gift from my son)
Mustang Seat!
Crash Bars
Vance and Hines Cruzers
Rear Signal relocation
Did it just show up one day or was it something that's been getting progressively worse over a period of time.

There's really only a few things that would cause this. The most obvious is something rubbing on the painted surface like a key FOB or tag, but you're telling us that didn't happen. Someone else mentioned heat, that's a big possibility, you should investigate what's behind the cover. You know how car hoods and roofs get that white, chalky look from being exposed to extreme heat from the sun? That's the clear coat being damaged and might be the same thing that's happening to your side cover, but not from the sun, instead the heat source might be from behind the cover.

One other thing that could be causing it is some type of chemical or corrosive fluid that found it's way onto the cover. Probably not as likely but still worth checking out to see if you have any leaks.....

Good luck,
Phil
---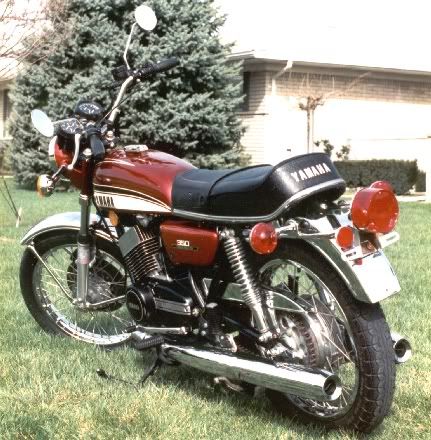 1973 Yamaha RD-350
Sterling Heights, Michigan
Posting Rules

You may not post new threads

You may not post replies

You may not post attachments

You may not edit your posts

---

HTML code is Off

---