Junior Member
Join Date: Apr 2007
Posts: 11
Will a 97 Spirit 1100 Tank fit my 2003 Sabre?
---
Senior Member
Join Date: Oct 2004
Location: Huntington West Virginia
Posts: 1,718
Well there was a thread that came through here awhile back where some one had put a Sabre rear fender on their Spirit, they said it fit perect!. I know you ask about the tank, but if the frame of the two is the same for the fender mounts, then maybe????? its the same for the tank?
If you can get a good enough tank and a good enough price on it and it don't work you should be able to easily resell it and get your money back.
MarkC
Junior Member
Join Date: Apr 2007
Posts: 11
I hear what you are saying and I agree that I could probably resell it for what I paid. The problem with that is time, between buying, waiting for it to arrive and reselling if it doesn't work and trying to find another you are potentially looking at months.

For me that long is just not an option, and I'm not really in a position to buy a couple. I'd be waiting for that one to sell to be able to put the money into another.
Well some one might come forward with a for sure answer for you.
BUT
1.
You could wait for months for the right one for your bike to come up for auction.
2. wait and pay full price for a new one.

3. buy the Spirit VT1100 and take a chance. and it could also end up being months.

4. maybe take some messurements from your mounting points and e-mail the guy selling it and see if they match, (could help you figure out if it is worth gambling over)


Sorry I dont have a better answer for you, hope this might be a diffrent angle of looking at the problem....
and maybe I'm just out of line.....
---
"Buying the bike was the cheap part"
Never argue with some one who knows howe to sppell check.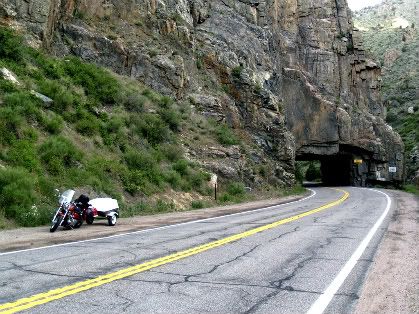 ---
2005 Honda Sabre...17" Apes, COBRA Dragsters, 9" Sickle Struts
Junior Member
Join Date: Apr 2007
Posts: 11
I found out that the tank would have worked, but I lost the auction on it.

Thanks for those links. I've got a line on one on another forum that I might be able to get if that guy ever reads his PMs. I've got his phone number but being easter weekend I don't want to disturb him. I think he'll probably take around 200 for it, but I'd rather pay the price to him than wander if I'm going to be out bid at the last second like I was on the other one. That one was sitting at $112 and in the last few seconds it jumped from there up to ~ $180. Wouldn't have minded paying 180 for just happened a lot quicker than I could handle.
Posting Rules

You may not post new threads

You may not post replies

You may not post attachments

You may not edit your posts

---

HTML code is Off

---