Senior Member
Join Date: Mar 2004
Posts: 4,688
Drive Shaft - Wheel Removal.....Simple!
---
Ok I have just completed the rear wheel removal and installation on my wife's 750 Vulcan.....all I can say is....I LOVE removing and installing drive shaft type rear wheels....talk about $hit-simple.
I think the Vulcan is even easier than the Shadow, but both are just a joy to do.
Anyone who thinks they can't do it, or it's difficult needs to give one a try....no messy chains, no alignment issues. Just plug and play.
Senior Member
Join Date: Jan 2004
Location: Central, Minnesota
Posts: 4,827
Yes they are sweet for sure. I have shaft-drive on both of my bikes and it sure makes things simple to work on. You rarely hear about anyone ever having trouble with a shaft drive and the maintenance is so simple, it would almost be a pain to go back to the old chain drive setup.
---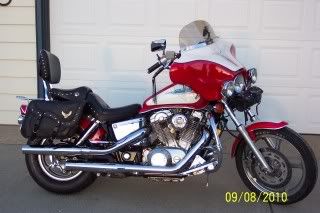 Senior Member
Join Date: Apr 2007
Location: Kansas
Posts: 1,308
Quote:
Originally Posted by PainterD
You rarely hear about anyone ever having trouble with a shaft drive
BMW has had a substantial amount of trouble with driveshaft bikes. The reason you donít hear about it is because owners donít want to talk about it. When I ask high mileage BMW owners about driveshaft trouble, they just mumble something about thatís part of owning the bike or any brand of bike can have trouble.
I know someone who had trouble with a V65 Magna, the shaft locked up and he slid to a stop. Very expensive to fix.
Another guy had the shaft break in a Yamaha, it just stopped moving the bike, like a chain coming off. Cheap to fix.
Yeah, I like driveshaft bikes. Other than the BMWís, the shafts are very dependable.
I too have heard bad things about shaft drives from the Vstar 650 crowd. Poor seals and stripping of the splines. Glad to see that Honda has their S### together. I still wince a little, a little jaded now. Real expensive to fix.
Posting Rules

You may not post new threads

You may not post replies

You may not post attachments

You may not edit your posts

---

HTML code is Off

---