Junior Member
Join Date: Sep 2006
Location: Seymour, Indiana
Posts: 16
1100 Top Speed?
---
I've enjoyed lurking for a long time and have posted only a couple of times. So, let me say I'm a daily rider but not a mechanic.
In the year that I've had my '94 1100, I've never been able to get it above about 80-85 mph, throttle wide open. The engine starts and runs good. Gas mileage is in the low 40's, which seems to be reasonable. The previous owner Cobra pipes on it, no baffles, and I haven't messed with them.
This thing ought to be able to do more than that, right?
---
1994 Honda Shadow VT1100C
Member
Join Date: May 2006
Location: Queens, NY
Posts: 44
Yeah, you should be able to do more than 85. On my '96 when I'm
running at 85 theres plenty of throttle left. There was a thread
here awhile back, IIRC most people were able to do more than
100.
Well the fastest I did on mine (05') was 100mph(~160kmh) and I had lost of throttle left.
---
2005 1100 Spirit
Keep the rubber on the Road, and your Head on your shoulders!!
Senior Member
Join Date: Jun 2006
Location: Southeast Michigan
Posts: 8,932
I've never run out of throttle and get 90+ with ease. I've had the speedometer over 100 a couple of times but since it reads high I was probably just over 95. And I still had plenty of throttle left.

You should be able to do the same.
---
Art's 1999 Shadow 1100 ACE
.
Ride bell by Dr. Bob's Patient
I was able to top out the speedometer (125mph) on mine... It's got cobra pipes. I'm not sure if it has an intake or jets.
---
'95 Shadow 1100
Senior Member
Join Date: Jan 2004
Location: Central, Minnesota
Posts: 4,827
I had mine up over 100 mph stock. That was before I opened up the pipes and rejetted. The speedometer is abut 4-5 miles off so I have to compensate for that too.
I ride every day on a 94 1100 and cruise on the open highway at 85 to 90, and have plenty of power to pull ahead if I need to.
---
Dave
(94 VT1100C -Gone)
03 VTX1800 V&H Pipes, Mustang Seat, Hard bags, Sissy bar, Cobra floorboards
Member
Join Date: Mar 2006
Location: Omaha, NE
Posts: 932
Re: 1100 Top Speed?
---
Quote:
Originally Posted by Davo
In the year that I've had my '94 1100, I've never been able to get it above about 80-85 mph, throttle wide open. ...

This thing ought to be able to do more than that, right?
The March 1992 Cycle World magazine staff tested a 4 speed 1100 Honda Shadow which is basically the same bike as your 1994 1100. The article lists top speed as 107 mph. The article states that in 1992 all 1100 Shadows had the more restrictive California emissions equipment on them. Do you know if your's has that emissions equipment?
A test on the 1987 Shadow 1100 4 speed in the June 1987 Cycle World shows a top speed of 115 mph so if your bike doesn't have the California emissions equipment, that may be closer to your top speed.
I'm not positive, but would guess these are actual top speeds (as opposed to speedometer indicated), which means if the speedometers are off by 10% like mine is, the above tested bikes could have been showing 117 mph and 126 mph respectively on their speedometers at top speed.
---
Riding for the Son.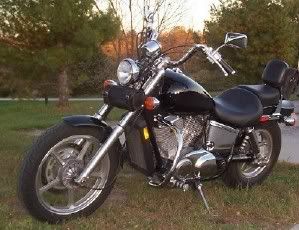 Current Bikes: 2003 Spirit 1100, 2008 GSX650F, 2006 Suzuki GS500F, 1996 Kawasaki KLR 250, 1974 Yamaha DT250
I have been able to get my '83 Shadow to ~125mph (friend on a Yamaha crotch rocket stayed just behind me to clock me). It took a long (5 miles), mostly straight, and slightly downhill and empty road near my place.

The bike runs very well and has aftermarket exhaust.

Why would a larger CC bike go slower? Also, why the 6 speed with my 750 and only a 4 speed with the 1100? Does the 1100 have enough torque over a decent rpm range to justify broad ratios between gears?

Be safe if you're trying to top out the bike.
---
2007 VT1100C1 (Shadow Spirit, 2k)
1983 VT750C (Shadow 750, 50k)
1981 CM200T (Twinstar, 6k)
Junior Member
Join Date: Sep 2006
Location: Seymour, Indiana
Posts: 16
I thought something had to be wrong. Shadowdave mentioned California emissions. I don't think this bike's ever been anywhere near California, but I should check. What do I look for?
It's not that I want to go faster. I'm 50 years old with 5 dependents! Some overhead might be handy some day. But on the interstate the bike struggles to go 75, and I discovered that it just won't do a whole lot more. You can guess what happens going uphill.
So if anybody has any ideas for me to check out, I sure would appreciate it. The dealer that serviced it in May said nothing about any problems.
---
1994 Honda Shadow VT1100C
Posting Rules

You may not post new threads

You may not post replies

You may not post attachments

You may not edit your posts

---

HTML code is Off

---