Junior Member
Join Date: Jun 2007
Location: Northfield, Ohio
Posts: 29
Two Master Links in a Chain?
---
I have a 2002 VLX that I changed the rear sprocket from a 44 to a 40 tooth sprocket. I needed to grind off 2 links from the chain to do this. I replaced one of the links with a master link. I am looking to sell the bike and I want to put it back to stock but do not want to buy a new chain. The bike only has 7000 miles on it. I kept the pieces that I removed from the chain. Can I put two master links back to back in a chain. If I did this I could give the new owner of the bike the small sprocket and if he, or she, wants to put it on the bike all that would need to be done was remove the master link. Is this a SAFE thing to do? I DO NOT want to do something unsafe and cause someone to get hurt.
Any help would be great
Roger L
Leave it the way it is. Inform any buyer of the sprocket change and why it was done. Two masters would be a bad idea, IMHO.
---
(formerly Daver84)
Dad - '12 Super Tenere / '01 ST1100
Daughter - '86 CMX450
GF - '12 Super Tenere / '06 FJR1300
BUILT A BIGGER GARAGE!
Guest
Join Date: Jan 2004
Location: St. Louis, MO
Posts: 2,530
Hey Roger,

The way I see it...you have two choices...

1) Leave the smaller sprocket on the bike.

2) Replace the chain with the proper chain.

You really don't want it on your shoulders that you injured someone due to your penny-pinching...do you?

Why not leave the smaller sprocket on the bike? Are you planning on selling it? Moving it to another bike?

Joe
I don't think it would matter if there are two master links in the chain.
---
Non Impediti Ratione Cogitationis
HardKromes, K&N, Bean Mod, 4* Timing Mod. Custom black metalflake
Senior Member
Join Date: Aug 2005
Location: Elvis land
Posts: 2,045
You know I've ran with a master link on my dirt bikes since the early 70's through rocks, sand, mud, mud, sand, mud and then some rocks and have always carried a spare with me just in case one failed or poped off. I have never had one fail. Maybe someone could chime in that has had one fail on them but from my experience as long as the chain and master links are new (not trying to patch together a wore-out POS) then you have a slim to none chance of it failing. IMHO.
---
Three things that are not long hidden; the sun, the moon and the truth.
2005 Aero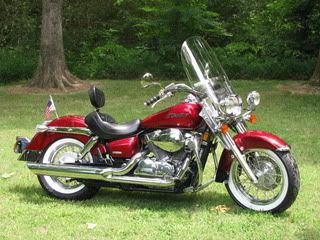 1972 Honda XL250 Motorsport
2006 Rebel - daughter (Now gone)
1974 XL100
Member
Join Date: Jul 2006
Location: Catskill Mts, NY
Posts: 209
There's nothing wrong with two master links. I've been around machines, industrial, construction, farm and recreational, that have used chains for over 40 years. I've never seen a master link fail that was installed properly. I've seen chain manufactured out of master links, that is...every link was a master link.
---
2002 Honda Shadow Spirit 1100 - Mine

2006 Honda Shadow Spirit 750 - Wife's

2002 Suzuki GSXR 600- Son's
Junior Member
Join Date: Jun 2007
Location: Northfield, Ohio
Posts: 29
Thanks for the information. My gut feel is that if the master link is installed properly it should not fail. But never the less it is not the proper thing to do. Yes, I am looking to sell the bike. I have purchased a Suzuki M50, fuel injected and shaft drive. None of the cold morning warm-ups like with the VLX. The biggest reason for changing it back to the larger sprocket are as follows:

The VLX is considered to be a "starter" bike. It is designed for the first time rider. The bike has a pretty tall first gear with the 44 tooth sprocket. With the 40 tooth rear sprocket it is like starting off is second gear on most bikes. I do not this is somthing good for a "beginner". The VERY tall first gear coupled with the bike being cold natured makes the bike almost unrideable until it is warmed up.

The bike is a GREAT bike. I would hate to loose a sale because the bike seemed difficult to ride. I need to think about what I want to do. If it was a simple decision I would have made it long ago.

Again, Thanks for the input

Roger L
Important thing on master links is to make sure the closed end of the clip is leading in the direction of the chain....master links fail mostly when the clip is installed with the open end leading the direction of the chain travel.....hope that made sense.
---
'97 VT1100 C , '04 VTX1800 C , '99 HD 1200 XL
Posting Rules

You may not post new threads

You may not post replies

You may not post attachments

You may not edit your posts

---

HTML code is Off

---