Air pressure in Front Forks
---
Just looking for some feedback on front forks. I have recently changed my seals and according to the manuel it states 0-6 LBS. in each fork; however, I also see where it states a max of up to 43 LBS.
So which is it? I would think that the greater amount of air in the forks could lead to early seal failure.
How much, if any, air pressure does anyone else keep in their forks?
Senior Member
Join Date: Aug 2005
Location: Elvis land
Posts: 2,045
Just from experience with one of my dirt bikes, if you go over 5 lbs it will be so stiff that it will jar your eye teeth out. You don't have to have any pressure in there at all. My suggestion is to ride it with zero and then ride it with 5 lbs to see what you like best. You may even need a low pressure guage to get them matched correctly.
---
Three things that are not long hidden; the sun, the moon and the truth.
2005 Aero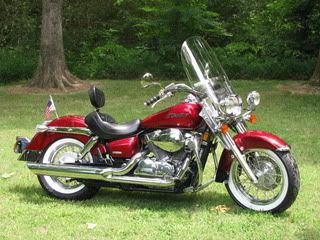 1972 Honda XL250 Motorsport
2006 Rebel - daughter (Now gone)
1974 XL100
When I replaced the seals I put in 10W fork oil and rode it with 6LBS. of pressure, then removed the air and rode it without air and I really did not detect much difference between the riding with the are and then without the air.

That is part of the reason I am curious about it now.
Junior Member
Join Date: Apr 2008
Posts: 28
I've changed the fork seals in the nighthawk that I used to have. It does make a little bit of difference in the handling. I also have heard that the forks need to have the same air ressure to keep the forks from binding. Don't know exactly how much it matters, but I made a tool to make sure that the pressures were the same. I tool two air chucks, connected them to a T and then a 0-15 psi pressure gauge on the T. I pump up the forks to about 10-15 psi and then connect the chucks of my guage to both fork. Since they are connected this evens out the pressure and I bleed off the rest until they read about 6 or 8 psi.
Member
Join Date: Aug 2007
Location: Flint Michigan
Posts: 115
You can try this, Jack the weight off the front wheel. Do not pressurize
the forks. Drop the front wheel to the ground and I believe you will have 5-6 psi air pressure in each fork leg which should be plenty.
Senior Member
Join Date: Feb 2007
Location: Tecumseh, Michigan
Posts: 1,340
air pressure in front forks
---
Recheck your manual. I think you will find that the maximum is 43 KPA not PSI. Most pocket guages i have seen read PSI on one side and KPA on the other.
---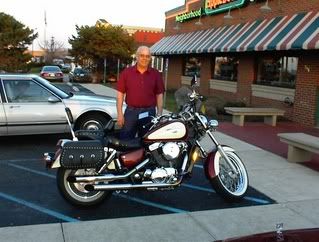 Posting Rules

You may not post new threads

You may not post replies

You may not post attachments

You may not edit your posts

---

HTML code is Off

---