Drive splines
---
Hi everybody, my 1100 has a shaft drive and I want to give some service to the drive splines, recently I read that you should use a paste for that, cant you tell me what kind of paste should I have to use? how do I have to apply it?
Thanks for your help.
---
--++ If you don't live to serve, you don't serve to live ++--
Senior Member
Join Date: Mar 2004
Posts: 4,688
Honda Moly 60 paste - you can buy at your local Honda dealer if they have any in stock. The site below is reputable I have used them several times.
http://www.casporttouring.com/thestore/prods/23500.html
Clean off the old paste from the splines with a toothbrush and some solvent - kerosene - don't get too excited about getting it clean better not to get kerosene in too many places it doesn't belong.
Just smear the paste evenly all over the splines, you could work it into the spline with the toothbrush if you want......
Use the wife's toothbrush, as it will leave a bad taste in your mouth......and less than bright white teeth.......
Quote:
Originally Posted by Cbjr
The Honda Moly 60 is good stuff for the price.
As an alternative, I used GuardDog's Moly paste. It's 73% moly. I also used their moly treatment for the gear oil in the shaft drive of my 1100.
Check it out:
HERE
---
Jim
'94 VT1100C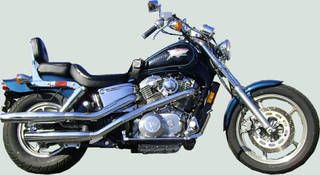 Thanks cbjr and JMK3rd for your advises.

Later I post how it goes.



Bye.
---
--++ If you don't live to serve, you don't serve to live ++--
Posting Rules

You may not post new threads

You may not post replies

You may not post attachments

You may not edit your posts

---

HTML code is Off

---