Member
Join Date: Sep 2006
Location: San Diego, CA
Posts: 38
87 VT700C Fuel Pump & Wiring Diagram ?
---
I don't have the manual. Anyone know of a wiring diagram on line?
Situation: Bike runs when I fill the carbs externally. But with the tank full I get no gas out of the line from the pump either when I run it or do the kill switch toggle (which also causes the tach to jump).
I have tested the pump by disconnecting it and putting 12 V across the green and black and across the green and blue to the pump. Got nothing. Cleaned the pump internal contacts and still nothing.
Senior Member
Join Date: Apr 2007
Location: Portland OR
Posts: 2,023
It looks like for the 87 they combined the fuel pump and fuel pump relay into one unit and called it the Fuel Pump, as for the colors...
GREEN = Ground.
BLACK = +12 VOLTS.
YELLOW/BLACK = Not hooked up to anything.
BLUE = Pulse signal wire from the Spark Unit.
On the 83 to 85 Shadows the blue wire turned on the Fuel Cut relay that turned on the fuel pump when it received a pulse signal from the spark unit, this only occurs when the engine is running or you are trying to start it.
On the 86 and 87 Shadows the blue wire does the same job but the relay is now inside the fuel pump, but since the motorcycle runs if you put gas into the carbs some other way the fuel pump is probably bad or you have a wiring problem. If you do an OHMS test on the blue and green wires you should get some kind of a resistance reading.
Senior Member
Join Date: Jan 2004
Location: Central, Minnesota
Posts: 4,827
If your fuel pump works (runs) that doesn't always mean it's still good. Mine ran just fine, but did not have enough preasure to pump the gas up to the carbs. Sometimes it's just better to replace it if everything else (like the relay and wiring) checks out.
---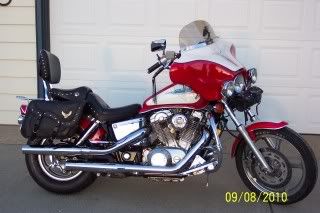 Member
Join Date: Sep 2006
Location: San Diego, CA
Posts: 38
Thanks guys. I figured the relay must be internal on these due to the number of wires going to the pump.

I see new pumps for $130. I'm just going to get a used one that fits and run it directly from the ignition hot wire.
Member
Join Date: Sep 2008
Location: St. Peters, Mo
Posts: 46
check the plumbing and make sure there isnt a kink in the hoses. if it is like my 86 there is a short piece of hose that goes from the filter to the pump, I had a kink in it and would not alow gas past this point so that the pump could deliver it to the carbs.

As far as a replacement, there are a couple of threads on here about replacements, IIRC someone posted that a 80's vintage civic pump works.
---
Steve
99 Shadow VT750
Posting Rules

You may not post new threads

You may not post replies

You may not post attachments

You may not edit your posts

---

HTML code is Off

---