Member
Join Date: Dec 2006
Location: Portland, OR
Posts: 921
lubing the speedometer cable
---
At 65K miles I'm sure my speedo cable is way overdue for a lubing; I've never done it. It's not causing me any problems. Do I just lube the end that inserts into what I would (probably incorrectly) call the axle housing at the bottom of the fork? Do I just swab it with a greased up q-tip? Molylube or regular grease? If it matters here the bike is a 98 vt1100c. Thanks in advance, Jon
Senior Member
Join Date: May 2008
Location: Portland, OR
Posts: 1,653
Re: lubing the speedometer cable
---
Quote:
Originally Posted by jon lewis
At 65K miles I'm sure my speedo cable is way overdue for a lubing; I've never done it. It's not causing me any problems. Do I just lube the end that inserts into what I would (probably incorrectly) call the axle housing at the bottom of the fork? Do I just swab it with a greased up q-tip? Molylube or regular grease? If it matters here the bike is a 98 vt1100c. Thanks in advance, Jon
I'd also like the answer to this. I just replaced my broken speedometer cable at 22,555 miles. ($22.60 at the dealer) I'd like to avoid having to do it again.
---
'98 Shadow 1100 ACE
Senior Member
Join Date: Jan 2004
Location: Central, Minnesota
Posts: 4,827
I just took mine off the back of the speedometer and dumped some oil in the opening little by little until it came out the bottom. Gave it a couple spins and intalled it back on the bike. She's lubed now. I used synthetic motor oil.
---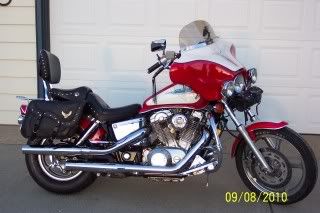 You usually want to use a lube that won't attach plastics. ATF is a good choice. Standard motor oil is not safe for all types of plastic.

You also want to avoid getting the lube on the top 4" or so of the cable if possible. Over-oiling can cause the oil to be pushed up the cable into the speedometer mechanism and make it act up.

The cable in the center can usually be removed form the sleeve it spins in, so it makes it easy to clean and lubricate.

--Justin
---
Currently Running Stable:
2010 Honda NT700V
1986 Shadow 700
1986 Honda Trail 110 (Postie Bike)
1987 Honda Rebel 450
1973 Honda Mini Trail 50
Senior Member
Join Date: Mar 2004
Posts: 4,688
I usually just pull the innards from the wheel-end, clean it with kerosene or mineral spirits, dry it and put a glob of white lithium in my right mit and shove the cable through the lithium grease as I feed the innards back to the speedo.
Senior Member
Join Date: Jan 2004
Posts: 1,300
I just hauled the centercore out of the sleeve, wiped it clean, lubed it with white chassis grease and re-installed it.
Did that at 12 000 kms, it's still good at 92 000kms
---
Member
Join Date: Dec 2006
Location: Portland, OR
Posts: 921
OK, got it; it's done this weekend. Thank ya, Jon
Member
Join Date: Dec 2006
Location: Portland, OR
Posts: 921
I've gotten recommendations for "white lithium", "white chassis grease", and ATF. Tell me please, will the moly lube I have on hand do a good job? Thanks, Jon
What about the aerosol type spray lubes I have seen @ JC Whitney and other places? Are they any good?
---
--1985 VT500c
"Evaluate what has happened, so you can apply what you have learned"
Standard #2 moly grease (like you find in most grease guns) is going to be way too thick to use for your speedo cable. That cables spins at about 2,200 RPM when you're at cruising speed and moly grease is thick enough that it can break the cable inside when trying to run a delicate cable that fast.
Best to use white lithium or ATF.
--Justin
---
Currently Running Stable:
2010 Honda NT700V
1986 Shadow 700
1986 Honda Trail 110 (Postie Bike)
1987 Honda Rebel 450
1973 Honda Mini Trail 50
Posting Rules

You may not post new threads

You may not post replies

You may not post attachments

You may not edit your posts

---

HTML code is Off

---