I got a hold of Memphis Shades this morning and they said they don't have anything for the 1100 Spirit yet. I will keep looking locally and on Ebay for the HD batwings. Right now the ones on Ebay are pricey.
---
Ride bell by Rick-G.
2006 1100 Spirit (happily being ridden)
2002 750 Spirit (sold)
Yamaha Virago 535 (sold)
Mine is off a 06 Ultra (Ebay $75), I used my old National Cycles windshield mounts and parts of the steel windshield frame, picked up some misc steel stock from Lowes and mounted it. I used SS bolts right through the fairing.
Doc
---
Quote:
Originally Posted by moparmandjh
I used SS bolts right through the fairing.
This seems to be the way to go as most of the ones on Ebay have some type of damage to the mounting point(s). Thanks for the photos and info.
---
Ride bell by Rick-G.
2006 1100 Spirit (happily being ridden)
2002 750 Spirit (sold)
Yamaha Virago 535 (sold)
Junior Member
Join Date: Dec 2009
Location: Georgia
Posts: 2
Great bike! Do you know Glen Heiny in Ennis? Harley man...
---
Quote:
Originally Posted by vwfarm
I have a '02 Spirit 1100 with a '80 HD FLH batwing... I used my Memphis Fats shield folk brackets and had to make the batwing fairing L shaped brackets alittle longer..... I moved the blinkers down below the triple tree mounts... Also have the HD light bar mounted as well and HD windshield 3 pouch mounted... My batwing fairing is just the outer stage -- Gonz has the inner & outer setup....
Here's a write up & pics I did sometimes back:
Hey canadianshadowrider, I added a '80 FLH HD Batwing Fairing to our '02 Spirit. I was looking for more protection for my hands and less air/draft behind the windshield for cooler/colder rides.
Here's a previous write-up I did:
Our fairing is a '80 HD FLH Batwing fairing, it bolts to the forks. Other models have an inner & outer Batwing fairing pieces and bolt on different from the FLH model. I had to make the fairing brackets a little longer cuz the HD's have wider forks span (ACE hardware store had the metal strips needed to make the brackets). I used the fork brackets from our Memphis Fats windshield. There's 4 mounting brackets to hold the fairing as the Memphis Fats windshield. I had to notch the right side windshield to clear the front brake reservoir. I also had to move the blinkers down below the bottom triple tree holder. It's a one-man job but it is easier with two person's - I did it by myself.
I dry fitted everything before I had it painted -- makes the job alot easier. Once painted you don't want to screw it up.
I looked on e-Bay for 6 months for a decent Batwing fairing & pricing as well. I bought ours at our local HD restorer, East Bay HD. So you might want to check around older HD shops/salvage yards. It looked very dirty from sitting yrs in the back of the shop but was clean from cracks and fiberglass didn't have any stress markings.
Try to get all the brackets (fork mountings and windshield brace) when buying the fairing sometimes you can find them cheap and sometimes not!!!
I had been looking for a yr to convert from the Memphis shield due to the shield wasn't giving enough protection from the cold air and my hands were exposed to flying objects. The buffering was annoying too - even with lowers too.
I love the ride now.... No buffering, hands are behind the batwings, 80-90% of the air draft is removed from the driver area and I feel alot more protected with the batwing fairing now. I just bought a flip-up full helmet and can ride with it flipped up w/o no problems. I wish I had done is sooner. I just didn't like the Memphis shield -- I guess age is dictating my riding habits now......hahaha!!!
I added a HD windshield 3 pocket holder and it's great for holding keys, cigs, and glasses and etc.....
I added spotlights ... The spot lights makes a different from the sorry dim low beam the Spirits have....
Any questions -- ask away...
Mike
vwfarm
Costs:
$ 30.00 ..... used '80 HD FLH Batwing fairing
$150.00 ..... Paint (glossy black with clear coat) local paint shop
$ 5.00 ..... metal strip from ACE hardware store
$ 75.00 ..... windshield & windshield brace (e-Bay)
$ 70.00 ..... Windshield 3 pocket holder (optional but worth it)
$ 22.00 ..... HD FLH Driving light bar (optional but worth it)
$ 72.00 ..... Spot lights (e-Bay) (optional but worth it)
--------------
$ Priceless $ ($424.00)
Some Pics:
http://s5.photobucket.com/albums/y19...Spirit%201100/
http://s5.photobucket.com/albums/y19...ing%20Fairing/
_________________
Add me also to the list
---
I also would like to know if someone has modded the Memphis Shades Sabre Batwing to a Spirit VT1100C. Called Customer Service and they were quick to say they don't make it. Bummer. I'd spend the money to mod the Memphis Shades one though.
Great info everyone, thanks!
vwfarm, I see that you've done a little seat fabrication. I've been thinking about doing a custom job that's something like this:
---


2004 Spirit 1100


---
Mike & Judi
SCRC TX Ellis County
Mounting MS Batwing on VT1100C1
---
Quote:
Originally Posted by
ohiospirit1100
View Post
i have the ms batwing for the sabre on my shadow 1100(spirit) the brackets do not mount to the spirit triple tree! you must make L brackets and mount off the riser nuts and the lower to the headlight mount studs! that is how i did it! click link to see!
Using the sabre brackets or complete fabrication of new ones?
This is the screen I have fitted to my Spirit, not quite a batwing I know but very close and a fraction of the cost.
Malibu
This is it fitted to the spirit.
---
Riding on the crest of a shadow.
Senior Member
Join Date: Jan 2004
Location: Central, Minnesota
Posts: 4,827
The Harley batwing fairing fits the 1100 Spirit just fine, but yes, you will need to make mounting brackets, but they're easy to make.
My lower brackets are just steel L-shaped brackets from the local hardware store, bolted to an old pair of Memphis Shades windshield mounts.
Here's the bottom mounts:
And the top mounts are off the handlebars with 1" electrical clamps (rubber coated) Bolted to the outside windshield mounts with aluminum brackets I made:
So there's four bolts to remove and unplug my speakers and it comes right off!
---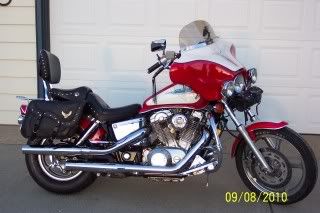 Posting Rules

You may not post new threads

You may not post replies

You may not post attachments

You may not edit your posts

---

HTML code is Off

---