Junior Member
Join Date: Sep 2009
Posts: 6
How to remove carbs from 1986 VT700C?
---
Hi all,
I have the Honda Service Manual and the Clymer Honda book and have followed their instructions for removing the carbs from the bike, but I am stuck, and have been for the last couple of days. There must be an obvious trick that I am not seeing.
I know it is a tight fit, but with the connecting tubes loose, but in place, it has so far been impossible to remove the carbs.
The problem seems to be that as I pry up on the cylinder connecting tube to free it from the cylinder, the air body connecting tube acts as a spring, pushing down as much as I push up.
Is there a way to easily remove the connecting tubes first to enable the carb removal? I'm sure carb removal becomes an easy process after you have done it a few times, but this is my first time and so far it has been quite a learning process, especially when the service manual makes it seem so simple!
Thanks,
Bobby
Senior Member
Join Date: May 2007
Location: LEAVENWORTH WASHINGTON
Posts: 5,286
They get somewhat bonded to the carb, try twisting and or using something to pry the rubber off the carb.
---
Ted
Okay, I've done the 1986 carb removal a few times. I posted one of my first posts about it but it got deleted a few years ago in the HSN server move.

Yes, there is a trick to it! A fellow by the handle of Gumpy clued me in on it, and it saved the day. I haven't heard from Gumpy in a long time, but I'll pass his wisdom along to you.

First of all, get the upper tubes off of both carbs, and loosen the bands that connect them to the airbox at the top. You probably have this done already.

Now get out the air dryer, and do this in an open space. You'll be heating things with gasoline, so that will make some vapours which you don't want to collect where you're working.

I'll warn you in advance that you're doing this to 23 year old rubber. You may break a carb boot. You'll be able to repair with with some tire patch material and RTV silicone, but it will make for a longer process. I've done this a few times and haven't broken anything, but I'm throwing this warning out just so you know.

Do this one carb boot at a time. Heat the upper carb boot until the rubber gets flexible, and then flip it inside out, like you would do when pairing socks together. Then let it cool and do it to the other carb's top boot. Now push the boots up into the airbox. They will move about 1/2 inch up. Between pushing them up and flipping them inside out, you'll gain enough clearance to get the carbs out. I think they come out from the right side of the bike.

As for the bottom boots, loosen both bands on each boot and stick the straw from your WD-40 can at the base of them and give them a shot. Twist the boots with your hands until they break free and rotate and then they should pop right off. If you leave then on the carbs and free them from the engine you'll have an easier time of it.

Hope this helps!

--Justin
---
Currently Running Stable:
2010 Honda NT700V
1986 Shadow 700
1986 Honda Trail 110 (Postie Bike)
1987 Honda Rebel 450
1973 Honda Mini Trail 50
Junior Member
Join Date: Sep 2011
Posts: 8
I bought my 87 Shadow 700 last Saturday. With the help of many of you here, I just got it running - no - purring today (Thursday). that time included patiently running a strong mixture of gas additive through the bike while waiting for my manual. I didn't have to ask a single question, just searched the forums for what I needed and it was there.

Thank you all for asking questions and for answering them. So, here are a few of the most important tips in diagnosing and repairing your 86-87 carb.

Symptoms - Started and idled good with choke (the choke actually feeds extra fuel to the mixture rather than choking off air) but would die close to half choke. I could repeatedly rev the throttle with choke on and get up to higher RPM's and slowly bring it down to 2500-2000 RPM's before it would die. Once I got it up to higher revs, I could take the choke off but, below 2000, it would die.

Being it ran good in higher R's, and not at low, I diagnosed as slow jets plugged.

Removed carbs - not a fun job. Found that the slow jets were plugged solid. Cleaned jets and it runs like a top.

Tips that I used from the forum - thanks again, friends.

BUY THE CORRECT HONDA MANUAL FROM EBAY BEFORE YOU START. 86 and 87 700'S are different than the earlier ones.

Remember how the upper boots are positioned before you remove the carbs.

Loosen and if possible remove all the clamps on the upper boots and the upper clamp on the lower boots.

Replace the clamps on the lower boots before reinstalling carbs. Otherwise they're a bear to get back on.

Slide the upper boots up as far as possible and if you can, flip the lower lip inside out. This should give you more room to get the carbs out.

The carbs come out the left side of the bike.

When I took the bowls off, my carbs looked pretty good inside. But, when I took the slow speed jets out, they were completely plugged as I expected. With this, I decided not to tear them completely down. I checked and cleaned the vacuum chamber. The needle had a little build-up near the top end and there was a little dirt on the diaphragm.

Soak jets in carb cleaner. DO NOT USE WIRE OR ANY HARD OBJECTS FOR CLEANING JETS. IT WILL MESS THEM UP AND THEY'RE HARD TO FIND. Fishing line works good. I managed to get 6# test through.

I'm going to add these notes to the threads I used as a thank you. I really do appreciate the help I received through your generosity. Thanks, again.
---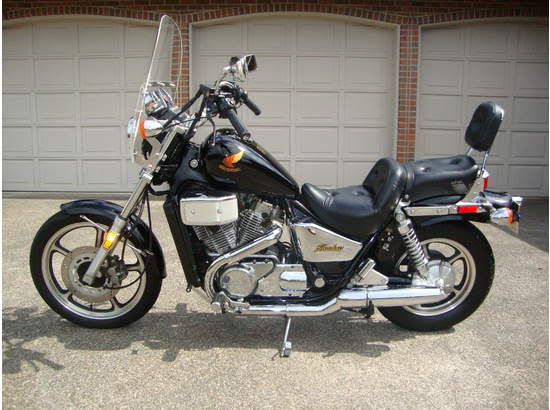 Les Scott
1987 Honda Shadow VT700C
Member
Join Date: Jan 2011
Location: north of Los Angeles,CA
Posts: 58
Welcome and Thank you!!
---
I don't know how I missed this thread back in January when I pulled my carbs but, I have printed it out and placed it in my service manual for future use. I was very fortunate that I didn't damage my boots. Don't you just love this site? Justin and others like him make this forum what it is.

Great looking bike! Soooo clean! If you ever happen to stumble on someone in your part of the world that is selling their L&R lower exhaust heat shields, please PM me. The ones that appear on ebay are generally in poor condition.
---
86 vt700
Posting Rules

You may not post new threads

You may not post replies

You may not post attachments

You may not edit your posts

---

HTML code is Off

---