Junior Member
Join Date: Feb 2010
Location: USA
Posts: 1
Removing muffler baffles
---
A friend of mine owns a 1986 VT Shadow classic and wants it to sound louder. Can the baffles be taken out and would she have to re jet the bike after they are out.
I have an 84 vt700 and believe the exhaust is the same setup. I ended up cutting the exhaust at the beginning of the trumpet. So cut it right before the crossover muffler.
If you look at the exhaust you will see it has the two header pipes coming off the engine then there is the crossover right in front of the rear wheel where the two pipes connect and then continue on.
You have a few options: one you could get a set of after market pipes I have seen a couple options for this. For this you will need to rejet
You could chop the exhaust and run two pipes, but you will want to rejet or otherwise have that crackle when you let off the throttle.
Or you could try to do a whole saw mod, but you may want to look into this on this setup due to the cross over being the muffler, but should make it a bit louder.
Any questions feel free to ask or pm me.
Member
Join Date: Mar 2009
Location: NE Ohio
Posts: 203
While I owned my '86 700 I also wanted it to be "louder". I removed the exhaust and cut the cross over muffler open and cut a hole in the center of the baffle and welded the muffler shut again. Didn't make enough difference. I didn't want it to be obnoxious, but wanted more sound then the stock buzz.

I traded it off before I took the time to experiment anymore.
Member
Join Date: Apr 2008
Location: Yorkshire, England
Posts: 69
Shows you how on
www.youtube.com
just type in 2004 Honda Shadow Spirit 1100 Exhaust Holesaw Modification. it Shows how to cut baffles out.
Screamer
---
Some days you are the bug; some days you are the windscreen
on the vt700 exhaust at the end of the exhaust there are basically caps that block off the whole end as the exhaust flows out around those. Also in that video the newer bikes don't have the cross over pipe all the baffles are at the end of the pipes.

I know for the vt700s some people who did not want to run straight pipes or wanted to try and avoid rejetting have chopped the exhaust so you end up removing the crossover muffler and then putting on stock oem sportster muffler (end pipes). I have heard these will make the bike louder and do sound good. unfortunately with the vt700 duel pipes with the crossover muffler you're not going to get much out of it if you try to do a whole saw mod.
Also go here...
---
I posted some photos here and tools to use. You will enjoy the mod!
http://mcdarksiders.forumotion.com/h...pipes-t571.htm
to summarize:
To complete this mod I bought a 2 & 1/16" cavity drill bit for metal / wood from Ace Hardware, about $15. You were right, go slow. I was patient and it cut through after about 5 minutes per exhaust pipe. Here are the results. I think 2 + 1/16 inch is the perfect size. I have no overhang and nothing to grind down. Any larger diameter would be too large. One last thing, after the drilling, I had to twist out each resonator with pliers - about 2 turns for each.
And to re-live the morning after the mod:
"Oh man, why did I wait so long! The pipes sound GREAT. Throaty, Low end bass with a snarl that I didn't know these stock pipes were capable of.
I did not have to adjust anything on the carbs. Engine runs just as before - nice. I couldn't wipe the smile off my face the entire ride to work this morning. I was even laughing out loud at one point."
Cheers.
---
DW
1999 Shadow Spirit 1100
Junior Member
Join Date: Nov 2009
Location: La
Posts: 4
Has anyone done regretted doing this to their pipes?
Quote:
Originally Posted by hs125
Has anyone done regretted doing this to their pipes?
I did. It was louder, but hollow sounding. I used JBWeld and put the baffles back in. I did shorten them first. I used a hack saw and cut them in half. I ended up a sound that was a little louder without the hollow sound. Not much different than stock.
---
2007 Spirit C2
Quote:
Originally Posted by screamer
Shows you how on
www.youtube.com
just type in 2004 Honda Shadow Spirit 1100 Exhaust Holesaw Modification. it Shows how to cut baffles out.
Screamer
Thanks for the heads up on the sound bite. I think I like my stock rumble better now even more.
My stock "04" Sabre mufflers were so quiet you had a hard time knowing if it was running or not (Slight Exageration) I first drilled holes in back end of the mufflers, rode it for about a year like that, then did the removal of the back baffles, sinked the carbs, re-adjusted the idle jets, and have been very pleased with the sound since then.
---
O'Larry
Ride Bell by Kara-MIA BELL by Bear
'04' Black Flame Sabre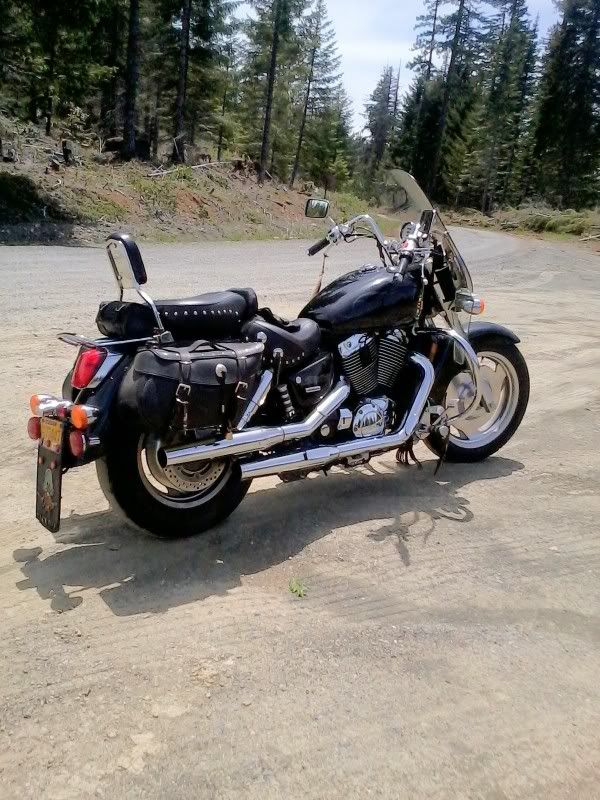 Posting Rules

You may not post new threads

You may not post replies

You may not post attachments

You may not edit your posts

---

HTML code is Off

---