Junior Member
Join Date: May 2010
Posts: 3
Question about ticking noise on 1985 VT500C
---
Hey everybody, first post, first bike...appreciate the help in advance.
I recently picked up a 1985 VT500C, in really good shape, with 16k miles. It runs really good and strong, starts right up, and I do not notice any flat spots during acceleration. My only concern is a ticking noise coming from somewhere in/around the engine, it's hard to pinpoint where.
When I start the bike up and let it idle for a couple mins, you do not here the ticking. Then, as the bike warms up, it starts. When riding, you can hear it. It's difficult to hear when accelerating, over the other engine noise, but when the engine is quieter, you can definitely hear it.
I changed the oil when I got the bike, and used Honda 10w40, the synthetic blend. Then I had read that using a heavier oil might help, so I changed it last weekend to Amsoil 20w50, and it didn't help (although the bike feels like it runs smoother. I did change out the aintifreeze, final drive oil, and air filter as well, although I did not expect any of those to help with the noise.
So, does this sound like a valve issue? Maybe they just need adjusted? Is it anything that I need to be really concerned with right now, if the bike is otherwise running like a champ? I was planning on taking it to a mechanic this summer, but if I am okay to ride for a bit, I'd rather wait on taking it in.
Appreciate the help, thanks again.
Andy
Junior Member
Join Date: May 2010
Posts: 3
Just scrolled down a couple inches and saw another thread regarding ticking noises, and I had searched on some older ones, so sounds like a common issue, and not one that has a single cause...sorry for the duplicate threads.
Member
Join Date: Sep 2009
Location: Vancouver, BC, Canada
Posts: 44
Ya my 84 vt500c has a tick to it aswell. I think its fairly normal, it could be your valves out of adjustment but mine still had a slight tick at idle even after I adjusted them. Im running 10w40 conventional oil.
---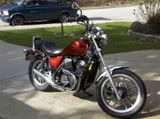 '84 VT500C
Your valves need adjusted. But they will still tick. If you dont hear the tick than your valve clearances are too tight and you will have burnt valves.

8mm and 10mm wrench, large flat screwdriver, 17mm socket with extention, feeler gauges, small flat screwdriver.

those are the tools you need to do the valve adjustment. Oh and you also need a philips screwdriver and a 10mm socket to get the seat off, and a 12mm socket to get the tank off.
---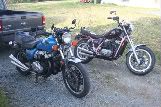 1981 cb750c with 900f forks, cams, oil cooler.
1983 vt500c
1979 cbx
Junior Member
Join Date: May 2010
Posts: 3
Thanks for the advice. I was thinking it is due for a valve adjustment anyways. I'll read up on that and see if it's something I think I can do.

I did figure out how to get the seat off finally the other day, when I was replacing the rear turn signal assembly, that took a while. First bike, not familiar with how they come apart...

Andy
Hello.
The tiking noise was the problem with my VT 500 to.Im suspected a couple things,like valve adjustment,crankshaft bearings etc.
The bike runs fine but the tiking noise was there,somtimes at cold engine was disapear.
This spring made a karb cleaning,Made a hommade karbsynchroniser.
synnchronyse the carbs and the noise gone...
The rear cylinder get a smaler ammount of fuel air mixture so,the rar cilinder slowing down the front cilinder,so the rear camchaintensioner release the tension on camchain,and the camchain make the tiking noise.
On front cyl. try to locat on left side on the rear cyl. try on right side to locate the tiking noise.
So my advice is to synchronyse the carbs. it wont hurt to bike,just good.
I run in my bike MOTUL 20w50 mineral.
Junior Member
Join Date: Jun 2010
Posts: 2
tapping in the engine
---
Hi mate, i have bought an 86 VT500C, i appear to have the same issue, done some work on resetting the valve clearances, from what i can see it appears normal on these bikes, i haven't come across one as of yet that doesn't have this tapping issue. Apparently its nicknamed happy tapping, its the tappets on the top of the valves that seem to just cause a bit of a noise when the bike warms up, but i dont personally think that its abnormal for these bikes
Junior Member
Join Date: Jun 2010
Posts: 15
Since its your first bike it wouldn't hurt to ask if you have checked the ignition coil for a worn spot, can cause an arc and a noticeably rougher running bike.
---
"The more I learn the less I know"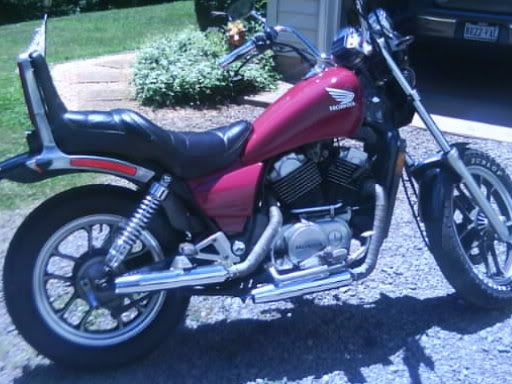 Junior Member
Join Date: Mar 2012
Location: Toledo, Ohio
Posts: 22
My 86 VT500C taps itself right on down the road happy as a clam. It you hear NO tapping whatsoever, then you have your valves too tight, and can burn one up. Slight tapping is good, and normal. Just make sure your fluids are in order, and maybe go to a 20w oil...but that probably won't do much more than soften the sound when cold.
Junior Member
Join Date: Apr 2017
Location: Pacific Northwest
Posts: 15
Leia, 86 500, has same issue, my dad said it was her lifters, been running great despite the sound. I guess same story as most everyone else but another anecdote never hurt anyone right
---
Quod Erat Demonsrandum

meaning

"Which is what had to be proven"
Posting Rules

You may not post new threads

You may not post replies

You may not post attachments

You may not edit your posts

---

HTML code is Off

---