1986 Honda Shadow 700 V-Twin
---
Hi all,
I'm a new member here looking for a little info. I'm a relatively new rider, was able to ride last summer using my uncles Yamaha 400XS Special. Now wanting my own with a bigger engine, I found one on our local craigslist. As the subject states is an '86 Shadow 700 V-twin as the seller states. It does have some higher miles (57,000), but it's been a daily driver. It says that the carbs need to be cleaned, so how hard is it to get the carbs out to clean them?
I've read on here that you should stay away from older bikes because parts availability is sketchy at best, but on my budget I pretty much have to look at older bikes for now.
Thanks in advance!
I have that bike, with 51,000 on it. Runs like a top. lots of parts on eBay, and Honda used the same parts across multiple models and years, so there's not much in the way of parts that will prevent your bike from being repaired, should the need arise.
Some fuel system cleaner will work wonders in these carbs. I like Seafoam and Berryman's B-12 chemtool.
The carbs on this bike are a bit more of a bear to work on than on other bikes because the airbox is part of the frame. The carbs are well wedged between the cylinders, but I've had the carbs off a few times and it just takes some patience.
It's a good bike! Buy the official Honda Service manual (they come available on eBay frequently) and don't waste your time and money with a Clymer or Haynes manual.
Do all of the maintenance to the bike when you get it. Assume the previous owner did nothing on it in years, no matter what they tell you.
If you have the opportunity to check/ride the bike before buying it, pull the right side cover and put a volt meter on the battery. Start the engine and check the voltage. Rev the engine to about 3,000 RPM, and check the voltage again. If you don't have over 13.5 volts when revved up, know that you have some work ahead of you, and get the seller to drop the price a few hundred. (This model seems to mask charging issues as carb issues, so that's why I suggest it.)
--Justin
---
Currently Running Stable:
2010 Honda NT700V
1986 Shadow 700
1986 Honda Trail 110 (Postie Bike)
1987 Honda Rebel 450
1973 Honda Mini Trail 50
Member
Join Date: Oct 2006
Location: Texas
Posts: 997
Between here and Ebay, you shouldn't have a problem finding parts.

The carb work does take patience. Completely doable, probably won't even need to buy anything other than cleaner. Try the additive first if it's rideable, and DEFINITELY check the charging system.

Very, very good, stable, reliable bike. I want another '85, which has slightly different styling but basically the same engine.

+100 on the Factory Service Manual, which I know is available as a free download for the '83-85, might be able to find one for the '86.

Tell us what the asking price is, and we'll be able to tell you if it's a reasonable price for a bike that needs work.
Thanks for the responses and battery advice!

He's asking $1000 for it, but said that he just ordered new front fork seals and tires for it and he'd sell it all for $1400 to $1500.
Junior Member
Join Date: Sep 2009
Posts: 6
I also have this bike. I have found it to be very reliable. I pulled my carbs off and gave them a good cleaning a while back, and it really made a huge difference for me. When I couldn't figure out how to get the carbs off, I asked this forum, and Justin and others here talked me through it. This forum is a fantastic resource! Budget considerations figured prominently in my decision to buy an older bike, but I'm really glad I did. I think I ended up with one of the best and prettiest models Honda has developed (just my opinion though), although I do get a lot of compliments on the bike.
---
1986 VT700C
______________________
Member
Join Date: Oct 2006
Location: Texas
Posts: 997
You know, if I were looking to sell a bike, I'd want to make sure it ran right before I started in on fork seals and tires.

If he can fix the carb issues along with the tires and forks, that's not a bad price if it's in complete and decent condition.
I paid $1,000 for mine a few years ago and it was in need of a battery, tires, brakes, and a couple of other things. It had been wrecked at one point and most things fixed or replaced. Finding another speedo was interesting. I don't mind the brake pedal imprint in the heat shield, it's kinda endearing. The filters were plugged and it had been sitting outside for who knows how long. It only had 34,xxx miles. The seat was falling apart and some of the indicator panel didn't work.

It took a few hundred dollars, a few hours of frustrating work finding and fixing. Now it rides beautifully and as long as I take care of her and her battery she starts everytime. Buy it and ride it, and you'll love it. I did, and I do.
---
1986 VT700C Motorcycle: $1000
Helmet, boots, jacket, and other PPE: $300
Tank of Shell V-Power gasoline: $6
Realizing why the dog hangs his head out the window: priceless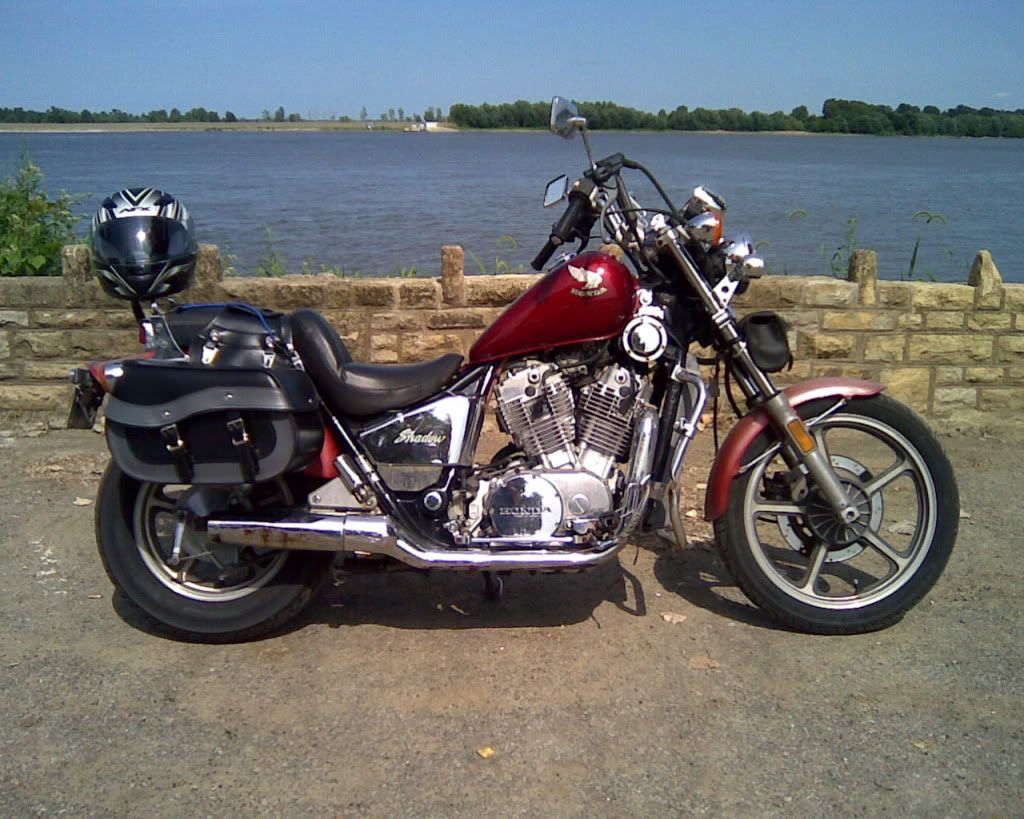 Member
Join Date: Jan 2010
Location: Richmond, Virginia
Posts: 76
Ditto on the bike. I also have the identical bike. I lucked out and got it for free. I also had carb issues and got hosed on the first repair job, $500 and messed it up worse. Took it elseware and was fixed for $200.

The battery check is well worth it as I just had to replace my stator. Now the bike runs fine at 34,000 miles.

Couple of things that are next to impossible to buy are the boots between the carb and cylinder and cylinder and air box. Also, this bike has a 3/4" id hose from primary fuel tank to secondary tank. Over time with removing primary tank, the hose will kink and tear. Try to find that hose now. Next to impossible. I did find one at a dealer that he had on a back shelf gathering dust. Also, it is impossible to find a 3/4" id fuel hose of any type. People will say to use regular coolant hose but it will break down due to fuel. I finally found some fuel line used on dragsters that worked untill I found my replacement.

I would buy the bike and enjoy it
---
1986 VT700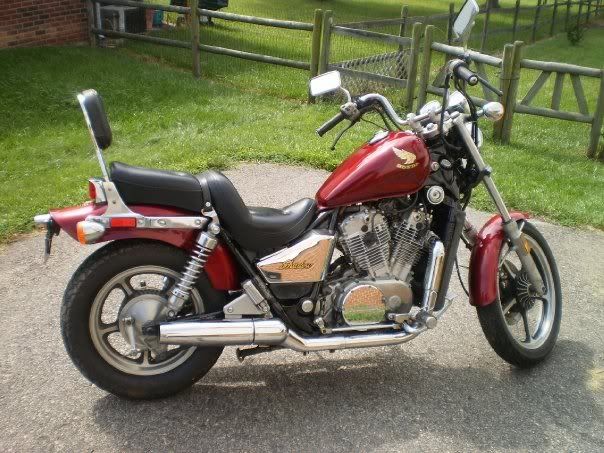 Junior Member
Join Date: May 2010
Posts: 18
I'm kinda in the same boat, as I just picked up an 86 vt750 for an awesome price. Needed next to no work, and some things you may expect to be hard to find are still available (I just bought a new seat set--awesome deal), you just have to look and be patient. I have found that the people here know their stuff, and are always willing to help!!
Member
Join Date: Oct 2006
Location: Texas
Posts: 997
I remember that pipe on my '85, ended up finding the fuel line at an industrial supply store, it was fuel feed line for large diesels. Think Caterpillar bulldozers and stuff. Worked great, picked up a foot for about $9.
Ebay is your friend, as well as the for sale and wanted boards here. Although I'm still trying to find a used choke cable.....
Posting Rules

You may not post new threads

You may not post replies

You may not post attachments

You may not edit your posts

---

HTML code is Off

---